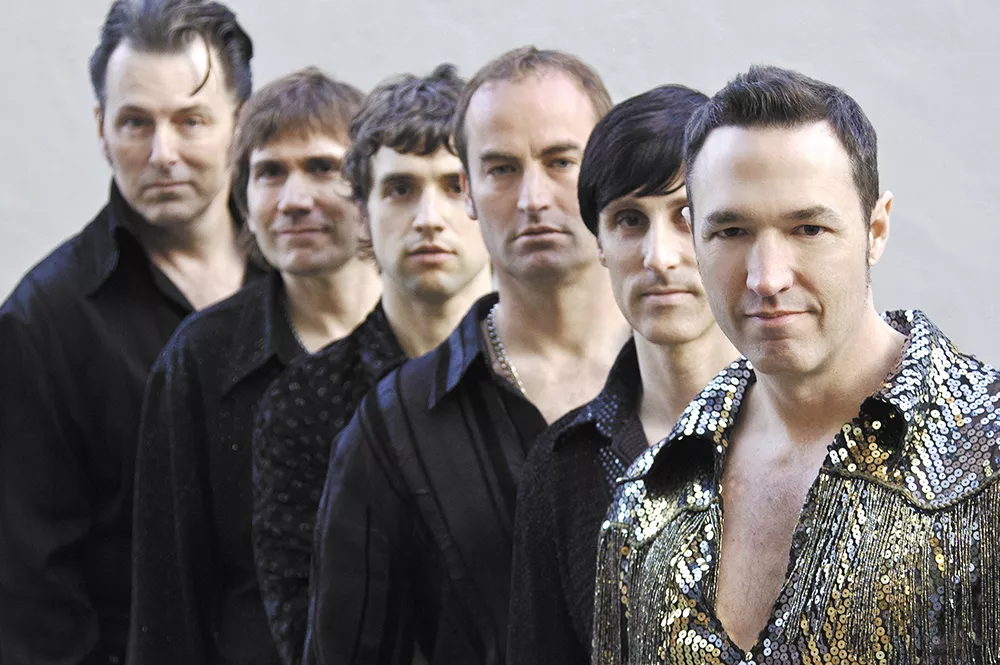 Vince Littleton first saw the Neil Diamond tribute band Super Diamond nearly a decade before becoming the band's drummer. With his own band sharing a bill with the group at an arts festival, he could tell they were no mere imitators of the man behind "Forever in Blue Jeans" and "Sweet Caroline."
"I was never a huge Neil Diamond fan" growing up in Spokane, Littleton says. "I liked his music OK, but it wasn't like how I felt about the Police or Led Zeppelin. But these guys did it with a real cool kind of twist on his music. I could tell they were doing their own arrangements, and they put a little more edge in his music. It's not like a lounge-y thing. The audience was really into it! And these were young people in their 20s and 30s."
Nearly a decade passed until Littleton again found himself on a bill with Super Diamond, and he caught wind that their drummer was playing his last show. One audition later, he found himself taking over the kit in 2001 and traveling the country with the preeminent Neil Diamond tribute act. This weekend, the band takes Diamond's tunes to the Spokane Symphony for some epic performances of one of the most hit-laden songwriting catalogues in American pop history. Littleton will share the stage with percussionists he played with decades ago in Spokane before opportunity pulled him to San Francisco.
Littleton's path to sequined Super Diamond stardom started in the family basement, where his dad's rock band would rehearse and a drum kit was permanently set up. Littleton, who toured Europe and the States with the drum-and-bugle corps Percussion Naut Patriots as a middle schooler, kept playing through his years at U-High and then at Eastern Washington University, where he played in the percussion ensemble with some of the Spokane Symphony's current drummers.
While working on music education degree, Littleton gave lessons, did some student teaching and played in a series of Spokane bands. One of them had a regular gig at Gatsby's, a large downtown Spokane club that also brought in touring acts. One weekend, a band of touring Bay Area musicians, including former members of Big Brother and the Holding Company, Jefferson Airplane and the Jerry Garcia Band's Merl Saunders, came to town. When the drummer fell ill, they asked about any local drummers who could play rock and jazz, and Littleton got a phone call.
The rest, as they say, is history. After the shows went well, Saunders told Littleton he had a job for him if he moved to the Bay Area, and when Littleton graduated from EWU six months later, he took off for San Francisco. He had thought about moving away from Spokane to pursue music before Saunders' offer, he says, but it never felt right.
"There was one side of me that was kind of afraid to make the move unless the opportunity presented itself," Littleton says. "I was kind of battling that in my own mind at the time. Like, 'I should move to L.A., but L.A.'s so big.' There was a moment when I was 21 when I thought about moving to New York, but I only knew, like, two people there and I chickened out. So the stars all kind of lined up when I was finishing up school to have a job to go to."
Super Diamond has come through Spokane for club shows in the past, but this will be the first time the band has paired up with the Spokane Symphony. The band has just started doing symphony shows in the past few years, Littleton says, typically doing three or four a year. Aside from the obvious opportunities to add strings, horns and muscular arrangements to songs Super Diamond already makes their own, working with symphonies offers some unique challenges, too.
The band uses in-ear monitors, for one, since the traditional amplification it would use in a rock show is eschewed in symphony halls. Littleton also finds himself sitting right out front on stage in a plexiglass case, rather than hanging out in back behind his bandmates. "It's a big group and I'm sort of driving the bus, so that puts a bigger challenge on me to try and hold this big machine together," Littleton says.
The symphony also gives Super Diamond a creative charge in reimagining songs that Littleton has come to enjoy more than he did as a rock-loving kid in Spokane.
"We do a few more ballads with the symphony; it's beautiful to have the strings," Littleton says. "The bigger songs like 'America,' it makes the intro even bigger and heavier; there's some heavy drums on it. Having gongs and things I can't travel with is nice. And having horn parts on 'I'm a Believer' sounds pretty cool.
"Having a big band is just... bigger! More super!" ♦
Super Diamond with the Spokane Symphony • Sat, Oct. 14 at 8 pm • $45-$86 • Martin Woldson Theater at the Fox • 1001 W. Sprague • spokanesymphony.org • 624-1200
---
Neil Diamond songs you might know from famous cover versions:
UB40, "Red Red Wine"
The Monkees, "I'm a Believer"
Urge Overkill, "Girl, You'll Be A Woman Soon"
Deep Purple, "Kentucky Woman"
Glen Campbell, "Sunflower"