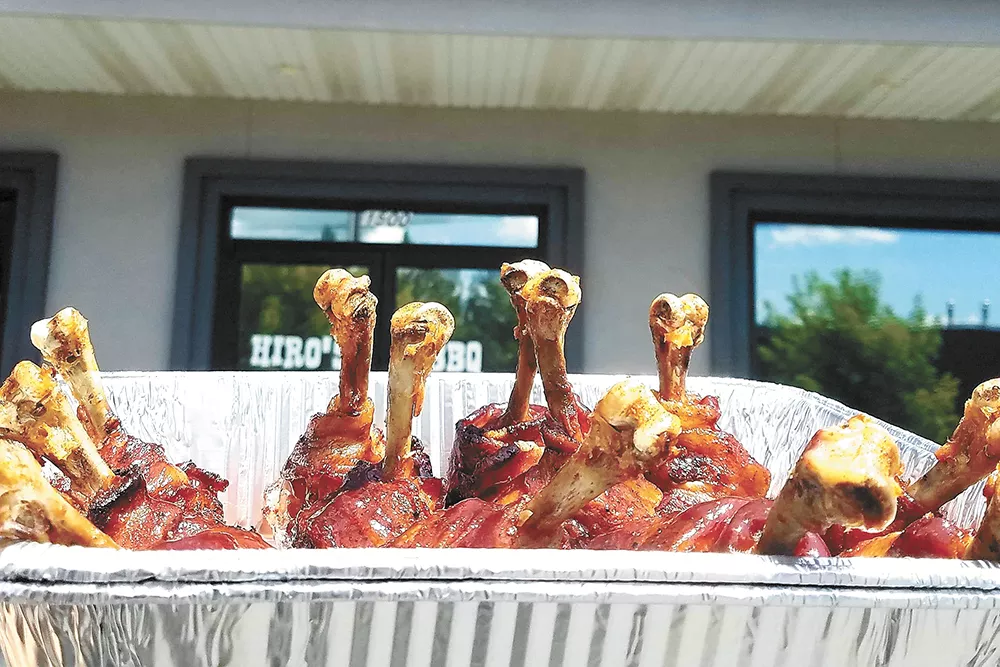 After Hiro's BBQ owner Andy Buffington was injured supporting wildfire fighting efforts while working for Idaho Department of Lands, he had a lot of time on his hands. And he had a Traeger pellet grill. So he did what he'd been doing since he was a teenager: He cooked.
"All my skills are learned on an old flat-top grill," says Buffington, who fell into cooking at 14 after doing odd jobs for the owner of the old Happy Hour in Huetter, Idaho, where Buffington was raised. He then worked at Rosauers' Coeur d'Alene until that location closed, next driving trucks, and then working for the state until breaking his foot.
Armed with the Traeger Grill recipe book, he powered through 80-plus recipes, teaching himself the finer points of smoking, yet was still hungry for more. Buffington contacted Traeger, asking, "Is this all you've got?'" Instead of recipes, they sent him smoking pellets, fueling Buffington's interest even more.
That was four years and several grills ago. Buffington, who retired at 59 last year, continued experimenting, smoking enough meat to trade for other ingredients or finished foods, and participating in local events like last year's From the Ashes barbecue showcase in Coeur d'Alene.
The calls for meat kept coming, though, so Buffington contacted a local real estate agent and soon found himself unloading his massive smoker into a parking lot along Northwest Boulevard where Hiro's BBQ was born.
Hiro's offers meat by the pound like chicken ($8) and pulled pork ($10), as well as ribs ($12/half; $20/whole rack) and sandwiches like the tri-tip French dip ($11) with choice of coleslaw, potato salad or baked beans as a side.
Buffington figures he goes through 900 pounds of meat weekly, and would rather run out of what he cooks than serve reheated leftovers. Brisket is his most popular; Buffington uses his own dry rub to infuse the meat before smoking it for up to 10 hours and serving it with side sauce.
"I kinda do my own style," says Buffington, who also does a lot of catering and is frequently concocting new recipes and applications for his barbecue, like brisket eggs benedict or brisket spaghetti sauce.
Buffington named Hiro's for the family dog so that all family members could be involved, including his daughter, who he's proud to say owns his old Traeger Grill and is carrying on the family tradition. ♦
Hiro's BBQ • 1500 Northwest Blvd. • Coeur d'Alene • Open Mon-Fri 11 am-7 pm • hirosbbq.com • 208-930-1151