Come next spring, the most sustainable building in North America won't be opening its doors in Seattle, Portland or Silicon Valley, but in a new bustling eco-district on the edge of downtown Spokane.
In a unique partnership between a utility and a developer, Avista's development arm and the engineering/development group McKinstry have teamed up to design the extremely efficient Catalyst Building, along with a partner building to help manage clean-technology projects and house a central power plant, known as the Hub. Together, the structures will mark the beginning of an innovating eco-district where the University District Gateway Bridge meets East Sprague.
Catalyst, which is designed to produce its own clean energy and not use fossil fuels for power, will be the main anchor to the South Landing development site, named for its location at the south end of the pedestrian bridge from downtown Spokane's University District. Coming in at more than 150,000 square feet and five stories tall, it'll be the first office building in the state constructed with cross-laminated timber (CLT). The CLT is being made by producer Katerra, which is still working to get its local plant in Spokane Valley up and running, but already uses local forests to source some of its products.
Once open, Catalyst will house Eastern Washington University's electrical engineering, computer science, and visual design programs, making it home to classes for 1,000 students.
The site will also host various pilot projects for the utility and developer as they test out new clean-energy technologies over time and foster collaboration between the students, Avista engineers and the other tenants that will rent space there, explains Heather Rosentrater, Avista's vice president of energy delivery.
"It will be just a great test bed, a living laboratory for us to be able to be opportunistic as technology changes, for us to test that out on a pilot, smaller-scale basis," Rosentrater says. "Then we can decide if we want to make those changes for our other customers."
While helping make a meaningful connection to the University District to the north is one of the main goals for the site, the real innovation excitement for Avista and McKinstry is that both the Catalyst and Hub have been designed from the ground up to interact with each other and share heating, cooling and energy generation, all in a way that's optimal for Avista's grid.
For a normal development, Avista would figure out what additional infrastructure might be needed — say a new substation to handle the new demand — and essentially just tell the builder how much that would cost. But in working with McKinstry to specifically design battery and thermal storage and other technologies into the site, Avista should be able to avoid those new costs and construction, while making the site hyperefficient, Rosentrater says.
It's that part of the partnership, the connection between the utility and developer, that truly makes the development as a whole so unique, says Ash Awad, chief market officer for McKinstry.
"I will be bold and tell you that there's no possible way in all the research we've done that anybody else is putting together Avista's equipment and building like we are doing now," Awad says. "We absolutely think of it as the first of its kind, and we hope that it's the first of its kind for like a month."
That's because the ultimate goal is to make the innovations scalable and repeatable, Awad says.
"There's about 88 billion square feet in the United States of nonresidential commercial industrial space. That 88 billion square feet consumes about 75 percent of the electricity and produces about 50 percent of the harmful gases that go into the atmosphere. It's a big problem," Awad says. "If we do not solve for that 88 billion square feet that's completely out of whack with the natural environment, like us and Avista have done at South Landing, we will not solve the biggest problems facing us today with climate change."
Importantly, what they're already showing with the Catalyst and Hub projects, Awad says, is this transformation is not only possible, it's already just as affordable as traditional building methods.
Shortly before the Washington State Legislature passed a law this year requiring utilities in the state to meet 100 percent clean energy by 2045, Avista announced it would set itself on that path.
It wasn't the first major sustainable vision for the future that Avista got behind.
"We asked, 'What if we built the most sustainable building not just in the Northwest, but in North America?'"

tweet this
After all, it was several years ago that the utility took a look at its development-arm-owned property south of the University District, across the railroad tracks, and wondered if it could be used for something better than utility infrastructure, explains outgoing Avista CEO Scott Morris.
"Originally, that land was supposed to be a substation," says Morris, who has been key to bringing the Catalyst vision into reality. "Once we knew the bridge was going to be there, we knew we could change the South Landing vision if we did it right."
That's when Avista really looked at not just building a structure that would fit in with the University District, but one that could anchor "the five smartest blocks in the world," Morris says.
"We asked, 'What if we built the most sustainable building not just in the Northwest, but in North America?'" he says.
Most buildings go up one at a time, each with their own unique heating and cooling systems and their own grid connection, but this time, with Avista involved in the development, McKinstry was able to specially design the grid tie-ins that will enable experimentation with new clean technologies, and generally break down the metaphorical walls between builders and the utility.
"We have this unique partnership with McKinstry to be able to break down that wall for the benefit of the building owners and occupants of the building, as well as the general Avista population," Rosentrater says. "That's what's driving what we're doing here."
At the site, the four-story, 40,000-square-foot Hub will house a restaurant and common space. But most importantly, it will serve as the heating, cooling and electricity brain of sorts, housing a central energy plant and testing of new technology such as thermal-energy storage, which will enable the site to heat water or other fluid in tanks during Avista's off hours and use that energy later as needed.
"As an industry, we talk about battery storage as this holy grail of enabling a clean-energy future," Rosentrater says, "but we're seeing there's actually a huge amount of energy storage that can help on the customer side. We just need to figure out how to integrate that."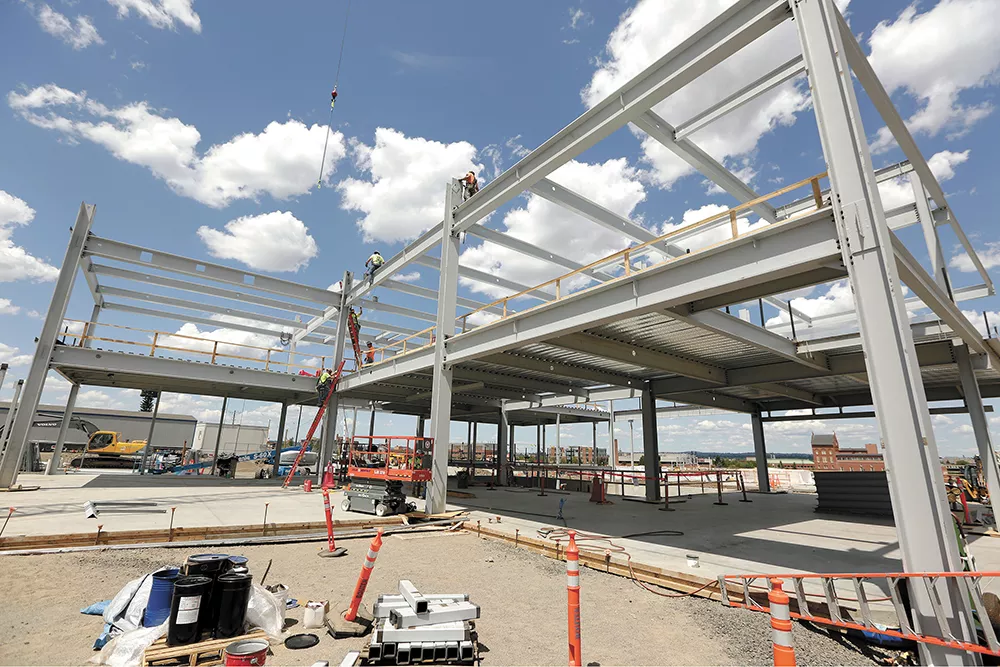 McKinstry and Avista also hope to test things like solar-panel optimization. So, instead of inverting the direct current (DC) power that's generated by solar panels to alternating current (AC) — as is typically done now since most appliances use AC power — they might try out lighting that runs on DC to prevent losing energy in the conversion process at Catalyst, Rosentrater says.
One of the main areas that McKinstry sees for breaking down barriers that exist in development is the inclusion of a shared energy system, also sometimes referred to as a shared energy economy, Awad says.
"Sometimes you'll look at a building and say, 'Why is all that steam coming off the building?' Well, they're just rejecting all the energy they don't need," he says. "The utility meter right now is the line in the sand ... If you need energy, and another is wasting it, you don't really have the opportunity to say, 'What you're wasting is what I need.'"
But the buildings at the South Landing site will be able to show what sharing that energy can look like, even with different tenants involved.
"Avista's grid is meant to support energy supply on a standard regular basis. When you have a zero-energy building, the building sometimes needs a lot, and sometimes it's sending energy back, it's quite a mess," Awad says. "So we spent two years thinking it through with Avista and designing both the buildings and the system — we call it an eco-district — to really accommodate both the ways the buildings need energy and the ways the buildings share energy back and forth."
That, he says, is the future.
"We've created a model here that demonstrates the current boundary between buildings and utilities needs to change," Awad says. "We are out telling everybody we can tell, not just because we want to do this as McKinstry, but we want folks to understand those hurdles they put before themselves are just artificial."
They'll also work with tenants in the space for the life of the building to make sure all the pieces that have been designed for efficiency are used the way they're meant to be, without compromising comfort or usability in the space, Awad says.
It's part of the larger vision for a shift to a cleaner future, Morris says. As more and more states set 100 percent clean-energy goals in coming years, utilities will of course have to look at more wind, solar and other clean-power generation, but it will also take innovative solutions like the ones being tested at South Landing to truly meet those goals, he says.
"These are technologies and ideas that are really designed to help change the planet, and it's happening first in Spokane," Morris says. ♦