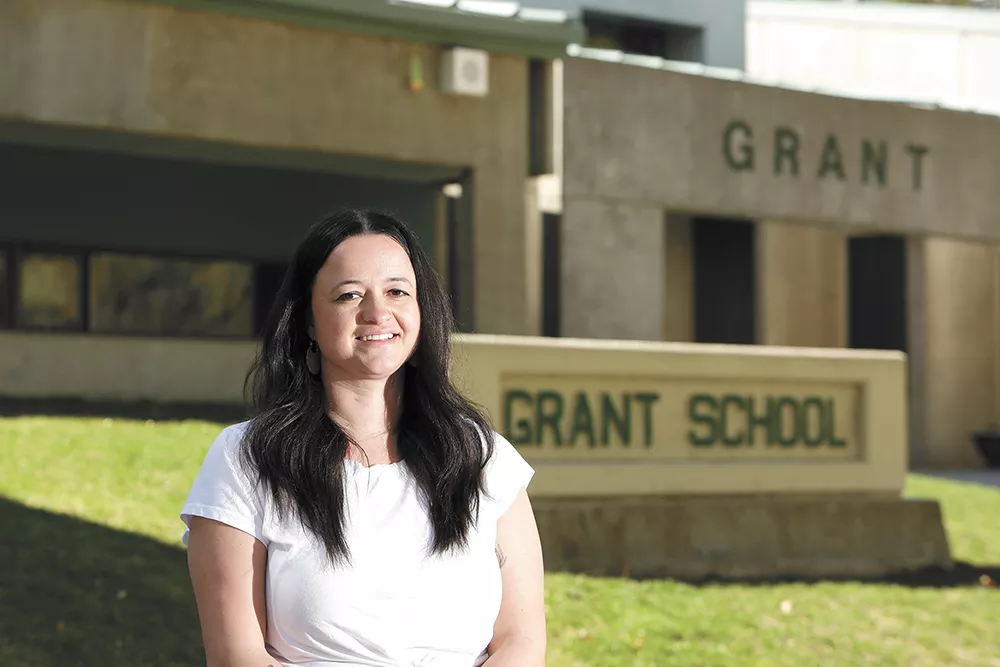 Since she can't see her kindergarten students in the classroom, Monica Lively has tried to check in with them in other ways: Emails. Calls. Texts.
About half of her roughly 20 Logan Elementary students regularly respond to her and engage with online learning, she says. But a handful respond only occasionally. And the last few? They respond rarely, if at all.
"So many of our families at Logan, honestly, are struggling, even before this," Lively says. "They're struggling to get food, pay bills, and may not be interested in getting their kiddo into some online learning platform."
As the coronavirus crisis has forced classrooms online, schools now face the monumental challenge of providing virtual learning access to every student. Thousands of laptops have been distributed to families from Spokane to Coeur d'Alene. But still some students aren't logging online for school, even as districts begin to teach new content and hand out grades.
Spokane Public Schools Director of Student Services Jodi Harmon acknowledges that the district isn't entirely sure yet how many students aren't engaging with online learning, though more data should be available soon. But at Rogers High School, Principal Lori Wyborney guesses that more than a quarter of students either haven't engaged with a virtual classroom or haven't been heard from since school shut down. That's despite an "all hands on deck" approach to finding students, including calling, texting, emailing and home visits, she says.
For local schools, finding students and making sure they have basic needs met has become a top priority. And many have gotten creative in how they find students: Spotting them at food drives, visiting homeless shelters, or teaming up with police for wellness checks.
"We know if they're in crisis, the education is going to stop," says Harmon.
But knowing how they're doing has only become more difficult for teachers like Lively. Usually, she can check on those students who are in crisis in class each day.
Not anymore.
"The part that keeps you awake at night is thinking about the families that aren't reaching out," Lively says. "Because those are probably the ones that need us the most."
BASIC NEEDS
As soon as Madeline Sells learned that school buildings would be closed for the foreseeable future, she made a list of students who might become "invisible."
Sells is a school counselor at Grant Elementary, where 86 percent of the students are considered low-income by the state — one of the highest rates in Spokane. She was especially worried about students who are homeless, students still learning English, and students in special education programs. Those are the ones who could easily fall through the cracks.
"I'm concerned about that inequality for my families," she says.
So Sells has done everything she can to get in touch with them. She made a spreadsheet that notes when she talked to each kid. Her goal is to eventually connect with every student at the school — more than 350 of them — at least once before the summer. But every day, she has teachers ask for help finding more students who have been out of touch for a while.
Sometimes, it helps to have a relationship built up. Sells says one student is staying with a grandparent who Sells used to speak to on a daily basis. But all of the sudden, Sells stopped hearing from her.
"I thought, 'I bet this family needs toilet paper. I'm just going to show up to give her toilet paper,'" Sells says. "She wasn't offended, she was happy to see me and was like, 'Yeah, we do need that.' That's why she hadn't responded, they were trying to get their basic needs met."
In order to get a student to a virtual class, some families must show extraordinary resilience. Sells says she knows some who are living in cars in front of the school. Some are in shelters.
"This one particular family, it's amazing. This mom is still getting her child on to team meetings and to do classwork. But every day they don't even know where they're staying," Sells says.
The day school buildings closed down, there were more than 1,000 homeless students in Spokane Public Schools, says Sarah Miller, homeless liaison for the district. She says she sent an email to each one, asking if they were safe, and if they need help accessing food or educational resources.
"Out of that, I've gotten about 60 responses back," Miller says.
The school district has distributed more than 5,000 laptops to families, including at the Union Gospel Mission crisis shelter, Open Doors and Catholic Charities' Rising Strong warming center. But laptops are one thing — many families don't have the Wi-FI access to use them for school.
That's a challenge the Central Valley School District has faced, too, says Leslie Camden Goold, a school social worker there.
"There's a lot of fine print when it comes to getting a person Wi-Fi or internet access at their home," she says. "We're kind of at the whim of those internet businesses to get that running."
Camden Goold says Central Valley has 418 students who are considered homeless, and many of those may be in bad situations or in bad environments.
"I've learned how important it is to have school in session to have all those people around a student who can notice if they're not here or not engaged," she says. "And now we're trying to do this virtually, and it's really difficult ... that direct contact is so important."
GRADING THE GAP
On Monday, Spokane Public Schools rolled out its plan for how learning will continue for the next couple months, as the statewide school closure has been extended. Students are expected to check in virtually often. They're expected to complete their assignments, and those assignments will be graded.
The message is clear: Learning must continue.
"The learning matters, and we're going to encourage teachers to give feedback when appropriate, and grade when appropriate but consider extenuating circumstances for students," says Adam Swinyard, Spokane Public Schools associate superintendent for teaching and learning.
As for the students who can't be reached, it's up to teachers to decide when it's appropriate to grade students, Swinyard says. And that can be difficult. On the one hand, teachers want to prevent students from regressing like they often do over the summer. On the other, how can you grade a student who's more focused on surviving at home than logging in for homework?
Lively, the kindergarten teacher at Logan, fears the longer online learning is necessary, the more inequities there will be exposed between low-income families and affluent ones. She was hoping to use the months left to catch some of her kids up.
"There are some kids who are going to be resilient and who can bounce back," Lively says. "But I think it will probably show in their learning and their achievement probably for years to come."
In Central Valley, the district says about 45 percent of students are consistently engaging with online learning. Students learning English have been more difficult to reach, says Kristin Day, an English Language Development specialist for Central Valley School District.
"We're challenged with some of our recently immigrated families and refugee families to help them navigate getting access to the internet," Day says. That's why CV has bilingual specialists to make sure their needs are being met, and they're trying to develop play- and project-based games to help parents.
Even if students are checking in with other teachers, they may not for certain classes at the high school level. Erin Ruehl, a teacher at Shadle Park High School, says 70 percent to 80 percent of the students in her business and marketing classes haven't responded to her yet. She wonders if some of them thought they didn't need to since grades didn't matter until now, or if they're focusing on core classes instead.
"Now that the district has published a clear, structured communication schedule for secondary students with specific expectations, I think we will see a stronger engagement rate from students," Ruehl says.
Henry Seipp, a teacher at Shadle who also teaches at Spokane Virtual Learning, an online program run by the district, expects schools to adjust to online learning eventually. The key is reaching students — even the ones who don't want to be right now, the ones who might easily fall through the cracks.
"That's hard," he says. "But our job is to make the cracks that students can fall through tiny, and filled with spackle." ♦