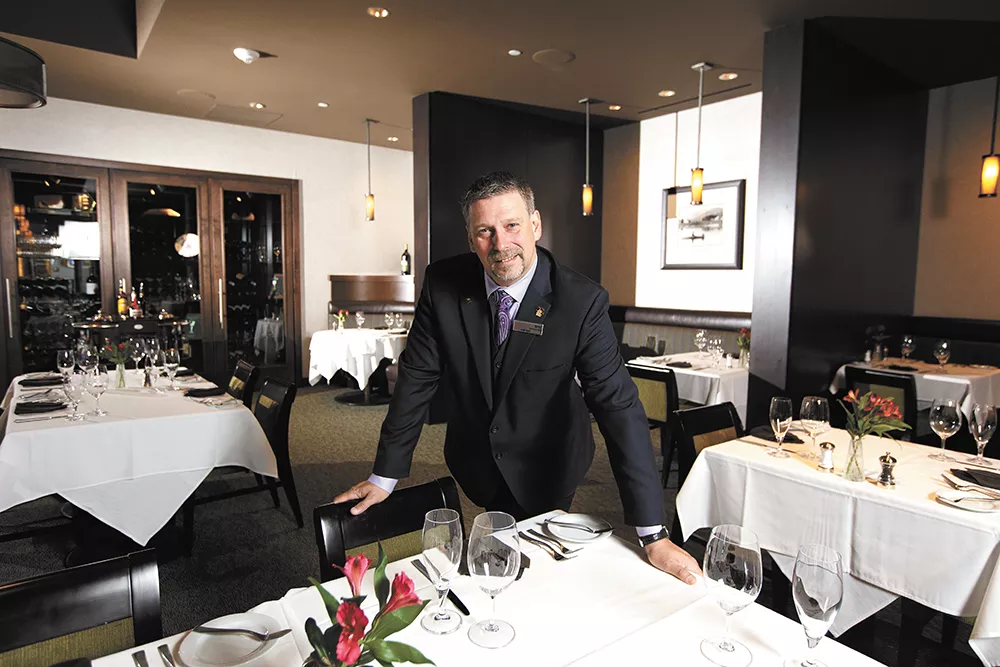 Take your seat in the dimly lit, cozy Masselow's dining room, and you may be surprised when the hostess gingerly places a cloth napkin on your lap.
That's just the start of the restaurant's dinner service. Next, your waiter will ask if you prefer still or sparkling water. As the evening progresses, warm bread and creamed butter appears on the table. If ordered, wine, even by the glass, is displayed and then sampled for your approval. Dishes and cutlery for each course are placed and discarded by wait staff as easily as pieces on a chessboard. You're asked how everything is, what else you need. You start to wonder if they'd be willing to administer a foot massage if you asked nicely enough.
All of this could seem overwhelming if you're new to a fine dining experience, but as Masselow's manager Eric Cook explains, the point is just to let it wash over you.
"We can always tell an experienced diner by the people who let us serve them," he says.
Opened in 2009, Masselow's is the only AAA four-star restaurant in Eastern Washington (only 2.5 percent of the nearly 30,000 restaurants rated earn four stars). And yet, the restaurant isn't at the forefront when many think of fine dining in Spokane. Cook explains they've needed time to develop an eclectic cuisine, featuring Northwest-cultivated meat and seafood dishes, and establish their reputation.
"There's a stigma with restaurants in a hotel," says Cook of the restaurant, situated inside Northern Quest Resort & Casino. "And although we're not Vegas, we think people will be surprised when they dine here."
Cook, with 30 years of service experience under his belt, has been at Masselow's for two months now. But he's not new to the area, previously working as sommelier (wine steward) at Beverly's in Coeur d'Alene for nearly 10 years. He exudes a soothing and calm demeanor when he talks, exactly the way he expects a fine restaurant to run. For Masselow's — and other high-end Inland Northwest restaurants — the guest's experience is the highest priority. Nothing is ever rushed.
"Fine dining is a performance art," Cook explains. "We're paced here; you can be here all night if you want to. I want this experience to be like a spa for your palate."
A bill for two at Masselow's, which won't include tax, being on the Kalispel Indian Reservation, will most likely be more than $100. With prices like that, Cook knows diners expect a lot, and he thinks they should.
Here are some ways to feel as comfortable as possible at a high-end restaurant, even without a lot of experience eating at them:
Should we call ahead?
Make your reservations at least a week early, telling the host or hostess if you have any dietary restrictions and if it's a special occasion. All of these things will be noted on your reservation.
Which fork?
According to Cook, setting the table with more forks than you'd know what to do with (think the scene from Pretty Woman) is something most restaurants have done away with. "At our restaurant we're giving you the correct amount of silverware for what's in front of you," he says. "But best practice is to move from the outside in, if need be."
Does this look OK?
Most places in Spokane do not have a dress code. But as Cook says, it's really about being comfortable. If you know the restaurant is higher-end, you may not feel comfortable in holey jeans.
"I'll have the, uh... "
"Just let your server know what you want by pointing at the menu," Cook suggests if you can't pronounce something on the menu. ♦