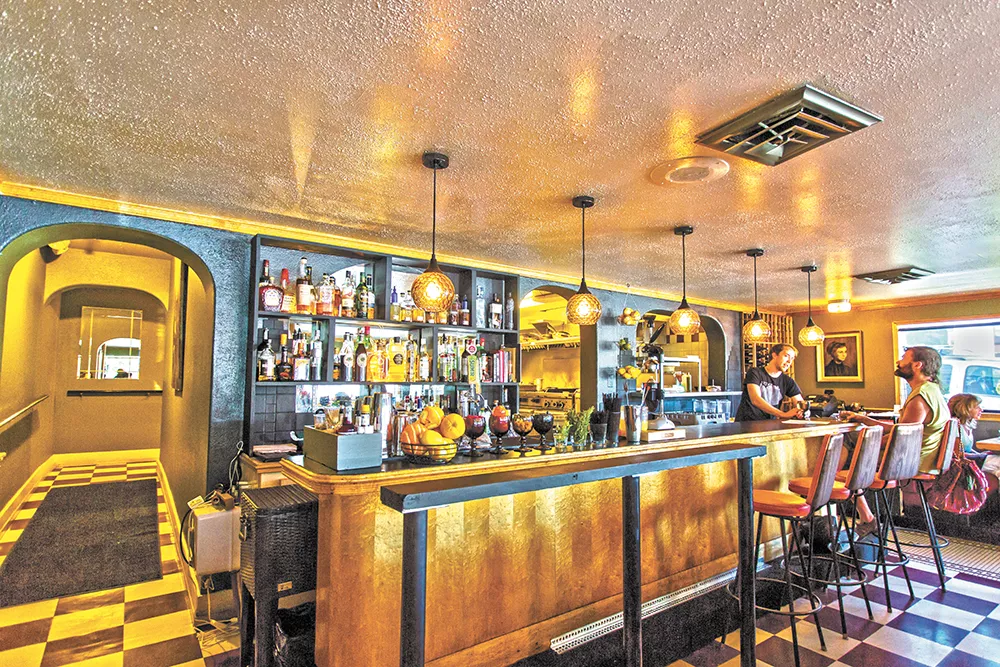 There's no sign up — yet.
Although Ruins debuted inside the tiny, chocolate-brown building a couple of months ago, chef/owner Tony Brown has intended to have the neon sign hung for the past several weeks. For now, it's leaning on a ledge just inside the door.
But Brown is in no hurry to get it up, and he doesn't have a reason to be. Since the 36-seat eatery opened on the corner of Mallon and Monroe, a half-block from the Spokane County Jail, sandwiched between a bail bondsman and a dusty-windowed machine shop, business has been steady.
It helps that Brown, whose past stints include cooking at Luna and Mizuna (he also co-owns nearby Stella's Café) has an established reputation as a local chef. Ruins' ever-changing and versatile small-plates menu, paired with a rotation of seasonally inspired craft cocktails, complements the eclectic, vintage vibe of the establishment. The historic space, built in the late 1930s, retains its original tile, woodwork and layout. Out of necessity rather than pretentiousness, Ruins doesn't take reservations due to its limited capacity.
Still, a driver passing by on Monroe Street in the late evening has to look closely to observe activity inside the dimly lit, teal-doored building, and to guess it's a restaurant. Ruins hasn't been entirely unmarked, nor intentionally unadvertised — a black sandwich board sits on the sidewalk and the business has a sizeable following on its Facebook page.
Brown's philosophy for the small-plates-style menu, which incorporates locally sourced, seasonal ingredients, is to allow diners to sample a wide range of flavors instead of being stuck with one huge-portioned entrée that costs twice as much as one of Ruins' small plates.
"Here, you can order five things and try them all," Brown says.
And while the eclectic, often vegetarian-friendly dishes on the menu can widely vary from week to week, consistency is found in their flavors and thoughtful presentation. A side of spicy pickled cucumbers are served spilling out of a small, stout canning jar atop a plate. An heirloom tomato salad is artistically arranged in overlapping red, orange, green and yellow slices, drizzled in balsamic vinegar and oil. Ruins' dishes — and prices — range from what one might expect in an upscale pub or lounge to a fine dining restaurant.
"I just cook what I feel like," Brown says. "Sometimes I pull from my background at Luna and Mizuna and do more upscale stuff. Sometimes I want more comfort food, and that is the joy of changing the menu every week."
Like Ruins' always-evolving menu, diners can sample chefs' creative whims of the night at Blue Table Kitchen (3319 N. Argonne), a nontraditional, European-style eatery in Spokane Valley's Millwood neighborhood. Its proprietors are Jeff and Julia Postlewait, who also own Bottles, the Rocket Market and Spokane's many Rocket Bakery cafés, along with longtime friends Karen and Wayne Johnson. Opening just over two years ago, the couples united their love of eating good food in good company to create Blue Table, which serves multi-course fixed menus two nights a week in a dinner-party setting. The eatery's name comes from its two long, blue-painted wooden tables at which up to 24 guests are seated together, to encourage diners to cultivate friendships with other patrons.
Karen Johnson says Blue Table's seating arrangement was inspired by the couples' travels to Europe, where restaurants often encourage diners to sit together with strangers.
"You can walk in and join someone's table and if there is a seat, 90 percent of the time someone will say, 'Join me,'" she says.
Menus change nightly, with the upcoming several weeks' worth of dinners posted on the business's website (bluetablekitchen.com). Most meals are $45 per person, which include wine pairings, while other days diners can bring their own bottle, with dinner priced at $40. The fixed menus range from European- and Asian-inspired dishes, and upcoming featured entrées include sweet potato-crusted mahi mahi with tomato-ginger salsa, beef goulash with noodles and farro risotto.
Across town, opportunities to dine at the historic Commellini Estate (14715 N. Dartford Dr.) in far North Spokane are even fewer and farther between.
The family-owned estate, built in the late 1930s, currently operates as a private event venue, but opens up its dining room for fixed menu dinners usually four times a year. Because the dinners are limited to 100-120 people, reservations fill up quickly after an event is announced, says vice president of operations Desiree Seghetti, whose great-great uncle and aunt, Albert and his sister Elide Commellini, founded the estate.
"Our family is from Tuscany, so we try to bring that flavor out in the food," Seghetti says. "Most Americans are more used to Southern Italian food, which is what you think of when you think of traditional Italian, but ours is more regional Tuscan, in a rustic Italian realm."
New multi-course menus, priced around $45 per person, are usually created for each dinner night, with the exception of the estate's chicken cacciatore — by far the most popular dinner of the year, Seghetti says. The family recipe, created by Elide Commellini, was one of the original dishes served at the estate when she opened it as a restaurant in 1941.
"It takes over a week to prepare," Seghetti says, adding that celebrity guests who've eaten the famous family dish during the restaurant's heyday include Marilyn Monroe and Joe DiMaggio.
Commellini's dinners offer multiple reservation times, and a pre- and post-dinner happy hour open to the public without requiring reservations, which features limited appetizers and desserts alongside specialty cocktails.
To know when Commellini Estate's next dinner is planned, the venue's website (commellini.com) offers a free monthly newsletter subscription in which planned events are announced. ♦