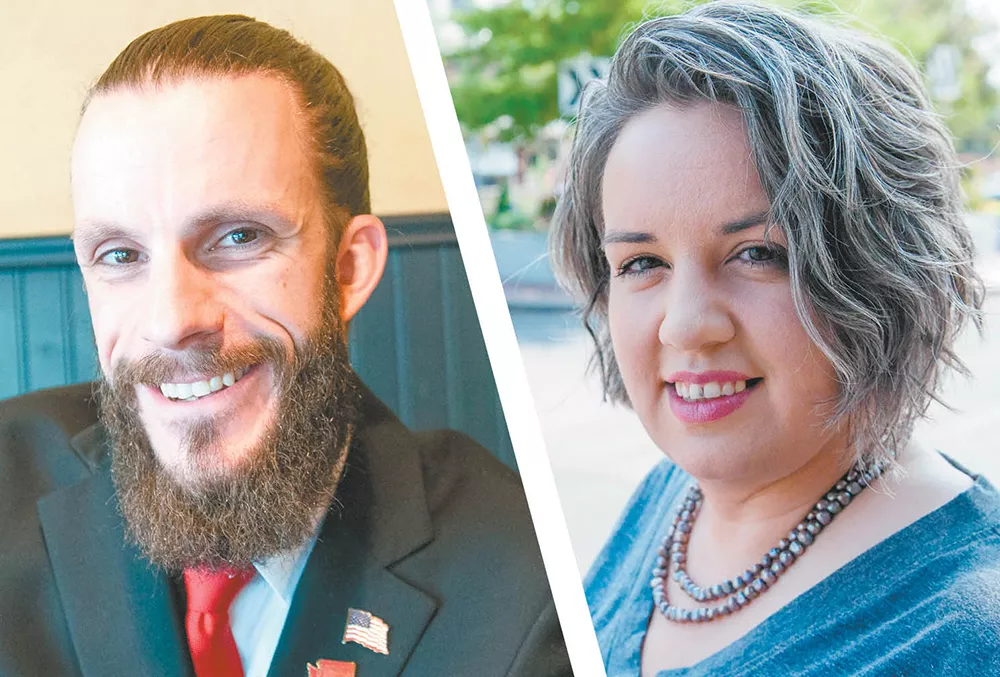 It's 2005 in Portland, Oregon. Jessa Lewis is homeless and trying to fall asleep. She's in her used Mazda outside the Widmer Brothers Brewery, seat tilted back, unzipped sleeping bag over her eyes. The lights make it a safer place to rest, but a more difficult spot to slumber.
Her 2-year-old daughter lies in the seat beside her.
It's 2007 in Phoenix. Jered Bonneau is homeless and trying to fall asleep. There are homeless shelters in Phoenix, but they require him to be sober — he's addicted to drugs — and won't let him stay with his girlfriend.
So, he sleeps on the streets. But in Arizona, you can't escape the sweltering heat, even at night. He wanders around, lies down on a grassy, freshly watered drainage ditch. Perfect, he thinks. He wakes up with hundreds of ant bites covering his body. They take weeks to heal.
It's 2018 in Spokane County. Lewis and Bonneau are both running for political office. Lewis is competing for state Senate in the 6th District, while Bonneau is a long-shot primary contender challenging Rep. Cathy McMorris Rodgers for her congressional seat.
Today, Bonneau is a far-right Trump fan and a Second Amendment absolutist. Lewis, a former Bernie Sanders delegate, is the Eastern Washington field director for Health Care for All, a lobbying organization advocating for single-payer health care.
The two candidates both started as conservative Christians, and both saw their trajectories altered by their own homelessness and poverty. How they interpreted those times, though, sent their beliefs in opposite directions.
PHOENIX
Bonneau grew up a Seventh Day Adventist, soaking in a right-wing marinade of caustic talk-radio rhetoric from hosts like Michael Savage. His stepdad buys placemats featuring the Bill of Rights and a list of American presidents. Before he'd leave the dinner table, Bonneau is often challenged to recite them from memory.
He watches war movies. He cheers on the Iraq War.
"I was all about, 'Yeah, we need to bomb those people, they bombed us,'" Bonneau says. He joins the Army, only to be discharged after failing a drug test.
That's how he ended up spending nearly a year homeless in Phoenix. Snorting meth. Sleeping outside. Lying to people outside a gas station that he needed a little extra cash for gas.
"I had nothing," Bonneau says. "My family wasn't talking to me. Nowhere to go. Sick of being on the streets. Sick of being addicted to drugs. I had no hope, no reason to survive anymore."
So he tries to kill himself. Instead, he ends up in a Phoenix hospital, where calls his parents again. This time, Mom comes to the rescue: She buys him a Greyhound ticket, sends him to Spokane to live with his biological dad, a drug and alcohol counselor.
"My dad whipped my butt back into shape," Bonneau says. "I got clean, sober, got off everything. Got a job."
His family had given him back what he'd lost on the streets: hope.
PORTLAND
Lewis grew up a conservative Christian, too. She's fed an ideology of self-reliance. She voted for George W. Bush and for Dino Rossi. She got deeply involved with evangelical churches.
But the floor falls out from under her at the age of 21. On vacation, she had a drink on St. Patrick's Day and wakes up in bed with a man she doesn't remember having sex with.
He gets her pregnant. Lewis does what she feels is the right thing. She doesn't have an abortion. But to some in her community, that wasn't enough.
"I was encouraged to pursue a relationship with the man who assaulted me, so my daughter wouldn't be illegitimate," Lewis says. The feeling of judgment everywhere makes Spokane feel claustrophobic. So the moment she sees an opportunity to take a booking agent job for a Portland music venue, she leaps at the chance. She bets it all on a fresh start and moves to Portland.
But she's a single mom. The music venue wants her free every night, and that's not an option. The job falls through.
"I was stranded in Portland with no job, no real friendships, and that was how I ended up in my car," Lewis says.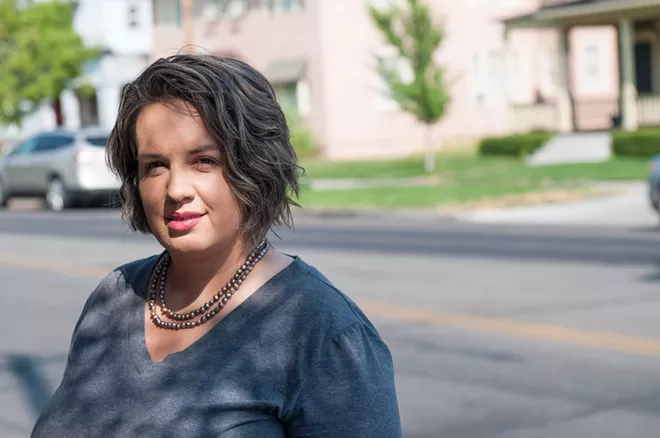 The local faith community helps rescue her. A woman studying to be a pastor takes Lewis and her daughter in until she can find a job and get an apartment.
"I learned through that process, how hard it is," Lewis says. "It doesn't matter how hard you work if you don't have stable access to food, if you don't have a roof over your head."
STREETS DIVERGE
Lewis' political views don't change in an instant. But as she pursued college degrees and raised her daughter, contradictions begin to weigh on her.
"Republicans were more likely to vote against the very programs that made it possible for my daughter and I to get back on our feet," Lewis says. "It's one thing to be against abortion. It's another to actually help support single moms to ensure that the kids have a path to be successful."
Her politics were saying one thing, her faith was saying another.
"I couldn't reconcile how I read the scripture and my view of faith with taking money away from children and the elderly and people who were vulnerable," Lewis says.
But as Lewis evolves toward becoming a progressive Democrat, Bonneau shifts in a different direction.
In 2009, his friend shows him a 9/11 conspiracy video on YouTube called "Loose Change." While the video has been thoroughly debunked by publications like Popular Mechanics, the questions it raised piqued Bonneau's curiosity. He gets sucked into the world of Alex Jones and Infowars. He becomes disillusioned with George W. Bush and grows to despise the PATRIOT Act.
"It's a very unconstitutional piece of legislation," Bonneau says. "It's infringing on our rights and our freedoms."
Amid the Tea Party movement, he starts his own militia called the 42nd Freedom Fighters Battalion. He cheers on rancher Cliven Bundy's standoff against the federal government in Nevada. He doesn't join the Malheur National Wildlife Refuge occupiers in Oregon, but gets a tattoo lamenting the shooting death of refuge-occupier LaVoy Finicum.
Today, Lewis is 37. Bonneau is 31. As they look back on their experience with homelessness and poverty, they take away different lessons.
"I saw the positive role that government could play," Lewis says. "I would not be here without the social safety net. That's what I'm interested in fixing."
It wasn't just food stamps and Temporary Assistance for Needy Families that helped her, she says. It was the affordable housing units in downtown Vancouver that let her live in a walkable neighborhood close to her work. It helped give her a sense of self-worth.
"We live in culture that throws people away," Lewis says. "That blames them for their poverty."
But to Bonneau? His experiences are proof of how government is a failure.
"Policies don't help," Bonneau says. "It falls on deaf ears on the streets."
Homeless shelters are fine for some people, he says, but they don't solve the root of the problem.
"There is no place to go to get the actual help," Bonneau says. "To get back into a home. To get back into society. To get a job. Who wants to take a homeless person, you know?"
He looks at the promises of government — with all their job training programs and housing programs and homeless shelters — and scoffs.
"Government needs to get the hell out of it," Bonneau says.
The way forward, he says, is through private enterprises to build housing with private funds and private donations. The role for the government, if any, he argues, is through tax incentives.
Mostly, Bonneau believes that Republicans like McMorris Rodgers are too soft — not supportive enough of Trump, not tough enough on illegal immigrants. He argues that massive swaths of the government should be dismantled. Abolish the Bureau of Land Management. Abolish the NSA, too. The FBI is unconstitutional, he says. He still listens to Infowars and still has doubts about 9/11.
And yet, in a few areas, he shares views of some on the left. For example, he doesn't believe that minor drug crimes should be a felony.
"You arrest someone for a half a gram of meth," he says. "They come out, now they can't get a job at all. Now they're on the streets. Now they're doing more crimes."
SCARS AND MEMENTOS
For how radically different their views are today, both candidates share a realization: The worst parts of their lives led to the best parts of their lives today.
"It taught me humility," Bonneau says. "Gave me a new purpose."
If it weren't for his homelessness, he never would have worked at the Rite Aid where he met his wife. He wouldn't have had his two kids. He probably wouldn't have run for office.
Bonneau pulls up his suit jacket sleeve to show his forearm, where he has a Join or Die snake tattoo and a Bible verse in Latin. It's just inches above the scar that remains from his suicide attempt over a decade ago.
You can't really understand homelessness, he says, unless you've lived it. Lewis says the same thing.
"I still have my food stamp card. I keep it," Lewis says. "It's a reminder of how I got here."
She says sometimes she still fights the feeling of shame that comes with her past. But she says it all gives her a window into the lives of countless others in Spokane. It teaches her the lesson that cuts to the safety net, to save money, cost us all in the long run.
"I'm running to be the person that I needed back then," Lewis says. ♦