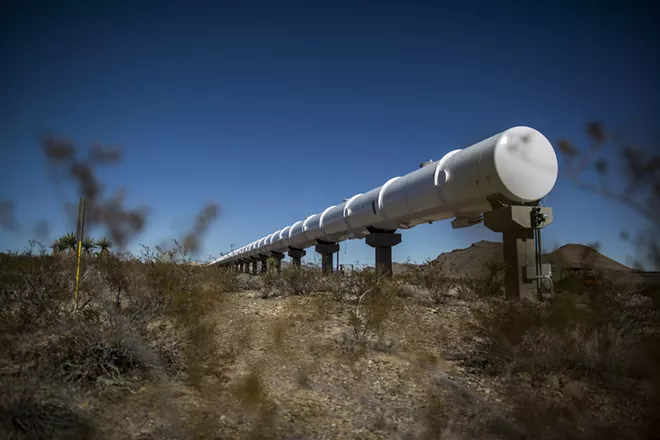 By Eric A. Taub
New York Times News Service
M
OAPA, Nev. —
California just decided to sharply scale back its plans for a high-speed rail artery meant to transform travel up and down the state. But in the desert outside Las Vegas, the transportation ambitions still seem limitless.
Here, engineers working for Virgin Hyperloop One are testing a radically different type of mass transit: one that aims to move people and cargo in small wheel-less pods in a vacuum tube at speeds that could exceed 600 mph.
The company, which counts Sir Richard Branson's Virgin Group as a minority investor, is one of several in the United States, Canada and other countriesdeveloping hyperloop technology. The concept was promoted by Elon Musk, of electric-car and private-rocket renown, and then offered by one of his companies as open-source technology available to all. It works by propelling pods using magnetic levitation through a low-pressure, near-vacuum tube.
The low pressure minimizes friction and air resistance, greatly reducing the power needed. And because the pods travel in a tube, they're not subject to shutdowns due to harsh weather.
Virgin Hyperloop One, based in Los Angeles, began testing here in 2017 and is now doing so with a full-scale test track; its main competitors, Hyperloop Transportation Technologies, also in Los Angeles, and TransPod, with headquarters in Toronto, expect to build their own test tracks this year. So far both are working with computer simulations.
Virgin, which has raised $295 million, is in the developmental stage with projects in India and Ohio. Last month, the Indian state of Maharashtra declared the company's proposed hyperloop system between Pune and Mumbai as an official infrastructure project. Construction on a 7-mile test track could start this year, said Jay Walder, the company's chief executive.
Passenger operations could begin by the middle of the next decade, cutting travel time between the cities to 30 minutes, one-fifth the current duration.
All three companies contend that because of energy cost advantages over other forms of transportation, a system will be able to break even in a decade after full-scale operations begin.
But before such musings turn into reality, hyperloop proponents must prove that their systems work, that they're safe for people and cargo and that they're affordable.