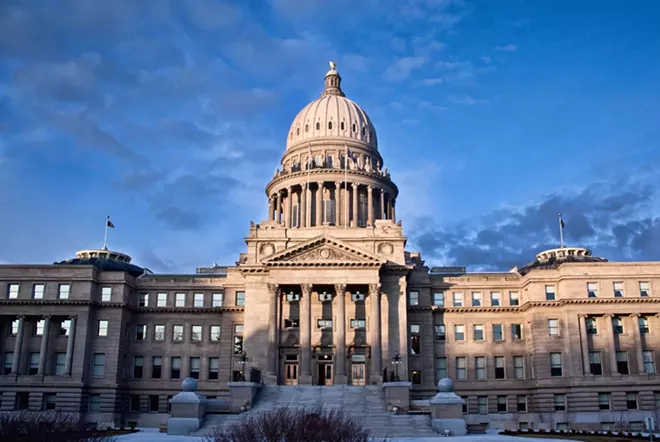 L
ast week's cover story dives into the controversies
that have dogged North Idaho state
Rep. Heather Scott
, looking at not only her ties to beleaguered Spokane Valley Rep. Matt Shea, but also her role as a state representative in Idaho. In particular, we sought to understand whether the tactics that grew her influence in the
Redoubt movement
harmed her influence in the Idaho Legislature.
Legislative influence is a hard thing to measure, but we can say this: Today, every Idaho House Republican in their third term is serving in a committee leadership position —
except
Heather Scott.
The starkest contrast? Sage Dixon, the other state representative from Scott's district at the tip of the Idaho Panhandle. Today, Dixon is the chair of both the
Business Committee
and
the Ethics Committee.
The Ethics Committee chairmanship, Idaho Speaker of the House Scott Bedke notes, is a position selected by a representative's peers.
"So that would mean that the Republicans in the Idaho House of Representatives trust Representative Dixon to be fair and even-handed," Bedke says.
In a lot of ways, Dixon and Scott are not so different. Like Scott, he's extremely conservative. They both believe the state should manage more federal lands. Both are skeptical about compromise. Both defied requests of local authorities and visited the Malheur National Wildlife Refuge during the Oregon standoff. Like Scott, he's been the target of at least one critical
Shawn Vestal
column.
Dixon himself notes how much they align on the issues.
"I think there are far more similarities than differences as far as policy objectives, but I think the way we approach achieving those objections is a little different," Dixon tells the
Inlander
.
That's one difference right away: While Scott sent out statements and videos
disparaging the media
when the
Inlander
reached out for an interview, Dixon spoke with the
Inlander
for over a half-hour, answering a slew of questions.
"I think state sovereignty is important for both of us," Dixon says. Both agree, he says, that the state Legislature has sometimes traded sovereignty for access to federal dollars.
Some of the sources who spoke most critically of Scott praise Dixon's leadership style. Former state Rep. Christy Perry once wrote a letter accusing Scott of paranoid and "aggressive
anti-social behavior
."
<!—————————StartFragment—————————>
"There are other people who have that same sort of political bend that were not considered dangerous people or unsafe people," Perry says. In particular, she points to Dixon.
"He has very similar thoughts. He's probably an ultra-right conservative. But you know what? People have tremendous respect for Sage Dixon. And he's done very well there," Perry says. "He did not participate in bashing other legislators. He's able to put his ideas to you... He speaks intelligently. And he's very relational. So, Sage and I, for example, would know that, 'Hey, we're probably not going to agree here. But if you just listen, listen to me, I'd appreciate it.' And I would listen, and he would always return the favor."
<!————————EndFragment————————>
Dixon had respect for people, Perry says, and people would respect him in return.
"Dixon is a really, really hard-working legislator for sure. He's willing to dig in and actually solve problems," says former state representative Rep. Luke Malek, a moderate Republican from Coeur d'Alene.
"I think he's very reasonable," says Shelby Rognstad, the left-leaning mayor of Sandpoint, the largest town in Scott and Dixon's district. "He's as far right as you can go, but he's not a nut-job."
Even in neighboring Kootenai County, observers recognize the difference in tactics between the two.

"Sage is compared to Heather a more staid individual," says
Brent Regan, Kootenai County Republican Central Committee chairman, though he also notes that Scott is "known as an outspoken, you know, hard-charging representative. She's been elected and elected and re-elected again. I think the people in her district like what she's doing."
Being a hard-charging line-in-the-sand representative isn't unusual in Idaho. Dixon notes that some of his other colleagues employ a similar strategy.
"They think that charging to the top of the hill is the way they're going to get things done. And that works for some people," Dixon says. "For me, it's about developing relationships and trust and then pushing those same issues in a different way."<!————————EndFragment————————>
But Dixon says he's more methodical.
<!————————StartFragment————————>"I think I may take a longer road in doing things," Dixon says. "I think she sees very clearly what she thinks is right and strikes out for that. I am just a little bit slower in my approach and I develop relationships more, perhaps."
SOME SAGE PERSPECTIVE

Dixon has managed to avoid many of the controversies that Scott has found herself embroiled in. Dixon wasn't accused by an Interfaith Alliance member of saying "gays should burn in hell" and that Muslims want to rape and kill them. Scott was, though she called the accusation a
lie
. Dixon's supporters didn't allegedly harass staffers or supporters of
his opponent
. And, perhaps most importantly, Dixon didn't suggest that female legislators in Idaho got leadership positions by "
spreading their legs
." Scott did, and it resulted in her being booted off her committees for three weeks.
Even in a controversy that Scott and Dixon share — their decision to visit the Malheur National Wildlife Refuge during the Oregon standoff — Dixon casts the events as less of a victorious stand and more of a tragedy
he'd tried to prevent
.
"We had constituents over there... The interest was to represent our constituents and find some common ground so nobody would be harmed and we could have a peaceful ending," Dixon says. "When you have those conflicts between the federal government and somebody that's trying to stand up for a constitutional right, it usually ends up in somebody dying."
He does have, however, have positive words for Ammon Bundy, the leader of the standoff.
"I thought Mr. Bundy was very rational, earnest person... He thought he was doing something that was standing up against oppression," Dixon says. "I was impressed by that because I didn't expect that. I expected something more irrational, but that wasn't what I heard when we stand down and talked to him."
Unlike Scott, however, Dixon didn't drive down again at the
end of the standoff
.
<!————————StartFragment————————>
"I just didn't think it would have been helpful in any way for me to take time to go down there again," Dixon says.
Even as he talks about the memory of the violence of the Ruby Ridge standoff that happened decades ago in his district, he doesn't believe that sort of event is inherent to the region. He's optimistic that the perception of North Idaho has changed.
"As I travel around the country and talk with other representatives and things, that stigma of North Idaho is gone," Dixon says. "As far as I'm concerned, nobody talks about skinheads anymore or white supremacists or anything like that. That's a wonderful turn of events because that stigma was still there."

SENT TO A SWAMP

Speaker Scott Bedke — who once punished Scott by taking away her committee assignments — has plenty of positive things to say about Scott.
<!————————EndFragment————————>
"She is very effective at activating grassroots response," Bedke says. "It seems that she has struck a chord with people who want to be left absolutely alone."
<!————————StartFragment————————> He notes that, in recent years, she has "grown as a legislator," and has become more effective.
"I look forward to working with her in the future in a relationship that is based upon respect," Bedke says. He notes that just last year he worked with Scott to pass a bill restricting the Idaho Department of Fish and Game's ability to conduct searches without a warrant.
Still, Scott's newsletters speak of other legislators "handing over Idaho on a silver platter," and accuse Idaho's committee chairmen of silencing "
the voice of the citizen
."
Listen to Scott for long enough, and one theme comes out in particular: She really hates where she works.
<!—————————StartFragment—————————>"I would never choose to be put in Boise. People will look you in the eye and lie to you, straight to your face," Scott tells the crowd at the 2018
Inland Northwest Freedom Fest
. "I don't hang out with them. They're not going to corrupt my character."
She used to be an aquatic biologist — the "best job in the world" — she told a group of kids last year at the Northwest Liberty Academy. But then God, she said, told her to get into politics.
"[God] put me in a swamp," Scott said. "What if you're called to go work somewhere you really don't want to work? What if you're called to go work in outhouses or the toilet cleaning business for the next 50 years? ... Are you going to feel like you're successful?"
But Scott — and this is key — has a different definition of success.
"People think you go into politics to seem powerful or seem important or make decisions or you want to get something done," Scott says. For her, it's all about obedience to God, about standing on principle.
Scott's interpretation of scripture is full of sharp lines and ironclad principles. Believing in evolution or that the Earth wasn't created in six days, she preaches, is a "
direct attack on God
."
Similarly, even laws banning abortions the moment a fetal heartbeat is detected don't go nearly far enough for her.
<!—————————EndFragment—————————>
"If you're 'Biblical pro-life,' there are no circumstances for murder," Scott says. "We are not to murder. And so to end all abortions without exceptions is the Biblical pro-life view."
<!—————————StartFragment—————————>The signature bill she's pushing this year would intentionally ignore decades of federal court decisions to try to allow all abortions in the state to be prosecuted as murder. Scott writes in a newsletter that even Boise's pro-life lobby is opposed to it.
And yet, at times, Scott's strict views can actually make her
more
likely to surprise people across the aisle. The legislator the
Inlander
spoke with who had the most positive things to say about Scott was actually a Democrat — Rep. Melissa Wintrow out of Boise.
"Regardless of which side of the issue you stand, I do feel like she advocates for a fair process," Wintrow says. "She takes stances against the majority party a lot. I mean, she stood up one time, I remember, on the House floor and made some commentary about access and fairness in the process here in the Legislature."
Sandpoint Indivisible activist Rachel Castor, who says Scott told her never to call her again when she asked Scott to make a statement condemning white supremacy after the Charlottesville rally, says Scott is "viewed as more of a wildcard" than Dixon. Dixon is friendly. He'll talk to you and listen to you, Castor says, but you're unlikely to change his mind. Appeal to Scott's distrust of the federal government, however, and you might have more of a chance.
"I don't see as much common ground between the left and Sage Dixon," Castor says.
Rognstad, the liberal-leaning Sandpoint mayor, notes that he and Scott teamed up to oppose the controversial Newport Smelter, just across the border in Washington.
"She came out as a hardcore environmentalist on that issue," Rognstad jokes.
And at times, Scott even takes a stand against Dixon himself. Last year, in the wake of voters approving Medicaid expansion in Idaho, Dixon led an effort to try to make it more difficult for voter initiatives to
qualify for the ballot
, arguing that voter initiatives risked overwhelming the interests of voters in rural areas.
But Scott actually opposed Dixon's efforts, earning her praise from
unusual quarters
.
Dixon says he doesn't want to speak for Scott on the issue — but he also offers a defense for where she may be coming from.
<!————————StartFragment————————>"She thought it was removing an opportunity for the citizens to redress their government, and they would be stifling the voice of the citizen, which is something that's always been big for her," Dixon says. "And my side of that argument is I'm trying to protect the rights of the minority in our system of elected representation."