Everyone has a happily single friend, a friend who will constantly tell you that it's totally fine that they're single, that in fact you should be jealous of them for how carefree and unburdened by romantic love and lifelong companionship they are.
But if a person's already happy alone, what can you possibly get them? I mean, other than a boyfriend or girlfriend, of course.
MOVIE FOR ONE (a)
You know your friend is truly happily single when they're willing to just straight up go to the movies alone. In fact, going to the movies might even be better alone. No need to coordinate schedules or respond to the whispered questions of an oblivious boyfriend who doesn't understand the plot. (The clown fish wants to find his son, Gregg. It's not that difficult.) Best of all, the Magic Lantern offers the sort of chin-stroking experimental fare that not all significant others may appreciate, but your friend, as a happily sophisticated single, certainly will. $9.25 • Magic Lantern Theatre • 25 W. Main Ave.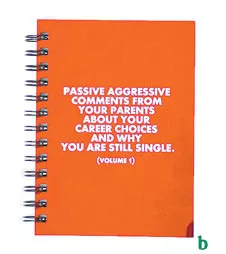 "PASSIVE-AGGRESSIVE" JOURNAL (b)
Your friend may be happily single, but that doesn't necessarily stop their parents from making all sorts of comments about how, say, a couple of grandchildren would really add some spatial balance to their family photos. Your friend could express their frustration with their parents with a direct conversation, but giving them this blank journal with "Passive-Aggressive Comments From Your Parents about Your Career Choices and Why You Are Still Single (Volume 1)" on the outside cover works just as well. $16 • Boo Radley's • 232 N. Howard St.
ARKHAM HORROR (c)
Being single gives a person time to become absolutely incredible at one hobby, like juggling, or magic or board games. Unfortunately, most board games require at least two people to have a good time. But that's not Lovecraftian co-op board game Arkham Horror, which allows a single ambitious player to experience its survival horrors easily on their own. And if they're not into mind-shattering steampunk terror, you can always just pick them up a pack of playing cards. Solitaire has a single-player mode, too. $40 • Uncle's Games, Puzzles & More • 404 W. Main Ave.
GIANT ICE CREAM CONE (d)
Sometimes your happily single friend is so happy about being single that they have a desperate urge to drown their glee with a binge of a massive amount of ice cream, and letting their tears of joy splish-splash jubilantly into the creamy vanilla. The best place to get truly absurd amounts of ice cream? Dub's Drive-In at Sandpoint. Asked in a phone call if they still have their titanic ice cream cones, the chipper employee responded, "Heck yeah, we do." They also confirmed they had gift cards, so you don't have to refrigerate the gift box. Let the loveless couples try to rekindle their relationship at Sandpoint's romantic beaches. Your single friends will go just for the ice cream. $2.51 for a large cone • Dub's Drive-In • 703 US-2, Sandpoint ♦