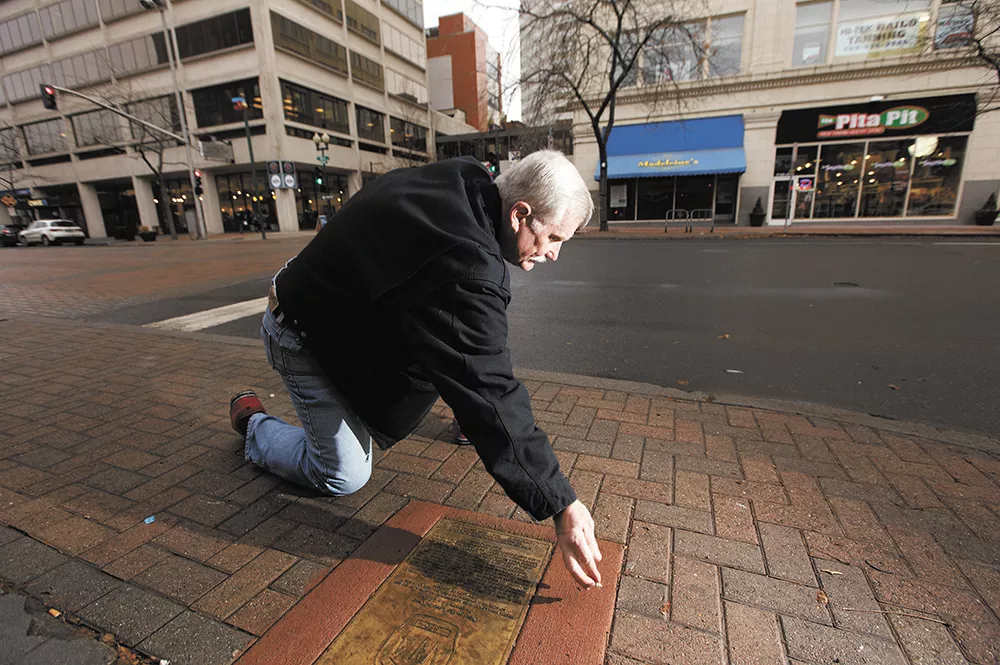 George T. Stewart was electrocuted by a 2,350-volt power line.
The superintendent of the Spokane Fire Department's alarm system had been attempting to restore power to the citywide system after it was knocked out by a severe windstorm in 1947.
Nearly 10 years later, while responding to a three-alarm fire in downtown Spokane, a 2-ton safe crushed Captain Leonard W. Doyle to death when the building's floor beneath him collapsed.
In 1982, 29-year-old firefighter Paul J. Heidenreich plummeted into a blazing inferno when the roof of the building he was on caved in. Eight others responding that night were hospitalized. Heidenreich's death 32 years ago was the last to occur during an active fire response for the SFD.
Spokane Fire Department Lieutenant Gregory Borg doesn't want the memories of these men, and 14 others like them, to fade with the passing of time. So for the past several years Borg — a 40-year department veteran based at Station No. 3 in Spokane's West Central neighborhood — along with many local volunteers, has worked tirelessly to research and memorialize the 17 men (since women were allowed to work for the department in the late '80s, none have died on duty).
"The main reason I wanted to do this is so the community and the department would understand the sacrifices these guys made, and their families made," Borg says. "These were guys doing their job protecting the community, and they died at work. They didn't come home."
So far, the nonprofit Spokane Firefighters Memorial Project, founded in 2013, has installed 13 of a total of 17 bronze plaques around the city to commemorate local firefighters who died on duty. The project has been funded entirely by $22,000 worth of donations, and much of the work to install the memorial is volunteered by current fire department employees and their families.
The rectangular, bronze plaques, each about 2 feet by 1 foot, are placed at the site of each man's death, with the exception of a few who died from health complications caused by their line of work. Instead, those memorials are placed near the station where they worked.
One of those men, Fire Equipment Officer John Knighten, is a familiar name to the community. Knighten died in June 2013 after a three-year battle with multiple myeloma cancer, which is linked to firefighters' exposure to smoke, poisonous gases and carcinogens. Knighten's plaque is framed by a triangle of brick-red cement on the sidewalk outside of Spokane Fire Station No. 4, where he was assigned to ladder engine No. 4.
While all but four of the bronze memorials have yet to be installed, about half of the plaques have been ceremoniously dedicated on the anniversary of the firefighters' deaths.
Once all 17 plaques have been dedicated during short, public ceremonies — eight more are to be from January through May 2015 — Borg plans to create a map listing the locations of each.
The next dedication is set for the day after Christmas, Friday, Dec. 26, to recognize the service and sacrifice of Captain Walter F. Gustafson. The 49-year-old died in 1944 from smoke inhalation while responding to a warehouse fire at Wall Street and Railroad Avenue.
Working at one of the busiest fire stations in Spokane — Station No. 3 averages 10 to 15 calls a day — Borg has had many of his own brushes with death.
"Everyone who's done it for a while has. I've had moments where I knew I'd be in the hospital, and other times I didn't think that, and I was in the hospital," he says. "Once I was trapped in a room at a house on Boone, and the fire ignited the whole room, and I had to jump out a window and slide down a ladder headfirst."
And though, at 64 years old, Borg is unsure about when he'll officially retire from the department, he promises the memorial project will continue into the future, to preserve the current plaques and organize any new ones when tragedy strikes next. Eventually he'll pass on the responsibility to another Spokane firefighter.
"For me, it's been 40 years of doing what I love doing. When the alarm goes off, you never know what is going to happen next," he reflects. "As a firefighter, you have a connection with history and being a part of the city and making it function." ♦