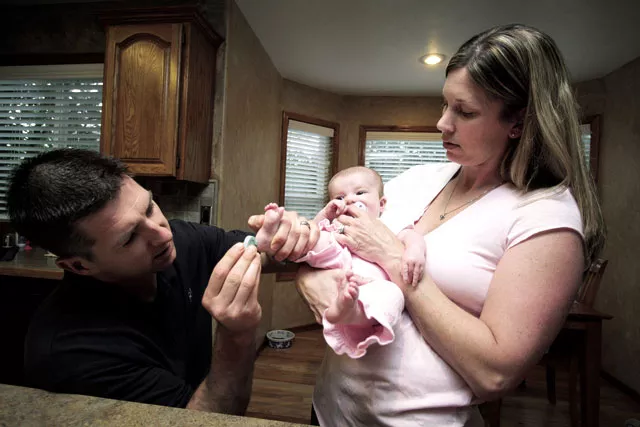 Kelli Hazel was enjoying the sleepy buzz of being a first-time mom, staring into her newborn's perfect face as she nursed. Then on the sixth day of her daughter's life, Kelli and her husband got a phone call from a pediatrician's office.
"I could tell right away from her tone something was wrong," remembers Kelli. "She said, 'We need you to come in,'" because the test for phenylketonuria, or PKU, had come back positive.
"She told me 'Don't breastfeed,' and I had instant panic," says Kelli. "What about the days I had already breastfed? What damage might I have done?"
"Our first hope was that it was a false positive," says Phil Hazel, but he has since learned that PKU is rarely misdiagnosed.
The number of babies born with PKU is about one out of every 12,000 to 15,000. Those children lack the enzyme (phenylalanine hydrolase) that processes an essential amino acid, phenylalanine, found in almost all protein foods. Left unchecked, the unprocessed amino acid builds up in the bloodstream and eventually causes brain damage.
Kelli and Phil had heard the explanation as they watched a hospital nurse draw blood from their daughter's tiny heels for her required newborn screening. But like most of new parents, once they removed the band-aids, they didn't give PKU another thought.
Unfortunately, the fill-in pediatrician who delivered their daughter's PKU screening results on that sixth day didn't offer much science to confirm or allay their fears.
"He printed off a sheet from the March of Dimes' Website, and I heard his explanation as: 'Your child can't have protein or she'll be retarded. If you don't give her protein she'll be fine,'" Phil recalls.
The rare occurrence of PKU may leave some pediatricians at a loss for offering practical advice, but they still support a vital need for screening and education.
"I've been in practice for 32 years," says Spokane pediatrician David Morgan. "I can only remember two positive test results from a screening, and they were both hypothyroidism" — congenital hypothyroidism happens in about one out of 4,000 babies — "which was treated with thyroid hormones."
Dr. Morgan says he has also had six patients test positive for sickle cell anemia traits. He tells parents to start any special treatment immediately. "It's very time-critical," he says.
Although left with fear and uncertainty after the initial diagnosis, the Hazels say the Washington State Department of Health and the PKU Clinic at University of Washington in Seattle were in contact "within hours … reassuring us she was going to be OK," says Phil.
Kelli was relieved to find out her breast milk was safe. For three years now, the Hazels have followed the PKU Clinic's strict dietary recommendations, including "phenyl-free" formula, their daughter's main food source, and measured amounts of fruits, vegetables and special low-protein breads and pastas.
"The clinic told us early on to compare it to a food allergy," when explaining her daughter's diet to friends and family, says Kelli, but she says people don't understand how many childhood foods contain protein. For instance, just 12 Goldfish crackers would be the limit of protein for a whole day — and a poor use of her 170-gram daily allotment.
"So I plan ahead," says Kelli. "I always have cupcakes for a special occasion. She knows not to eat anyone else's food."
Just when they got used to their firstborn's routine, Phil and Kelli had a second daughter with PKU. "It's a genetic disorder, so there's a 25 percent chance she would [have it]; in my mind I kind of set myself up to expect it," admits Phil.
Faced with a sense of both helplessness and determination, Phil decided to advocate for other parents by joining the Washington State Board of Health.
In May, he and other members convinced lawmakers to add 15 additional metabolic disorders to the already-required newborn screening panel.
"I believe that all genetic disorders that can be treated [should] be screened for," says Phil, and that being involved on the board "gave me a lot of confidence in the system … Without it, my daughter could be brain-damaged by now."
Kelli hopes her daughter, now a healthy 3-year-old, can follow in her father's footsteps as an educational advocate. And she's even met a neighborhood friend with the same disorder.
"I think they will be responsible for the diet being brought into their elementary school," she says.