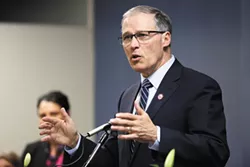 Large counties in Washington can move to the second phase of reopening the economy if they have had 10 cases or fewer per 100,000 people in the county for at least 14 days, Gov. Jay Inslee announced today.
That appeared to poise Spokane County to move into the next phase right away, but it was unclear if the county would have to reapply, as its application to reopen with a variance was denied by the state last week.
Before Inslee's announcement Tuesday morning, some businesses in the county had already chosen to ignore the state order and reopen, with many of the safety guidelines outlined for the later phases, including spacing out tables, recommending masks, and wiping down surfaces often. The governor told a reporter during the Tuesday press conference that the Attorney General's office may follow up with businesses that jumped ahead of the allowed steps.