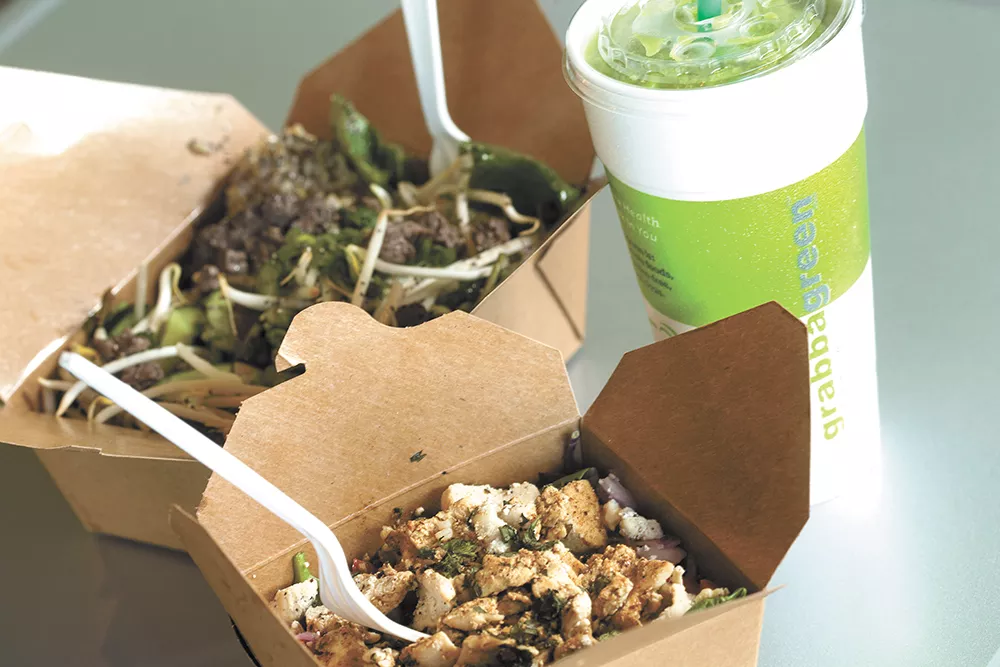 For some, the New Year means resetting the holiday season's tendency toward gastronomical excess. But as a new diet is contemplated, one wonders about taste, fullness and variety. And, of course, expense.
Grabbagreen, says franchise owner Christina Horton, has just the thing.
"Juice detoxes are a great way to give your digestive system a break while flooding your body with nutrients," she says. The store's Gingerly juice, for example, is watermelon, pear, ginger and lime ($6/12 ounces). Grabbagreen's one- to three-day detox package is 20 pounds of fruits and veggies liquefied into six juices and two elixirs ($50/day).
If you'd rather chew your way to good health, Grabbagreen has more than 50 items on the menu that will help you leave your bad habits behind, including salads, grain-based entrées, breakfast wraps, fruit cups and a customizable menu of grains, proteins and other ingredients.
The Patagonia grain bowl, for example, features quinoa, (hormone and antibiotic-free) steak, red pepper, red onion, black beans, corn, cilantro and chimichurri ($10). The Orange County salad includes spinach, chicken, cucumber, bean sprouts, red cabbage, edamame, carrot, green onion, cilantro and orange cashews ($10). For breakfast wraps, Grabbagreen uses collard greens in lieu of breads or tortillas, stuffing them with steak and eggs, chicken and green onion, or veggies ($7).
Grabbagreen emphasizes clean eating: mostly organic, non-GMO foods, gluten-free and also preservative-free. The Arizona-based company also sources from regional farms, including Wilcox Farms in Roy, Washington.
Horton's interest in clean eating resulted from family health issues — her father's cancer and her son's autism — prompting her to research the Gut and Psychology Syndrome (GAPS) diet linking digestive health to overall health. She started the Coeur d'Alene franchise — a Spokane location is in the works for the summer of 2017 — partly to share her knowledge with other people who might be facing similar health issues, or who are just looking for healthier fast-food options.
"I wanted to do my small part in making people's lives easier," she says.♦
Grabbagreen • 405 W. Neider Ave., Suite 108, Coeur d'Alene • Open Mon-Sat, 7 am-8 pm; Sun, 10 am-3 pm • Facebook: Grabbagreen Coeur d'Alene • 208-277-9700