At an evening meeting at the Veradale United Church of Christ, a small church in Spokane Valley, Lindsay Schubiner — an activist from Berkeley, California — stands in front of a grid outlining the nuances of white nationalism. She's speaking at a "Creating a Hate-Free Community" event co-sponsored by the recently formed Families Against Bigotry group.
Some white nationalist groups, Schubiner says, try to change society through political or legal tactics, while others are violent. Some are explicit about their racism. Others try to hide their goals strategically behind coded language.
But there are plenty of similarities.
"We know that white nationalists are making a push for mainstream status," Schubiner says. And when she refers to one of the groups in the violent, overtly racist quadrant — Identity Evropa — she knows that her Spokane audience probably know who she's talking about.
Identity Evropa had coined the white identity politics slogan "You will not replace us," a slogan that had been chanted at the violent Unite the Right rally in Charlottesville. And lately, they've been active in Spokane: Since February of 2017, the Anti-Defamation League has tallied seven different incidents of Identity Evropa pasting white nationalist propaganda posters or stickers in the Spokane region.
Since Trump's election, Spokane has been shaken by a variety of racist incidents.
A teenager holds signs proclaiming alt-right sentiments at a local high-school rally. A racial slur is spray-painted on a civil rights center. Two men — one with a white power tattoo on his leg — allegedly punch a black man in the head and, according to the Spokesman-Review, pressed a gun up against his nose and said "I feel like shooting a (n-word) today."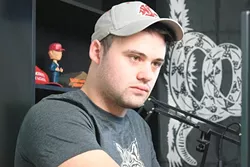 It makes national news when alt-right figure James Allsup, a former WSU College Republicans president, snags a low-level GOP precinct committee officer seat in Whitman County.
In Spokane, a variety of groups on the left have been sounding the alarm.
The local Women's March page shares a plea: "Spokane friends, we have been here before. Many of us grew up in the shadow of the Order and the Aryan Nations. DON'T LET IT HAPPEN AGAIN!"
But as experts will tell you, pushing back against the alt-right isn't always simple proposition. Do you identify alt-right members and call them out by name? Do you confront them? How do you fight a group that feeds on conflict and attention without giving them exactly what they crave?
EXPOSURE RISKS
One approach to opposing the alt-right is simple: Identify white nationalists by name and expose them. That was the strategy employed by Twitter users like "Yes, You're Racist" last year, who tried to crowdsource the identities and then shame white supremacists who marched in Charlottesville — including Allsup. But while some alt-right marchers lost their jobs because of it, there are serious risks to that approach. Not only were some individuals falsely accused, but the approach can also backfire in other ways.
Tony McAleer, a former Aryan Nations member, co-founded Life After Hate, an organization that seeks to extract people from white nationalism. He says that calling out individual white supremacists can harden their ideology, making the task of saving people from white supremacy more difficult.
"By doing that, you entrench people and you can make people more extreme," McAleer says. "If I've lost my job and I've lost everything, I have nothing left to lose."
In April, a Central Valley High School student wearing a homemade Identity Evropa T-shirt counter-protested a student walkout by waving alt-right signs. The Inlander and KXLY interviewed him and other students, identifying them by name.
Some local activists were horrified to discover that, shortly afterward, a white nationalist Twitter account had publicly attempted to reach out to the student, asking him to send in an "application to Identity Europa."
"By putting his name out there, it made him a target of Identity Evropa," says Genavieve Heywood, pastor of Veradale United Church of Christ.
Three days after the walkout, a group of parents and community leaders began meeting, trying to figure out how to address the issue.
"How do we respond?" Heywood says the group asked. "How do we address the schools? How do we address the community?"
Later, the group became official, organizing under the name "Families Against Bigotry."
"We respond by saying 'no' early in the process," Heywood says, "We need to stop the kids on the margin from being recruited. We've got to come from all different angles."
They teamed up with other local organizations for a summer lecture series titled, "Fascism, Hate and Building Alternatives."
They brought in McAleer to be their first speaker. McAleer says they drove him to a meeting to talk to local school district administrators. McAleer argues that helping young people on the edge of being recruited into extremist groups requires a team effort from community members, law enforcement, mental health professionals and school officials. It's more about addressing emotional issues than intellectual ones.
Crucially, McAleer says, it's also about supporting the victims of extreme groups as well.
On Monday, Spokane Community Against Racism (SCAR) hosted a speech on "Countering the Alt-Right Threat to Spokane" by Joan Braune, a lecturer with Gonzaga University. But Braune, who's been critical of the Inlander's past coverage of the alt-right, declined to be interviewed about the issue. Audio or video recording were banned at the event.
It highlights the fear that many activists have about even publicly discussing the alt-right. They're cautious about making vulnerable members of the community targets for alt-right violence. They're worried about giving oxygen to groups that thrive on publicity.
Activists have heaped criticism upon media outlets nationwide, charging that some of their stories portray alt-right figures as dapper, swaggering anti-heroes or impish pranksters rather than as racists with a genocidal ideology.
McAleer goes further. He knows from personal experience that it's not the white supremacist group's fliers that makes the impact — it's when the media writes about it. He recognizes the tricky situation that journalists are in.
"If every time they do a flyering, you write an article about it, the flyering is not going to stop," McAleer says. "You have to make people aware of what's going on, but you can't reward them for flyering. It's a Catch 22."
Even the Anti-Defamation League senior investigative researcher Carla Hill finds it difficult to strike the right balance. You don't want to elevate the rank-and-file members of extremist groups by giving them a platform. But she also says it's important to call out groups like Identity Evropa and leaders like Allsup, to inform people that their seemingly benign propaganda represents a Trojan horse for their push for a white ethnostate.
"The danger is letting a group like that masquerade as mainstream," Hill says.
THE PERILS OF PROTEST
So far, from the point of view of Jac Archer, vice-chair of the Spokane County Democrats, organized action against the alt-right in the Spokane area has been relatively limited. There are groups who, when alerted that white supremacist posters have been pasted up on college campuses or around town, head out to tear them down.
But Archer, without getting into details, says to expect stronger opposition going forward.
"You're going to see increased demonstrations, about issues of racism in particular," Archer says. "I think you'll see that things are more confrontational coming up."
In her speech Monday, attended by an Inlander reporter, Braune argued that effective protests were well-organized, well-attended and persistent. In particular, she praised the recent demonstrations in Portland that temporarily shut down the Portland Immigrations and Customs Enforcement (ICE) office.
At times, nationally, alt-right groups and anti-fascist groups have outright brawled at protests. Last year, the punching of white supremacist Richard Spencer spawned rejoicing — and plenty of Captain America jokes — from some sectors of left-wing politics.
But McAleer — who says one of his Life after Hate co-workers witnessed a bystander mistaken for a skinhead get cold-cocked at a protest at Boston — argues that violence simply plays into the hands of the white supremacists: Punch a neo-Nazi, make a neo-Nazi martyr. Activism is good, he says, but activists should ask themselves a question when protesting extremist groups:
"Knowing that they thrive on conflict, attention, fear and intimidation — is what I'm about to do going to empower them or weaken them?" McAleer asks.
He offers a suggestion.
"Have a rally on the different side of town," he says. "That sends a strong message to the community that doesn't take the bait."
That's exactly what two local Democratic Socialist groups did when far-right provocateur Joey Gibson came to town. While Gibson himself disavows the alt-right, his rallies have often attracted them and have sparked violence. So the Spokane Democratic Socialists of America and Socialist Alternative Spokane held a rally 11 miles away from the Gibson event.
Archer is clear that the actions being discussed aren't going to be violent. But they won't necessarily be quiet either. Expect, Archer says, "nonviolent but visually powerful — and sometimes loud — tactics."
For some activists, nonviolence isn't just a pragmatic consideration: It's a moral one.
"It sounds cliche. It's Dr. King, it's the Dalai Lama," says Walter Kendricks, SCAR co-founder and pastor at Morning Star Baptist Church. "When you're attacked, don't attack... Turn the other cheek."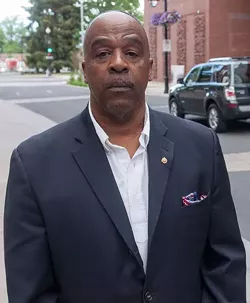 But Kendricks also says that fighting against racism has to go far beyond protests or lectures. It has to dig into the root causes.
"Marching in the street does wonders. But it brings attention only for a passing amount of time," Kendricks says. "What is causing this? Why are so many people so angry?"
SCAR, after all, was founded not because of Donald Trump's election or alt-right posters, but because of a Spokane jury verdict that acquitted a white man who, after a fight, shot a black man twice in the back.
"We have to look at our educational system," Kendricks says. "We have to look at our economic system. We have to look at our criminal justice system."
And for Archer, the fights against the alt-right and the fight against subtler forms of discrimination are connected. Structural inequality makes racists bolder, Archer argues. It gives them data points for their propaganda.
"If you disadvantage people, and you hobble them, then the argument that they're inferior is made much easier," Archer says.