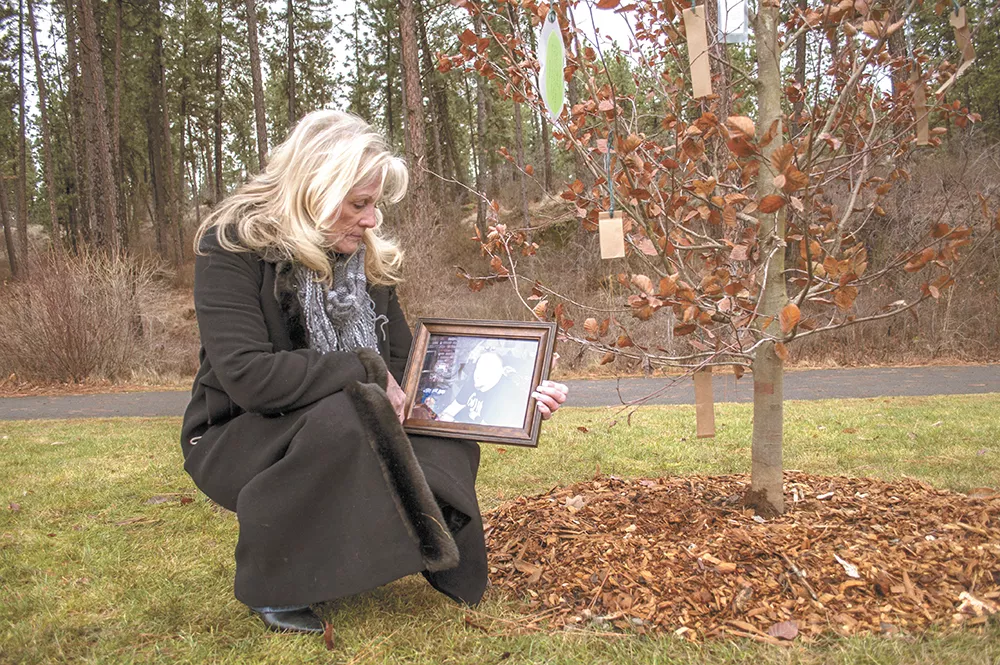 The competency therapist here at the hospital has given me the choice of pleading not guilty by reason of insanity, and that's the best decision I can make right now. They have informed me that I will most likely be sent to a long term ward here at the hospital for about three years, which would be drastically shorter than a prison term.
— Mark Overland, in a letter to his Uncle Norm from jail, July 2000
The last time Sandra Carr saw her son alive was four days before her mother's 95th birthday. It was Saturday evening, Aug. 9, at the Old Spaghetti Factory, their first dinner together as a family in 14 years.
In the fall of 2000, her son, Mark Overland, had been admitted to Eastern State Hospital after pleading not guilty by reason of insanity (NGRI) for attempting to kill his neighbor. Overland had paranoid schizophrenia and was undiagnosed at the time. Once stable, he spent the next decade at the hospital, "working the program" so he could get out and start a new life. He got that chance in July 2014, when he was granted a conditional release from the court to live in the community. He moved into a transitional house in Spokane and was preparing to take classes at Spokane Falls Community College. He wanted to be a video-game designer.
For the first time in more than a decade, Overland was on the cusp of achieving everything he had always dreamed of since his commitment at Eastern State. Less than a month later, without warning, Overland, 38, committed suicide. Carr was shocked and, to this day, is struggling to understand why.
"Everything that we ever knew about Mark, we believed he would be successful," Carr says. "My question is why? Why did he do that? He seemed to have a goal in mind for getting out. He worked hard to get out. He did everything they asked him to do."
But maybe that wasn't enough, says John Murphy, the programs manager at Passages Family Support and a former, long-time patient advocate at Eastern State Hospital. After Eastern patient Phillip Paul's escape from the Spokane County Fair in September 2009, all NGRI patients, including Overland, immediately lost privileges to leave their wards and make reintegration trips into the community. In 2010, state lawmakers passed additional laws that effectively confined NGRI patients within hospital walls and, attorneys and advocates argue, delayed their release. Patients are currently suing the state in federal court to have those laws overturned.
"You can't go from being in a real structured place for so long and then all of the sudden, you're out there and you're not having any transition," says Murphy, who knew Overland personally while he was at Eastern. "When you've been in there too long and all of the sudden, they throw you out, you don't know how to survive any more."
Carr describes Overland as a good kid who got good grades, never skipped class and always kept his room clean. Then two months before he was set to graduate from high school, he started to change.
Suddenly, he dropped out and quit his after-school job at Allied Janitorial. He started experimenting with LSD.
"He seemed to have gotten lost," Carr says.
He would stay up for days at time, blasting music and chugging Mountain Dew. He accused his mother of being part of a conspiracy against him. He told her he could hear his co-workers' thoughts. He thought the TV was watching him. On Christmas Eve in 1999, the very last one they spent together, Carr drove Overland around the Valley and up a hill to see the nice houses strung up with Christmas lights, one of his favorite pastimes as a kid. As they were driving down the hill, Carr pulled to a stop. Overland had begun to cry. "Mom," he said. "I don't want to die."
"He told me that several times over the next several months," Carr remembers. "We knew something was wrong. He knew something was wrong. He didn't know what it was. All he knew was he didn't want to die."
Overland was admitted to the Sacred Heart psych ward for a little over two weeks, but that didn't stop his downward spiral. After Overland received his first Social Security Disability Insurance check, he bought a handgun, a .45 caliber Smith and Wesson, at the General Store.
On March 28, 2000, at approximately 10 am, Overland kicked down the door of his upstairs neighbor's apartment and began shooting. He fired at least five shots; three struck the victim, who survived, in the face and neck.
Overland was calmly arrested and charged with first-degree attempted murder and burglary. At the booking, he admitted to the shooting, according to court documents. He did it, he told police, because of everything "they" had put him through, because of all the noise: the creaking of the floorboards, the tapping on the pipes. Before he went upstairs, he loaded his gun and fired at the closet because he thought someone was hiding inside. He said "they" had been reading his mind.
"I had to go up and take care of that guy," Overland said.
Five months later, Overland was acquitted by reason of insanity and admitted to Eastern State Hospital with a lifetime maximum commitment.
Hopefully though I'll get out in a couple of years if I can excel through my treatment plan and the doctors think that I'm ready to integrate back into society and not be a danger to myself and others. I'm doing pretty good here. I listen to music, watch television, play video games and go outside a couple of times a day. I attend meetings with my therapist and have contact with my psychologist and take medication to combat depression and anti psychotics to control schizophrenia which I don't think I have, but it keeps me running on an even keel. — October 2000
One month into his stay at Eastern, Overland wrote one of the first of many letters that he would write to his Uncle Norman, a pastor in Seattle. Norm gave them to Carr after her son's death. Overland's writing — scraggly, but not careless, cursive with a hard-right slant — describes his life at Eastern: his setbacks and frustrations, successes and ambitions. He was bored most of the time. He hated the food. The highlight of his week was taking a 4-mile walk around Medical Lake on Saturdays, drinking a double shot of espresso.
[I want] to look back and know that I contributed something to this miniscule tick of time. I've been given the opportunity to turn my life around. I'm not going to let anything stop me from being successful, including myself. — March 2006
In nearly every letter, he told Norm about his dream to go to college at Eastern Washington University and study video-game design — and expressed his hope of being released in a few short years. His signed them all "Love Mark."
I believe God wanted me to look towards the light and to him for inspiration and hope during these dark times. ...I just want to be the best person I can be and when the time comes, maybe God has a place in heaven for me. — 2014
After dinner at the Old Spaghetti Factory, Carr drove Overland back to his transitional home. She helped him carry a few of his old things from her car up to his room: a PlayStation, a few video games, a cigarette lighter, some clothes and aftershave. His room was small, a bit of a mess. So Carr tidied up before she hugged him goodbye. "I love you," she said.
She didn't hear back from him three days later, when she texted him about evening plans with the family. Or the next morning around 8 am, or again, at 9 am. "HELLO," she texted him, in capital letters, "IS EVERYTHING OK?"
She learned about his death a few hours later, when she got a call from his forensic counselor at Eastern. The night before his death, Carr later learned, he had asked house staff for a plastic bag from the kitchen.
In this place, if they don't like you, you're not getting out. You cannot question these people's actions because there is no accountability from any independent agency to oversee what goes on here. Most of our human rights our taken away and they treat us like dogs. If I had to do it all over again I think I might have gone to prison... I wish I had better things to say about this place, but it's a facade. The real goal of the hospital is to protect the community from us. When it should be about treatment, recovery and rehabilitation. — January 2008
The Department of Social and Health Services can't comment on specific patients' cases. Asked about the process of transitioning NGRI patients into the community, DSHS provided the following statement: "Work on discharge of NGRI patients begins from the day of admission. ... As patients receive treatment and transition through stages of recovery, they are given more opportunities to build outside support systems that can be used when they are eventually released from one of the hospitals."
In September, Overland's toxicology report came back clean. Based on the drug's half-life, he hadn't taken his antipsychotic medication, Seroquel, in at least a day. One of the conditions of his release was that he continue taking his medication; otherwise he would risk having his release revoked and being sent back to Eastern. Today, his mother wonders if, after years of stability, he believed he didn't need the medicine anymore, and then realized too late that he did.
"That one infraction would have finished him. He always said, 'I'm getting out. I'm never going back,'" she says. "He just took the only way out that he knew."
On September 4, DSHS wrote its last letter about Overland to Spokane Judge John Cooney.
On August 13, 2014, Mr. Overland committed suicide at the group home where he was residing. An autopsy was performed shortly thereafter and a Certificate of Death was issued by the State of Washington Department of Health on August 18, 2014. ... As is customary, we are requesting that an Order for Final Discharge be granted in this case to indicate termination of his sentence.
After 14 years, Mark Overland had finally been released. ♦