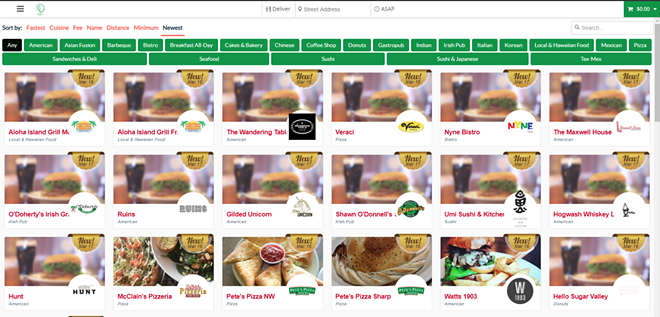 I
n less than a week
,
Treehouse Deliveries'
catalog of local restaurants doubled. Owner Neil Holford hired 14 new drivers and says the company quadrupled its daily order average on Thursday.
The locally owned food delivery service is playing an important role by connecting area restaurants with customers while all dine-in service is banned due to the coronavirus outbreak, and as many residents are self-quarantined at home.
"It's been great the last week. We've been busy and got a ton more partners, which is nice because we can offer more selections to people and it keeps drivers busy," Holford says. "We used to get 10-20 orders on average, and yesterday we had 89. Today already we have 53 by 2 pm, and I'm sure it's going to be even higher through the weekend."
Treehouse Deliveries launched in October 2018 as a local alternative to third party food delivery services like Uber Eats, Grubhub and DoorDash. In similar fashion to those services, users can order food online or via an app for delivery from restaurants partnered with Treehouse, which takes a significantly smaller cut of each sale than its larger competitors, Holford says.
Treehouse currently offers delivery from restaurants in Spokane and Spokane Valley, charging $5 for the first five miles or less from the restaurant's door to the delivery address, and $1 per mile beyond five miles.
Several of Treehouse's new drivers, who contract for the company and can log in to an app whenever they're available for deliveries, have been referred by area restaurants that have been forced to lay off most of their staff until a return to dine-in service, Holford says.
"In the last couple days, I've had a majority of drivers walk away with $150 to $250 at the end of the night, which is nice. It's something they can actually live off of instead of trying to do Uber," he says.
Drivers pocket the full delivery fee for each order, plus tips. While Treehouse's ordering system currently doesn't have a built-in feature to tip restaurant staff as well, Holford says customers can request to split the tip between a driver and restaurant in their order notes.
Newly added restaurants as of this week to Treehouse's catalog include Veraci Pizza, Hogwash Whiskey Den, Ruins, Gilded Unicorn, Hello Sugar and Ferrante's Cafe.
After placing an order, customers can track their food in real time, from when it's received by the kitchen to their front door.
Since the coronavirus pandemic's onset, Treehouse has also added an option at check-out to have a no-contact delivery.