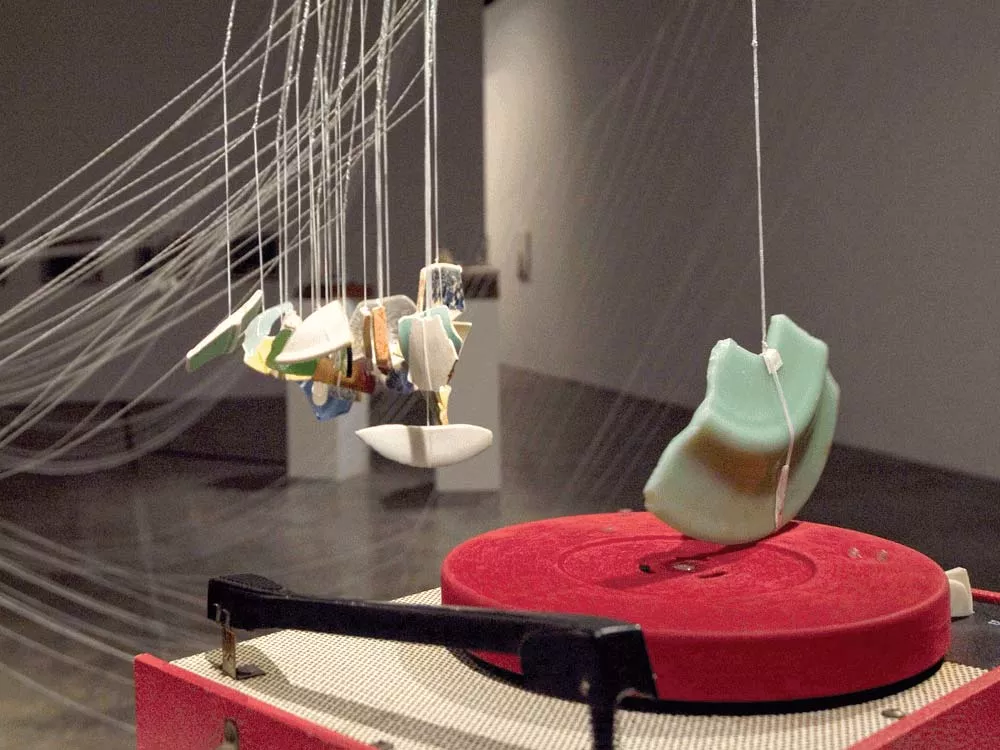 Video projections of dust particles are dancing to an unknown tune. A Rube Goldberg-like maze of taut strings triggers and responds to a series of vintage turntables, causing shards of ceramic and glass to tinkle and clink.
It is here, somewhere between meditations on the mundane and contemplations of the cosmic, that Angela White's artwork occurs.
White's work explores the microcosmic and macro-cosmic by taking small things — a broken dish, beach glass, stones, seed pods — and building them into larger visual and aural constructions. On their own, they are insignificant. But under White's eye, simple objects become rich in symbolic import, especially when used in multiples: One pebble is easily overlooked but can't be ignored as a large pile.
White's work is multi-disciplinary, blending art and musical arrangement (think of her clay, rock and glass like violins and cellos, each playing its own different but related tone). In her work, White provides the bridge between visual artists seeking to express rhythm and movement in their works (Robert Delaunay, Piet Mondrian, even Bridget Riley) and the performance-oriented works of the Fluxus movement.
Although she may have a specific concept in mind as she's creating a piece, her subject matter is universally broad. For the audience, that video projection of suspended dust may look like stars in the night sky or moths skittering towards the light. Or even familiar

sayings: "Ashes to ashes, dust to dust."
But the dust is one example of how White seizes minute detail to illustrate something larger. It reminded her of working in clay, which she did as an undergraduate at the University of Akron's Meyers School of Art. However, it was the idea of the dust that appealed to her, says White — she became enamored with capturing gestures of movement and time, translating the abstract into something visual.
White moved away from conventional art-making about 10 years ago. In 2001, she
exhibited wearable garments from discarded twist ties and plastic bags. A year later, she showed her "Fast Food Quilt" of stitched-together food wrappers. Her sound-based installations came next.
White's work is concerned with the way that sound and sense of place go hand in hand. The ocean. The passing of traffic.
Hers is a complex, fascinating mind.

Angela White • Lectures on Wed, April 13, at 1 pm at the EWU Art Department Auditorium, and at 6 pm at Museum of Arts & Culture • White lectures on Thurs, April 14, at 11:30 am at SFCC Building 24 • White's "Acts of Actions" opens on Thurs, April 14 and continues through May 14 • SFCC Fine Arts Gallery • Open Mon-Fri 8:30 am – 3:30 pm, Sat 11 am-2 pm • 359-6651