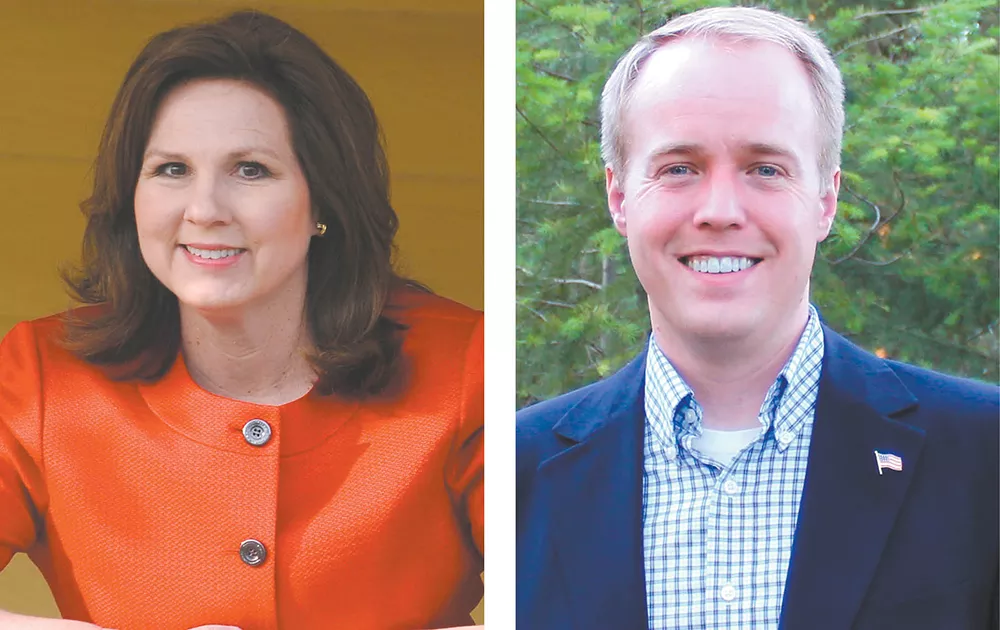 In a county that leans Republican, Candace Mumm will need to overcome a demographic challenge to win a spot on the Spokane County Board of Commissioners. It's been six years since the county commission had a Democrat on the board, and Mumm, a Spokane city councilwoman, wants that to change.
But Mumm insists she isn't running to serve as a progressive voice. Instead, Mumm says she's "a moderate" who has always listened to the community she represents. And with the city and county having been at odds on growth and land-use issues, Mumm thinks her experience in that area can help.
"I represent a very economically diverse [Spokane city] council district," she says. "I think my experience representing such a diverse district is really a good fit for Spokane County."
Her opponent, Josh Kerns, has focused on bringing economic growth to the county, something he argues would increase tax revenue needed to fund criminal justice reform and roads.
"It goes back to people I meet when I'm out doorbelling — all the people who know someone unemployed, underemployed," Kerns says. "Jobs will help solve problems in our community."
But as the candidates vie to replace county commissioner Nancy McLaughlin — who was appointed to the seat earlier this year but lost in the primary — Mumm and Kerns are questioning just how far to the right, or the left, their opponent's political views lie. It's forced Mumm to defend her record as a member of the left-leaning city council, and Kerns to explain his association with Spokane Valley Rep. Matt Shea.
In a debate last month, the candidates had a chance to ask each other one question.
Kerns went first. He asked Mumm why she supported the Spokane City Council's sick leave ordinance requiring businesses to pay for up to five sick days each year. Kerns argues that the ordinance could cost businesses millions of dollars a year.
Mumm replied that the policy protects workers. She went on to cite stories of unnamed local employers abusing workers, and said she fought for business owners during the process of crafting the ordinance. For Kerns, who wants the county to do more to attract business, the answer was unsatisfying.
"The best way she could have stood up for businesses is she could have voted no," Kerns says.
He's also criticized her for the city council initially passing a resolution to put a measure on the ballot to fine railroads for sending oil and coal trains through Spokane, even though the city policy advisor warned that could open them up to legal liability. Mumm says she initially voted for the ordinance to give the city more time to research it. She then was one of five councilmembers who voted to take it off the ballot.
Last week, however, Mumm was the only councilmember to side with right-wing councilmember Mike Fagan in opposition to a resolution in support of the Dakota Access Pipeline protests, which the Standing Rock Sioux tribe argues would harm ancestral lands and cause environmental damage. Kerns argues that vote was a "politically safe vote" for a county commissioner candidate.
"I think I could say, with a pretty clear conscience, that, yeah, if she wasn't running for [commissioner], she would have been a 'yes' on that," Kerns says.
Mumm says she's neutral on the issue, but there was no option to abstain. She points out that in 2014 she also voted for the the city to take a neutral stance on the Spokane Tribe Economic Project, a mixed-use development on 145 acres in the county's West Plains.
When it comes to economic growth, Kerns says he would continue the current county commission's work in speeding up processes for business. He says the county needs to engage in more "good, old-fashioned recruiting" to attract businesses. Mumm argues that improving public transportation and helping with transportation costs is another key part of attracting new employers. Unlike Kerns, she supports the STA sales tax measure on the ballot this year.
"Having a very high level of public transportation is something my opponent and I differ on greatly," Mumm says.
They also disagree on the county's future growth. Mumm, who spent years on the city's plan commission and was twice elected its president, urges that the county make sure it knows how to fund expansions. She says the lack of planning for growth has led to overcrowding in schools on the fringes of the county, and also led to a series of lawsuits against the county that resulted in a settlement locking in the current urban growth boundary until 2025.
Kerns says he would have hoped to be able to push the urban growth boundary out more.
"We're a welcoming community. We need to, through our policies, be pushing that idea forward," Kerns says.
When she got her chance, Mumm's question for Kerns touched on an entirely different issue. She asked Kerns about his ties to state Rep. Matt Shea, who is part of the Coalition of Western States and led a "fact finding" mission to support armed militants engaged in a standoff at eastern Oregon's Malheur National Wildlife Refuge in January. COWS attempted to negotiate on behalf of the Ammon Bundy-let militants. Shea also recently accused a sheriff's deputy and Sheriff Ozzie Knezovich of being involved in a triple homicide this year — a claim that was swiftly debunked.
Mumm says it concerns her that a potential county commissioner, who would spend significant time working on public safety, may have a strained relationship with the county sheriff.
"The association, and support that he has from a legislator who is accusing the sheriff and sheriff's department of some very serious things — I think that relationship would be difficult as a commissioner, where you spend most of your time working on public safety," Mumm says.
Kerns has said that just because one of his supporters believes something, it doesn't mean he does. He has said he wouldn't have made a trip down to the refuge, and that if a situation like that happened locally, "we need to make sure that we're there behind our sheriff."
But Kerns defended Shea when the Inlander asked about the topic, pointing out that Shea later posted on social media that the deputy in question did nothing wrong. Yet Shea, in the same post, speculated that Knezovich has political ties to the murder suspect.
When the Inlander asked if there were any issues Kerns disagrees with Shea on, Kerns, after a pause, said, "I mean, I honestly have not had conversations with him about county issues. I don't want to put words in his mouth." (In fact, Shea had Kerns join his podcast in July, and the two talked at length about county issues.)
Mumm stopped short of criticizing Kerns for sharing viewpoints with Shea on any other county issues.
"If Matt Shea is re-elected, I look forward to working with him," Mumm says. "If he is one of our legislators, then absolutely we will have a professional working relationship." ♦