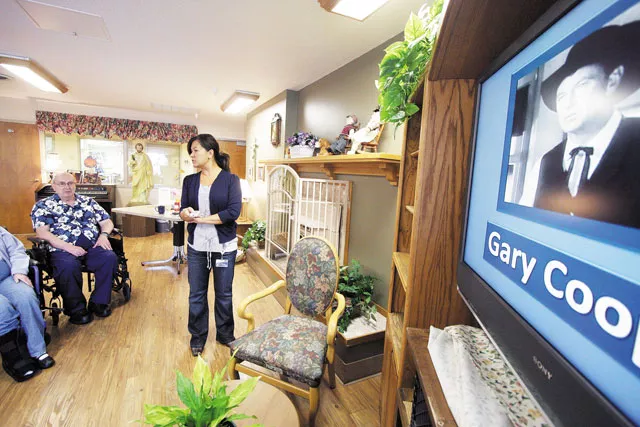 Most of the folks at Spokane's Providence St. Joseph Care Center might rather be somewhere else. Some may even have trouble remembering where they are.
"The older generation is kind of like the lost generation," says Cindy Penna, a recreation specialist at St. Joseph Care Center. Penna is all too familiar with the struggles faced by elderly individuals, especially those suffering from dementia. It's her job to make their stay at the Care Center more palatable. She's always looking for ways to engage her clients socially and cognitively — a task that may be made easier by a new tool called Memory Programs, a DVD series featuring question-and-answer slides geared toward Alzheimer's and dementia patients.
Spokane inventor Alan McDowell says during the years he spent working with dementia patients, he noticed a serious deficiency in activities that could engage large numbers of patients at once. He decided it was a niche he might be able to fill.
Because individuals with dementia regress cognitively as their condition worsens, appealing to the past is often the best way to tap into their remaining memories. McDowell created interactive DVD games featuring trivia questions covering topics from popular sayings of the past to presidential history. Participants answer using the DVD remote control. The full set of five DVDs runs $90, or each disc can be purchased individually from $20 to $30.
"I'm cataloging any kind of information the seniors would have known 30, 50 years ago, back to childhood," McDowell says. "A person with Alzheimer's goes backward — they are more interested in what's going on in the past than the present."
The unique and colorful presentations are a hit at Penna's facility, where she uses them weekly. Penna acts as a game-show host for her patients, who gather around the TV.
"It's useful for socialization, for them to hear other people respond," Penna says. "Sometimes they'll laugh at each other if they get it wrong; sometimes they'll encourage one another."
Dr. John T. Tran, medical director for Spokane Mental Health and the Frontier Institute who's also a geriatric care specialist, is all too aware of the challenges facing those caring for individuals with dementia. He points out that treatment is always multifaceted, and Memory Programs isn't a substitute for attentive care. "You really have to help the patient as a whole patient, and not just one single part," he says. "If their environment is causing symptoms — these agitated behavioral issues — I think the program would be a good approach."
Although online ads for the programs promote their ability to distract agitated patients and include testimonials from caregivers who have found them effective, Tran says he's curious how Memory Programs would fare in a clinical trial. A research trial, he says, would not only be able to specifically identify the program's benefits, but could also serve to point out what needs to be improved.
Rob Fraser is general manager of Care to Stay Home, a business that matches patients with in-home caregivers. He sees some room for improvement, especially with regard to navigating the menus. The programs were adapted to work on a TV because "a lot of seniors don't have computers."
Despite the issues and some mixed reactions from his at-home clients, Fraser is still impressed with McDowell's programs because they engage the participants' long- and short-term memory.
"Whether he did this by accident or brilliance, in the program it intertwines those two skills," Fraser says, explaining that the content stimulates the long-term memory, while the questions use short-term. "I think that's brilliant."