November 01, 2017 Slideshows » Blog
Monthly rewind: 10 unpublished pictures from October
Each month, there are a handful of photos that we couldn't fit in print or online, but are still worthy of your attention. So, we decided to create a monthly slideshow featuring 10 great never-before-pubished images of the month that was. Enjoy!
Young Kwak
Potato Gnocchi is photographed at Italia Trattoria for our annual Dining Out Guide.
Derek Harrison
Cans of No-Li Brewhouse's Big Juicy IPA are filled with beer on the line of Spokes Mobile Canning.
Young Kwak
Whitworth University sophomores Catalina Corvalan, left, and Sara Trujillo, pose for a photograph at Holmberg Park. Corvalan is a part of the federal Deferred Action for Childhood Arrivals (DACA) program, which allows undocumented immigrants who came as minors to have deportation actions against them deferred for two year periods, which are renewable. Corvalan and Trujillo are members of the Spokane Dream Project, which advocates for undocumented students.
Jesse Harding
A reader-submitted drone photo of wind turbines on the Palouse.
Young Kwak
Bartender Steve Marriott adds water from a soda fountain for a Cucumber Lemonade Soda at Clover.
Young Kwak
Spokane City Council candidate Kate Burke walks down E. Olympic Ave., near N. Nevada Ave. while doorbelling.
Young Kwak
Luther Price, center, speaks at a candlelight vigil on Sunday, Oct. 22 at the scene of a car crash that killed two homeless people, Sheera Cunningham and Julius Bradley Cooper, behind the Subway on N. Market St. near E. Garland Ave.
Erick Doxey
Compass Breakfast Wagon Owner Ross Carper prepares a dish in his mobile kitchen.
Young Kwak
"Harrison" (2017) featuring a taxidermied Spinicrusby by local artist CarLy Haney.
Young Kwak
"Lysander" (2016) featuring a taxidermied Niphila Maculata by local artist CarLy Haney.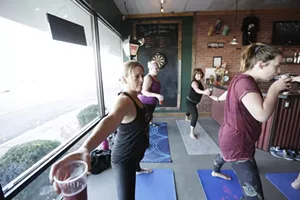 Boga »
« The Taxidermied Spiders of CarLy Haney