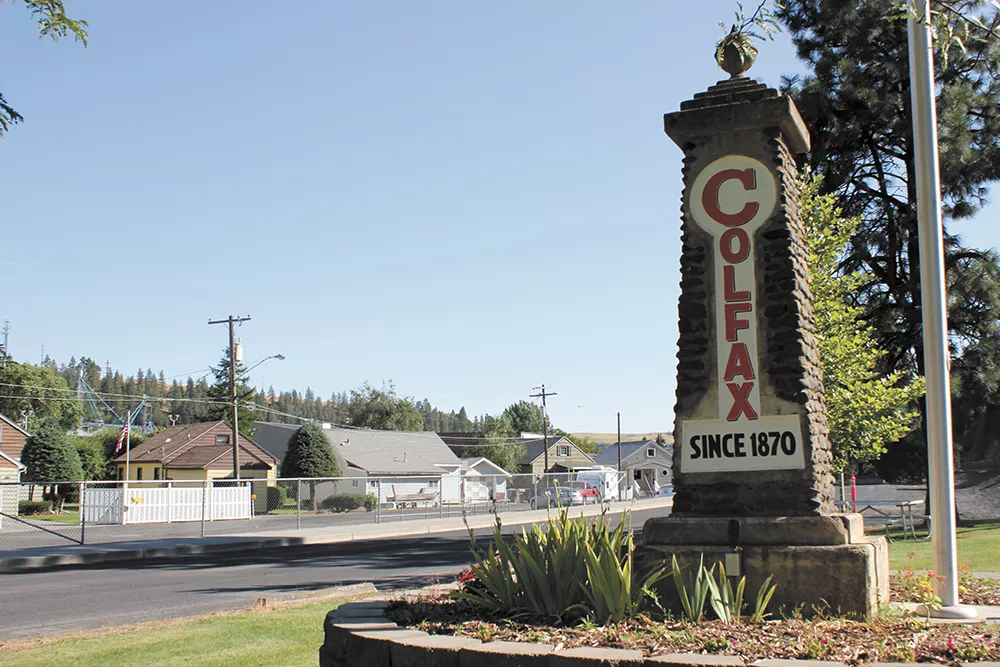 You've probably heard of this place by its alternate name: "that speed trap on the way down to Washington State." That's Colfax, known for its Main Street that bears a 25 mph speed limit. Its residents, however, want it to be known as a helpful, caring and tight-knit community that is proud of its slower pace — and think everyone should slow down all the way to a stop and check it out.
Colfax High School isn't the flashiest of community cornerstones — if you blink while descending Highway 195 into town, you'll miss it — but this school of roughly 300 students is what many residents describe as the town center.
"Everything that we are about, aside from farming, is school functions," says special education teacher Jennifer Cooper, also a CHS alum.
For the greater community, CHS provides events to attend — namely, its high-level sports. The volleyball team, led by coach Sue Doering, has won seven state championships in the past 10 years. Rarely is a home basketball game not filled to capacity with fans of all ages.
"The community supports the school and the kids," says Ross Swan, who is beginning his 18th year teaching social studies at CHS. It's not just about sports, however; the community comes together for every activity. "We have parents who care about stuff, too, and even when their kids graduate, they'll come back and support the sports, or the musical, or the band concerts."
Swan once purchased a pair of shoes that didn't fit him. When Cooper happened to tell him about a student whose foot was coming through the sole in his shoe, Swan asked, "Well, what size does he wear?"
That student left with a brand-new pair of shoes.
"A lot of teachers would do things like that," Swan says humbly. "Some kid will need a pair of shoes, and some teacher will provide it for them. Some kid will need a coat, we'll find a coat for 'em. We've got a lot of teachers who are very empathetic and see themselves as servants for students."
Mayor Gary "Todd" Vanek is trying to make Colfax a more fiscally manageable place where travelers want to stop and inhabitants want to stay.
His goal: improving the city's tax base by gradually growing the town and encouraging more tourism in order to balance the perception of less opportunity for money from the state, paired with growing costs of operation. In his first term, he's begun initial steps, like reworking the Colfax Chamber of Commerce, to make these dreams reality.
The first opportunity is a block from city hall. Between 5,000 and 10,000 cars drive through Colfax on Highway 195 every day. Many drivers are shocked when their 60-mph cruise control gets turned off due to slow traffic, a stoplight or law enforcement.
The mayor plans to embrace this speed trap in a way he says he didn't see in previous administrations. "Instead of getting pulled over, stop and get a cup of coffee, stop and get your gas," he says. "Why not play off that idea?"
As for transplants, Vanek explains it's a matter of having businesses appealing enough to keep money in a town which was long considered a bedroom community for nearby Pullman.
"That's how people acted: 'Go to work, shop in Pullman, get everything we need, then we'll come home, watch TV and go to bed.' We want to change that a little bit to get people to hang out here," Vanek says.
Fonks Coffeehouse is a classic, family-owned shop. Patriarch and owner Steve Warwick spreads his time across several Inland Northwest small businesses. His wife, Deb, enjoys updating the décor. Their daughter-in-law Amy is the manager.
The coffeehouse hides a secret that isn't perceptible at first glance. The café side of Fonks once was a 5-and-10-cent store, while the back serves as a warehouse for TeamStores.com, the Warwicks' college sports apparel business.
Steve says Fonks is an example of how small-town communities make choices to keep the town from being a collection of decaying buildings.
"The fathers in town just didn't want the front of the buildings boarded up, looking like an Internet warehouse. So we said, 'Let's put a coffeehouse in,'" Steve says. "The more we read about it online, it's a place for people to meet and talk, and do community things and meet people. That's why we did it, and it worked out well." ♦
---
COLFAX
Population: 2,846 (from colfaxwa.org)
On the map: 16 miles northwest of Pullman
Annual event: The Concrete River Festival is a three-day family event in July named after the concrete-lined Palouse riverbed that protects the city from floods.
Notable names: John Kitzhaber, Oregon's governor from 1995-2003, and again from 2011-15, recently in the news for resigning amid a corruption scandal.