Cops are only as good as their word. And their words wield great power: An officer's report and testimony loom large with prosecutors, judges and jurors tasked with deciding between guilt and innocence, incarceration and freedom, life and death.
"People's freedom relies on us telling the truth," Spokane County Sheriff Ozzie Knezovich says. "If you have somebody out there lying on a police report, it can be devastating."
But law enforcement officers found to be lying are not always fired, and without a reliable tracking system, discredited officers remain on the streets or in the courtroom. Frequently, they're given the opportunity to resign before internal investigators can condemn them. They're then free to continue policing in a new department with an unblemished record.
By law, prosecutors have a duty to tell defendants about any evidence that could help their defense or discredit a government witnesses. This effort at transparency dates back to the 1963 landmark U.S. Supreme Court case Brady v. Maryland, which says that prosecutors who withhold such evidence are violating the accused's due process rights.
Although the Brady ruling is more than 50 years old, judges and legal scholars say it's routinely ignored. Ninth Circuit Court of Appeals Judge Alex Kozinski says the problems are "epidemic," adding that even when violations of the Brady ruling are discovered, judges are reluctant to toss out convictions.
Born of the Brady case are "Brady lists" — records of police officers whose credibility has officially been called into question. These lists indicate prosecutors' commitment to meeting their legal obligations, but not all jurisdictions maintain them.
The Spokane County prosecutor's list contains 38 names of discredited cops and crime lab scientists. At least 18 of them still work in law enforcement. The prosecutor's office says it largely relies on the police departments themselves to forward names for the list.
The county public defender's office, however, says that by its count, the current list of "Brady cops" should be nearly twice as long.
Several local attorneys point to one Spokane County deputy in particular. Deputy Travis Smith was fired in 2011 following sustained findings of sloppy report writing, improper searches and seizures, conduct unbecoming of an officer, failing to log evidence, neglect of duties, excessive force, discourteous treatment of the public and, the final straw, criminal property damage in which he plunged a 4-inch knife into the seat of a truck he was searching.
Smith appealed Knezovich's decision to fire him. Meanwhile, the sheriff's office began investigating perjury allegations stemming from Smith's testimony in federal court.
In late 2011, an arbitrator hired Smith back, and Knezovich says county attorneys advised him to stop the perjury investigation because it could look retaliatory. The internal investigation, however, indicates that Smith was at the very least misleading in his report and testimony. He declined to be interviewed for this story.
"In my opinion, [Smith] committed a crime and was never truthful about it," Knezovich says. Regarding the arbitrator's decision to reinstate Smith, the sheriff says: "I just went, 'Heh, OK, so he gets a pass on this one.'"
"How do rogue forensic scientists and other bad cops thrive in our criminal justice system?" Kozinski, the Ninth Circuit Court of Appeals judge, writes in a 2013 opinion. "The simple answer is that some prosecutors turn a blind eye to such misconduct because they're more interested in gaining a conviction than achieving a just result. ... We must send prosecutors a clear message: Betray Brady. ... and you will lose your ill-gotten conviction."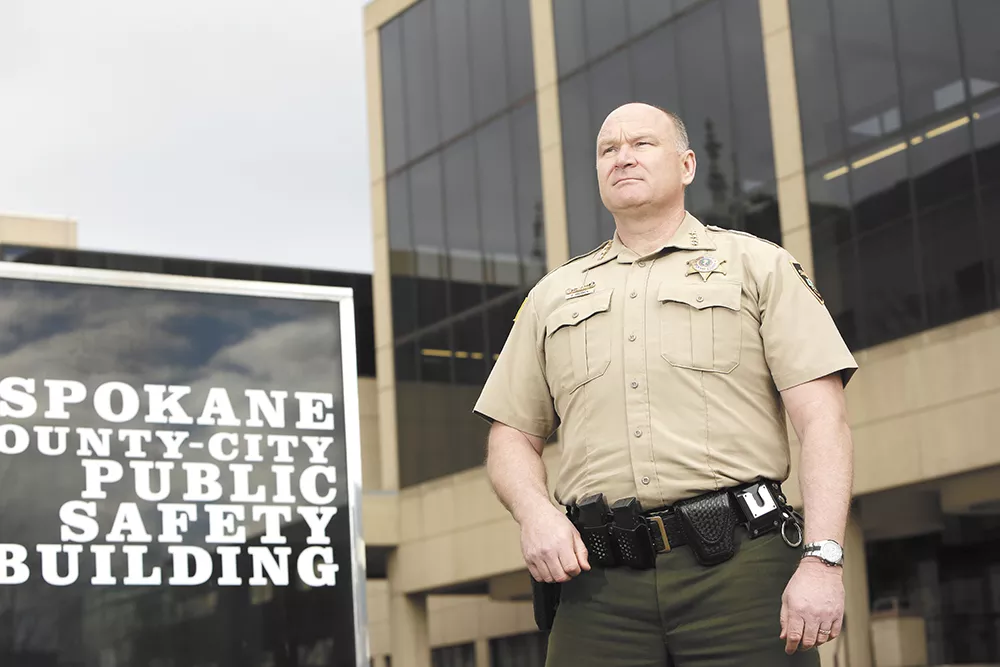 A GROWING LIST
One of the first formal Brady list dates back to 2002 in Los Angeles County. It was compiled in the wake of the so-called Rampart Police scandal, in which scores of LAPD officers lied, stole drugs, planted evidence to gain convictions of innocent people, shot and beat suspects and other crimes.
Like L.A.'s, Spokane County's list grew out of a notorious police scandal — the 2006 death of Otto Zehm at the hands of SPD officers and the subsequent cover-up. The first three names on the list, Tim Moses, Sandra McIntyre and Karl Thompson, were involved in the Zehm case. Of the three, only McIntyre is still employed by the SPD.
The fact that the list even exists indicates prosecutors' acknowledgement of their Brady obligations, but local defense attorneys question its reliability.
Since 2012, Spokane's Brady list has grown significantly. In February 2015, when the police watchdog website bradycops.org received the list, it contained only nine names. Three months later, following inquiries from Spokane County public defenders, the list grew to its current count of 38, with 26 names added in May 2015. No names have been added since then, and the list does not include any officers from police departments in Airway Heights, Liberty Lake and Cheney. (Additionally, the list provided to the Inlander in November 2015 and again in February 2016 via public records request is inexplicably missing one name that appears on the list provided to public defenders.)
"We rely on law enforcement's [internal] investigation, and if they go through the whole process, that's what we base our decision on," says Senior Deputy Prosecutor Jack Driscoll, who is in charge of maintaining the list. "If it's unfounded, then typically we wouldn't view that as potential impeachment disclosure."
As for the 26 names added to Spokane's list last year, Driscoll says his office received a stack of letters from the Washington State Patrol around that time, notifying them of state troopers and forensic investigators whose credibility had been scrutinized.
For local defense attorneys, the reliance on departments self-reporting to prosecutors they work with is a clear conflict of interest.
"What makes this so precarious is the decision to follow the rule is kind of like the fox guarding the henhouse," says local attorney Chris Phelps. "The [prosecutor] is deciding what is or isn't a Brady issue, and what they're required to disclose."
It was Phelps who first suspected in 2009 that Smith lied in federal court and in his reports, and yet the deputy is not on Spokane County's Brady list.
"When the list first came out, I immediately looked for him, like, 'I know this guy is on here," Phelps says. "Unbelievable. It makes you wonder: 'What's it take to get on there?'"
Driscoll, who is in charge of maintaining the list, says he's aware of some issues with Smith, but hasn't added him to the list because there were no "sustained" findings of dishonesty. Driscoll says he was not aware of the federal perjury allegations.
Recently, Smith popped up as an arresting officer in a case handled by Spokane County public defenders. A judge signed an order for prosecutors to send over Smith's personnel file, but the stack of documents was incomplete, public defenders say, forcing them to submit another court order. The second installment included the perjury investigation.
"It really begs the question, in every one that we do from this point forward: What else might there be that we don't know?" public defender Andrea Crumpler says. "It's very frustrating to know that you can't trust the records you've received when we should be able to."
Other than Smith, public defenders question why several other cops haven't made the Brady list. Among them are:
Spokane Police Officer John Yen, who was charged with domestic violence and armed burglary when, during an argument with his girlfriend who is a Spokane County deputy prosecutor, he forced his way into her house. Yen eventually pleaded guilty to an amended misdemeanor trespassing charge and was suspended for five days. Internal investigators noted "past domestic violence and anger management issues" unrelated to this incident, in addition to a possible "pattern of anger and insubordination issues in [Yen's] SPD work history."
Spokane Police Officer Darrell Quarles, who was suspended for two months without pay for associating with a meth-addicted, burglary-committing prostitute, while knowing about her crimes. He also conducted an unauthorized search of internal police records to check on the status of a criminal investigation into the woman. The investigation into Quarles' misconduct led to the dismissal of felony gun possession charges against a man after police refused to release the details of the internal investigation to attorneys.
Spokane County Deputy Scott Kenoyer, who told dispatchers he was on a break when he actually was having sex with a woman while on duty. Kenoyer admitted to it when confronted by investigators, but Knezovich fired him when he turned down a "last chance agreement." A state arbitrator later hired Kenoyer back, prompting Knezovich to issue an agency-wide memo stating "sex on duty is a breach of not only the public trust but also it is a breach of our code of ethics, core values, officer safety, etc." He added that anyone found intentionally falsifying information in an official law enforcement process would be subject to termination.
And former Spokane County Deputy Brian Hirzel, who was fired for driving his patrol car to and from his home in Hayden without permission after he was told not to. Hirzel is also the deputy who shot and killed Wayne "Scott" Creach, a Spokane Valley pastor, in 2010. He was cleared of wrongdoing.
The first official Brady list in Washington state didn't arrive until 2007 in King County, a jurisdiction often held up as a model system. Prosecutors in King County automatically receive a notification when they take on a case involving one of the 106 individuals on the list. Spokane has a similar automated notification. Both counties have also assembled a "Brady Committee," made up of senior deputy prosecutors. They're charged with maintaining the list and determining which information must be disclosed.
Prosecutors in King County have at times taken a more aggressive approach than Spokane, adding to their list officers whose credibility could be attacked in court — even if the officers in question weren't ultimately disciplined by their own department.
However, even a model system can falter. Just last week, Judge Kozinski wrote a contentious opinion, accusing two King County prosecutors and a records keeper of intentionally withholding details of plea bargains offered to a prosecutor's witness. The witness then lied about the deals on the stand, and prosecutors didn't correct him, Kozinski adds.
"That this was a deliberate tactic rather than oversight is demonstrated by the fact that the prosecution kept [the witness'] signed plea deal agreements secret until two days after [the accused] was convicted," Kozinski writes.
Pierce, the state's second most populous county, does not keep a Brady list, and in response to a public records request, the prosecutor's office said it would not disclose the list to the Inlander even if it did exist. In Idaho, neither Ada, nor Kootenai counties maintain lists, saying they disclose relevant issues to defense attorneys on a case-by-case basis.
'RULE OF LAW'
There was no doubt that Ken Olsen made the ricin. He admitted to it. In 2003, a jury found him guilty of "developing a biological agent for use as a weapon." He was ultimately sentenced to 10 years in prison.
The Spokane Valley man described as a "computer geek" denied having any heinous intentions. He was instead driven by an "irresponsible sense of curiosity" about "strange and morbid things," according to court documents.
It's easy to see why the jury didn't believe him. Among all the evidence and testimony presented at trial, arguably the most damning was a bottle of allergy pills apparently "spiked" with ricin. Prosecutors used the pills to support accusations that Olsen intended to kill.
What neither Olsen nor the jury knew, however, were the results of an investigation into Arnold Melnikoff, the forensic investigator who handled the pills.
Leading up to Olsen's trial, at least three inmates in Montana were exonerated due to flaws in Melnikoff's work there. The Washington State Patrol, where Melnikoff later worked, launched an investigation, which was completed two months before Olsen's trial.
The WSP investigation found "mistakes in the case documentation, administrative documentation, evidence analysis, data interpretation, and written reports."
"There were often contaminants or unexplained material in the blanks, and these contaminants were often not noted or identified, and no obvious attempt was made to remove them," the report reads. Melnikoff was eventually fired.
During Olsen's trial, however, Assistant U.S. Attorney Earl Hicks never disclosed the results of the investigation. In fact, Melnikoff's lawyer, Rocco Treppiedi, appeared in court to tell the judge that WSP was "in the process of investigating" the issues and that its scope was "purely administrative." (Treppiedi was fired from his position as assistant city attorney in Spokane in 2012, related in large part to his handling of the Zehm case).
The judge at Olsen's trial also recounted his incorrect understanding of the WSP investigation in court, asking Hicks to "check me if I'm wrong," which Hicks did not. (Although Hicks knew of the investigation, it is unclear whether he was aware of its conclusions. Still, according to the rules under Brady, ignorance is no excuse.)
Despite serious questions surrounding his veracity as a forensic investigator, Melnikoff testified in front of the jury. In regard to the pills "spiked" with ricin, Melnikoff sent those to a different lab for testing, but not before he dumped them onto his laboratory workbench, where he previously had been examining other items with "ricin-positive powder," according to his testimony in court.
The pills were destroyed during testing, so it was impossible to determine if the ricin was a result of Melnikoff's contamination.
A panel of three Ninth Circuit Court of Appeals judges ruled that prosecutors violated their Brady obligations to disclose the investigation, but that the violation wasn't "material" enough to impact the jury's decision. They rejected Olsen's appeal for a new hearing. Kozinski, then the chief justice, went off on everybody.
He slammed Hicks for turning a blind eye to his duties under Brady, and suggested the possibility of sanctions. He criticized the three-judge panel for compounding the "violence done to the Constitution by the Assistant U.S. Attorney," and called the case an example of a systemic problem, listing in his opinion 29 other cases nationwide from 1998 to 2013.
"When a public official behaves with such casual disregard for his constitutional obligations and the rights of the accused, it erodes the public's trust in our justice system and chips away at the foundational premises of the rule of law," he wrote. "When such transgressions are acknowledged yet forgiven by the courts, we endorse and invite their repetition."
Olsen, who has completed his prison sentence, declined to be interviewed for this article.
Kozinski says that Olsen may have spent time in prison that he shouldn't have, but emphasizes what he believes was the system's failing. The three-judge panel essentially decided what a jury should have considered at trial.
"It's all colored by the fact that the jury decided the way it did, and the problem is you have to make this judgment, which is very nebulous and subjective years after the event, when really the jury is supposed to have all the evidence, and then make a decision," Kozinski tells the Inlander. "The American criminal justice system truly bends over backward to favor the defense, but in a large spectrum of ways, it is geared to convict whoever the prosecution decides to go after."
NEED FOR CONSISTENCY
For Central Washington University criminal justice professor Mary Ellen Reimund, the patchwork of policies, state to state and county to county, present another problem in tracking discredited officers.
"The evidence presented suggests that there is a need for consistency regarding Brady policies in prosecutor's offices across the state and perhaps even across the country," she wrote in the International Journal of Humanities and Social Science in 2013. "Without uniformity or sharing of information, it is possible that an officer could be terminated in one county and still work for a department in another county and not be classified as a Brady officer."
To that end, the Washington Association of Prosecuting Attorneys adopted a model policy for Brady compliance in 2013 (the 50th anniversary of the Supreme Court decision). Tom McBride, the association's executive secretary, says the policy is intended to provide guidance for the state's 39 counties, though none are required to adopt it. Most significant, the suggested policy places the burden on prosecutors to discover evidence that is potentially damning to their case, and to disclose it. Additionally, the standard for disclosure is not based only on "sustained" findings, but rather "what a reasonable person could believe."
Yet others argue that police at least deserve the same due process as anyone else. A spot on a liars' list has career-ending implications. Along with questions over whether officers should be branded with law enforcement's scarlet letter comes the question of redemption. Should, for instance, an officer who lied 10 years ago, but has kept a clean record since, remain on the list?
According to the Brady rule, prosecutors still must disclose the information, but it's up to a judge whether it can be used at trial.
McBride adds that prosecutors can face repercussions for adding names to a Brady list.
Within the past nine years, at least three cops in Washington state have sued for issues relating to Brady disclosure. In one example from Snohomish County, former veteran Sgt. Jonathan Wender won an $815,000 settlement. Wender was fired for issues surrounding his honesty during a drug investigation in 2005 and was then added to the prosecutor's Brady list. As a part of the settlement, his name was erased from the list.
Knezovich is very familiar with the problem of dishonest deputies, but getting rid of them is a different story. In recent years he's pushed for legislation that would make it easier to fire cops who lie, and in some cases revoke their commission.
During this legislative session, however, a bill addressing Brady cops passed out of the state Senate Law and Justice Committee, but did not come up for a vote on the Senate floor. The bill would have barred police departments from firing officers solely because they land on a Brady list.
A place on the list doesn't mean an officer can't continue policing, but it certainly complicates things for departments that must decide to assign an officer to patrol — or to a desk. Keeping discredited officers on the force could lead to what's known a "rubber gun squads" or "Brady units" — groups of cops who earn a law enforcement salary, but don't do much to enforce the law.
"Testimony in court, truthfulness and integrity are essential in our profession, and if an officer loses that, it certainly could be a career ender," says Spokane Police Lieutenant Dave McCabe, president of the Lieutenants and Captains Association. "There's only so many spots in the police department that we would want to put an officer without wasting a bunch of money." ♦
---
BRADY IN PLEA DEALS
The Brady rule requires prosecutors to hand over to the defense (before trial) any evidence that could show the defendant is innocent or evidence that could discredit a government witness. However, another U.S. Supreme Court decision from 2002, United States v. Ruiz, weakens that rule for plea bargains, according to Tim Lynch, director of the Cato Institute's project on criminal justice.
The Supreme Court ruled that in bargaining plea agreements, prosecutors need not make the same disclosure of evidence favorable to the accused.
"The overwhelming bulk of cases that go through the American criminal justice system are resolved by plea bargains, not trials," Lynch says. "This ruling means a person can accept a plea bargain in the dark, not knowing their case may actually be stronger than they realize because the government doesn't have to turn over the evidence to them." (MITCH RYALS)