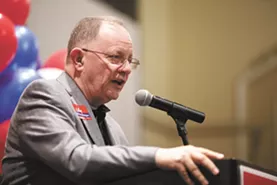 The "single greatest cause of wrongful convictions" in death penalty cases, according to
supporters
of a bill sponsored by Sen Mike Padden (R-Spokane Valley)?
Courtroom testimony from confidential informants and other witnesses promised something in return for their statements.
The
bill
(SB 5038) requires prosecutors to hand over to criminal defendants information about witnesses who've been incentivized to testify — either through leniency for crimes or money. The bill passed out of the Senate Law and Justice Committee unanimously.
Specifically, prosecutors must reveal informant witnesses' criminal history, including pending charges, all benefits informants have received or will receive in exchange for their testimony and details about the "substance, time and place" supporting informants' statements, among others.
In essence, the bill would codify what is known as the
Brady rule
, which stems from a 1963 U.S. Supreme Court case, as it applies to informant testimony. The rule requires prosecutors to provide criminal defendants with all evidence that could point to their innocence or that could discredit state witnesses.
Currently, what qualifies as exculpatory or impeachment evidence is left up to individual prosecutors, which can lead to inconsistencies.
"We're finding that this judgment about what should be turned over and what shouldn't varies across the state," says Lara Zarowsky, director of the Legislative Advocacy Clinic at the University of Washington School of Law. "We feel strongly that that decision-making process needs to be removed entirely, so this bill lays out specific information that must be turned over." Zarowsky helped lead a team of students in crafting the bill and testified in favor of it earlier this month.
Local defense attorneys agree that informant
testimony is an issue. They say the bill is a step in the right
direction,
but should go a step further.
"What we really need for snitch testimony is some form of corroboration," says Spokane attorney Josh Maurer. "This type of testimony can be so damning. It is almost always believed by the jury regardless of if they are informed of the benefits the informant is receiving."
The bill also lists possible penalties if prosecutors don't comply, which could include barring the informant from testifying, dismissing the case and/or sanctioning prosecutors.
The controversial use of confidential informants can take many forms, including jailhouse informants who could shave time off their own sentence by gathering information, and who have consistently proven
unreliable
; confidential informants who are typically
arrested and then recruited by police
to participate in drug stings in exchange for leniency in their alleged crimes; and, though less common, someone who gets paid to snitch.
Currently, people accused or convicted of crimes who are looking to pass their liability onto someone else are able to "game the system," those who support the bill argue. Without a law requiring prosecutors ensure their witnesses' reliability, defense attorneys are often left without crucial information.
"The only tool a criminal defendant has against a lying witness is cross-examination," Zarowsky says. "If the defense attorney has little to no information about how many times a witness has changed their story or how many times they've snitched in other cases, then it's difficult to have effective cross-examination."
The Washington Association of Prosecuting Attorneys argues that the original bill's definition of an informant was too broad and should be limited to jailhouse informants "directed by the prosecution to gather information, and given a plea bargain" or those "paid or used to gather intelligence for the police."
Zarowsky notes that this bill is a dramatic step back from another informant bill UW students worked on last year. That
bill
would have required judges to verify an informant's reliability, but didn't get far in the legislature.
Other states, such as
North Dakota
, are considering legislation that
regulate
police interaction with informants, rather than how informants are handled in the courtroom.
This post has been updated to clarify that incentivized testimony is the leading cause of wrongful convictions in death penalty cases, not in all cases of wrongful conviction.