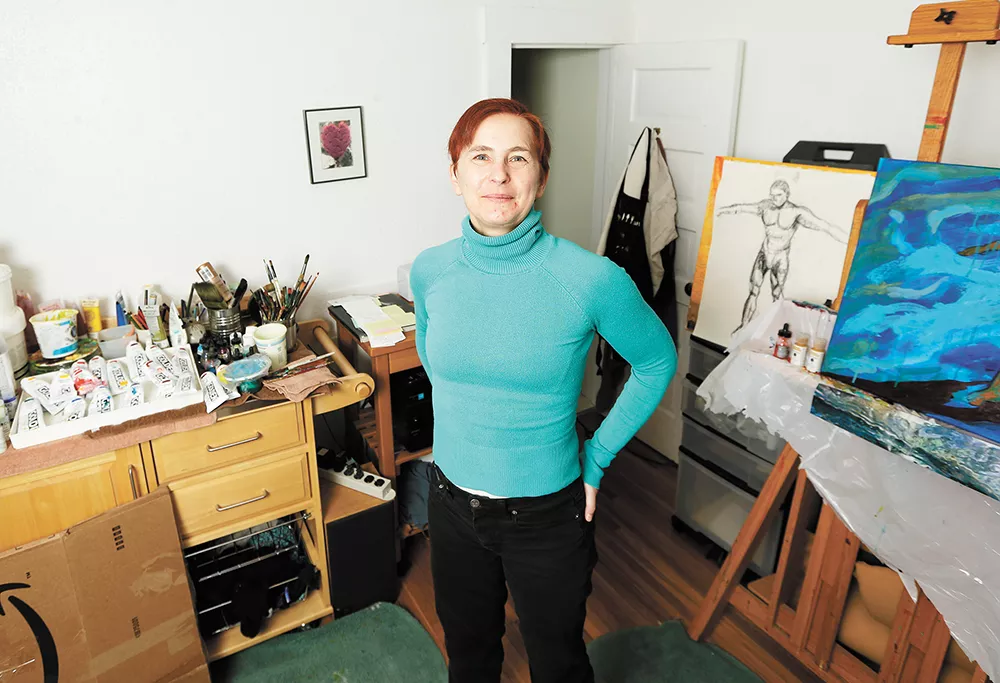 Ildikó Kalapács is not a refugee, but even though Kalapács chose to emigrate from Hungary to the U.S. during the Cold War, rather than being forced to flee, she empathizes with refugees the world over.
"As a youth of [communist] Europe, I do know of the deep issue of migration, displacement and the consequences of leaving one's family and country," she says. "I had such personal trials in my childhood, some of it due to the hell my parents and grandparents went through, and then the dictatorship did not help either."
The arts saved her — dance, music, visual art — as did travel, which enabled her to study other cultures and make a new home in America. "I embraced all of humanity," says Kalapács, whose empathy for others and her deep-seated belief in the power of the arts — to heal, to connect, to build community — are what has driven her to devote much of the past decade advocating for refugees.
The U.N. defines a "refugee" as "someone who has been forced to flee his or her country because of persecution, war or violence" especially due to religion, nationality, race, political opinion or affiliation with a specific social group. And according to the the U.N. High Commissioner for Refugees, forcible displacement is increasing at alarming rates: 20 people per minute globally. The current refugee tally is around 22.5 million worldwide, over half of whom are children and fewer than 1 percent of whom will be resettled annually.
Their plight has left a profound impact on Kalapács. In 2008, she conceived of a life-size figurative bronze sculpture of a woman carrying a seated man armed with an automatic weapon. The Bearing Project, as it is called, expresses the universality of the refugees' plight and is slated for a 2021 installation in Sunset Park west of Kendall Yards.
For the past year, she's been delving deeper into refugee experiences. Unwanted Journeys, Kalapács' new exhibition opening March 2, includes photographs of her native Hungary, as well as rough-hewn clay sculptures of feet, representing the physical journey many refugees are forced to make.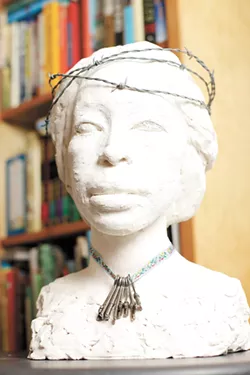 "The arts are also therapy and self-cultural expression," says Kalapács.
The arts are an integral part of what Marijke Fakasiieiki does at Refugee Connections Spokane (RCS), which advocates for refugees' and immigrants' "self empowerment, fostering community bonds and celebrating talents and traditions across cultures."
In addition to language services and guidance on the American judicial system, refugees can involve themselves with cultural programs through RCS, which serves four main groups: Karen, from Burma; Slavic, which includes Ukrainians and Moldovans; Nepali, originally born in Bhutan; and Arabic speakers, especially those who assisted U.S. military operations and fear their execution upon return to their homelands, says Fakasiieiki.
"Because it's hard for our refugees to communicate in language alone, we felt it was important for them to see cultural places that are artistically beautiful," such as the Historic Davenport Hotel and St. John's Cathedral, says Fakasiieiki, a former United Church of Christ pastor who has been with RCS since 2011.
Another outing with the refugees was to Kolva-Sullivan Gallery to view the work of Megan Martens-Haworth (who is also Fakasiieiki's sister-in-law), as well as a "sip and paint," and time spent with LaRae Wiley, executive director of Salish School of Spokane, learning about Native American drumming and flute.
"I want [the refugees] to see that art and music don't stop at the border," says Fakasiieiki.
Kalapács reached across borders, both geographic and ephemeral, to include works in her show from refugees in Spokane and around the world. One example is a poem by Basman Derawi, a contributor to wearenotnumbers.org, which pairs Palestinian writers with international mentors.
"I want to integrate other people's work so it's not just my story" in the exhibition, says Kalapács.
She also interacted with Spokane-area refugees for the exhibition. For example, Toraj Farzana (originally from Afghanistan) sat for Kalapács' portrait of him. Maram Hamadi (Iraq), Emanuel Kasa (Congo) and Jackson Lino (South Sudan) are featured in a video Kalapács created in partnership with Community-Minded Television.
She participated in their lives, gaining trust and opening communication, which she hopes to create in the exhibition, says Kalapács.
On March 9, Kalapács will be joined by professor Fred Strange and assistant professor Kassahun Kebede, both in the anthropology department at EWU. Using one of Kalapács' artworks as a point of departure, the educators will lead a discussion about assimilation, challenges refugees face and the stories refugees have to tell. And for the opening reception on March 2, Kalapács will host refugees and an array of their traditional foods, songs and music.
"It is important to our approach to make this a personal experience, and refugees are not just abstract numbers," says Kalapács.
"Anytime they gather together, there is peace, there is joy, there is hope," says Fakasiieiki of the refugees with whom she's worked. "They're a community within a community." ♦
Unwanted Journeys • March 2-30. Artist reception, Friday, March 2, 5-8 pm; artist discussion, Friday, March 9, 5-7 pm • Free • Viewings available by appointment • Object Space • 1818 E. Sprague Ave. • 456-3931