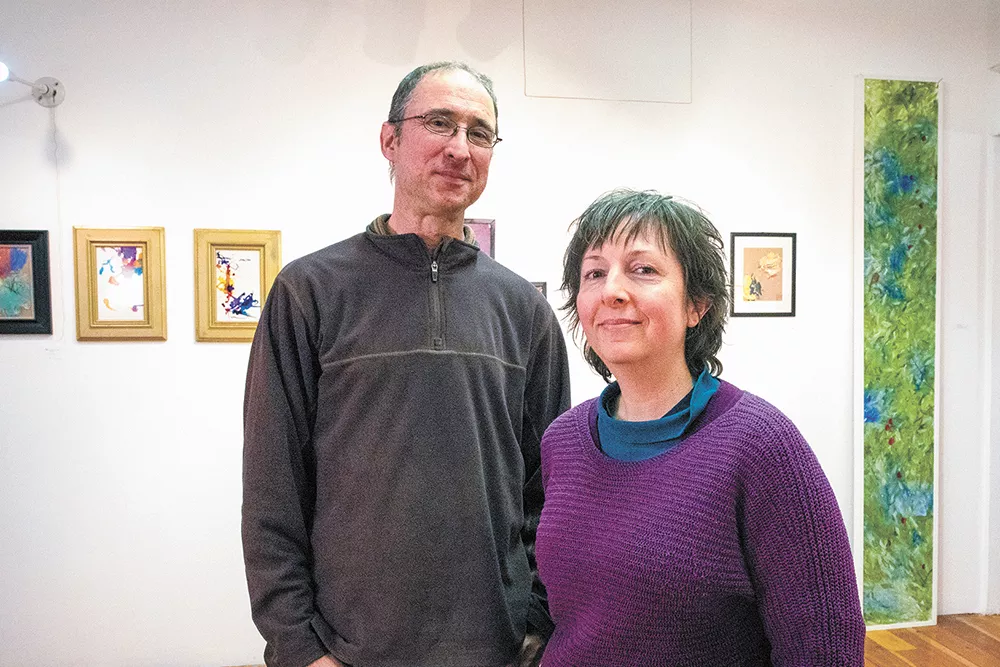 Nestled in the area of East Sprague that has been going through a period of revitalization resides a unique art gallery and music space, with a singular mission of providing a venue for noncommercial artists who would otherwise be neglected. One might be forgiven for having missed the spot, as it only recently established an online presence, and the doorway to the venue is almost hidden amongst the many small businesses and the ongoing facelift on the strip.
Located at 1818 1/2 E. Sprague in a second-floor loft, Object Space has been welcoming artists of various mediums — locally and from around the world — to its 50-person-capacity venue since about 2003. Admittedly, the husband-and-wife team of Bruce Hormann and Stephanie Roulet are not entirely focused on promotion.
"Both of us work full-time jobs," says Roulet. "So we're not able to give it all the absolute focus that maybe we would like."
Nonetheless, the venue has been booking shows for over 15 years, whether it be visual or auditory, and reachable only by a single landline phone, which says a lot about the networking skills and word-of-mouth references they've depended on over the years.
"It's all very random," Roulet says. "Sometimes we won't have a band show for six months, and then all of a sudden we'll have three band shows in a week. It just happens!"
"We've had artists contact us to perform here from as far away as New York and Siberia," Hormann adds. "In fact, I would consider these Siberian artists as my most recent favorite show that we hosted. And they were essentially referred to us by Arrington de Dionyso, the experimental artist from Olympia, who came through town as part of his 'This Saxophone Kills Fascists' tour, which was a response to the 'Pizzagate' controversy, which is a bit of a long story."
Initially, Object Space was Hormann's brainchild until he joined forces with Roulet. Spending his high school years in Spokane, Hormann started creating cartoon-style work, which eventually evolved into doing band flyers, T-shirt designs, comics, fanzines and paintings in either acrylic or oil. He continued his studies at the Art Institute of Seattle and became inspired during this time with the potential that a collective art space in Spokane could provide the local arts scene.
"There's always been a lot of creativity in Spokane and much of it can come out in noncommercial ways," Hormann says. "There's something fascinating to me about making specifically noncommercial art. My original idea for the space was to have my own livable personal art studio, as well as a collective space to showcase local art. Over the first few years I came to the realization that it was somewhat unfeasible to sustain a collective."
While it is a full-time art gallery, Object Space's take on music as performance has set it apart from other venues in town. Hormann continues his love for oft-overlooked musicians by hosting Psychic Radio on KYRS Fridays at 10 pm. The gallery's next exposition, on Nov. 8, features Skygreen Leopards member Donovan Quinn opening for Six Organs of Admittance, both of San Francisco, performing what has been described as "new folk" and "psych folk" with experimental elements.
"I've always been fascinated by experimental music, or otherwise referred to as noise music," Hormann says. "As a visual artist, I was always interested in this medium because of the crossover appeal. To me, experimental music is more akin to art in general — or rather performance art. ... And there were already plenty of venues around town for music, but there weren't any venues in town for noise artists.
"And that limits expression for a lot of creative types. We wanted to have a space where artists could propose something, which could be anything, really. We try to be supportive of the artists as much as possible and let them do what they want to do. The point for us is a passion for art." ♦
Six Organs of Admittance and Donovan Quinn • Fri, Nov. 8 at 7 pm • $10 • All ages • Object Space • 1818 1/2 E. Sprague • 340-3934