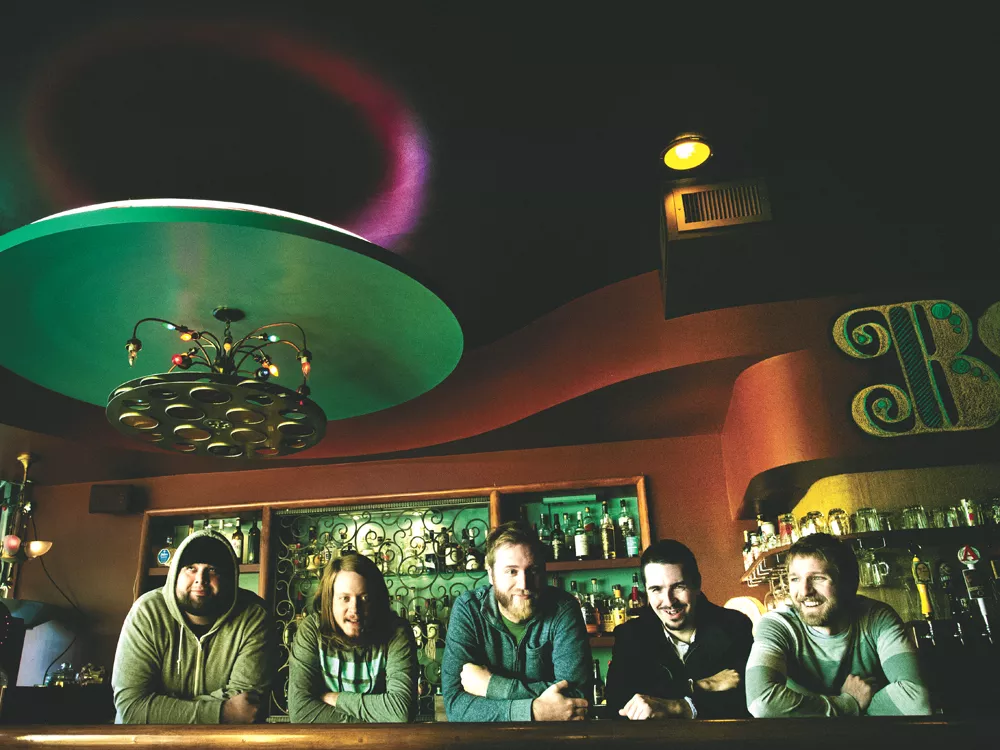 For a group that was a band name before it was a band, The Lion Oh My has got things remarkably figured out. The Spokane post-hardcore quintet has officially been together for only a year now, yet its first album is already seeing release this week.
Named after a Wizard of Oz reference, the band's frenetic and dense arrangements have a frightening, often unsettling maturity to them. Recalling a more earnest and personal golden era of hardcore music from the early aughts, the group's music is challenging and complicated in the most visceral yet bizarrely welcoming way.
"We started with nothing," says David Arnold, lead vocalist in the band. Arnold, who is originally from San Francisco, has lived in Spokane for several years and says he's attempted to start a band more than once here. With the other members of The Lion Oh My, he says they've succeeded in creating a cohesive group, yet one that's versatile enough to meet their eclectic tastes.
The band's humble beginnings suits its deceptively simple style. "We started meeting up in this abandoned church in the middle of the winter," Arnold says. "It was 30 degrees and we were using this little kerosene heater to keep us warm, trying to figure out a sound."
It's imagery that properly suits The Lion Oh My's brand of hardcore. Picture a chapel, frozen, empty, with the group's pummeling and intricate pieces blasting throughout the cavernous space, echoing back at them cacophonously.
Sam Stoner, the group's drummer, is even more honest. "We didn't care," he says. "We didn't worry and we had no clue what would happen."
This is not the impression one might get when playing the band's soon-to-be-released debut record, produced and engineered by Spokane's own Jae Ham and Ken McLarin at the recently-christened Spokane recording studio, Noise Frog Studios. The Lion Oh My's self-titled effort was Noise Frog's first official project.
The result was an album that's layered and harmonic, with beautiful tension between powerful, crunching guitars and serene, clean sounds.
With just a year under its belt as a band, the group maintains a modest air about their art and their business. "There's no goal here except making sure we make the music we want to make," Arnold says, "and that we have a good time doing it."
But the band has also seen the recording process as an immense learning opportunity, one that has even helped it in continuing to shape its sound.
"When we were recording, some of our songs grew 10-fold," Arnold says, "but then you start to realize what's going to work and what's not going to work. So it forces you to make some changes."
Changes, they emphasize — not compromises. "I hate going to a band after loving their album and then totally hating their live show," drummer Stoner says.
Because despite its young age as a band, The Lion Oh My say it owes a considerable debt to the countless fans who supported the group in funding their new album. The band crowd-sourced its funding for the record almost entirely through a ravishingly successful Kickstarter campaign, one that not only met its goal but tripled it in the campaign's first week — a picture-perfect example of how the independent music industry has maintained its output in a rough economic climate.
The trip from band name to debut record has been a short one for The Lion Oh My, but also one steady and calculated. The equation for succeeding so much in such a short time is simple, the band says: work hard, find fans and love your craft. And allow yourselves to be surprised.
"It's not like we thought it would be," Arnold says of the band's short journey. "We're thriving on that."
The Lion Oh My CD release show with Elton Jah and MC Squared • Sat, Dec. 8, at 8 pm • Knitting Factory • $5-$10 • 21+ • ticketfly.com • 244-3279