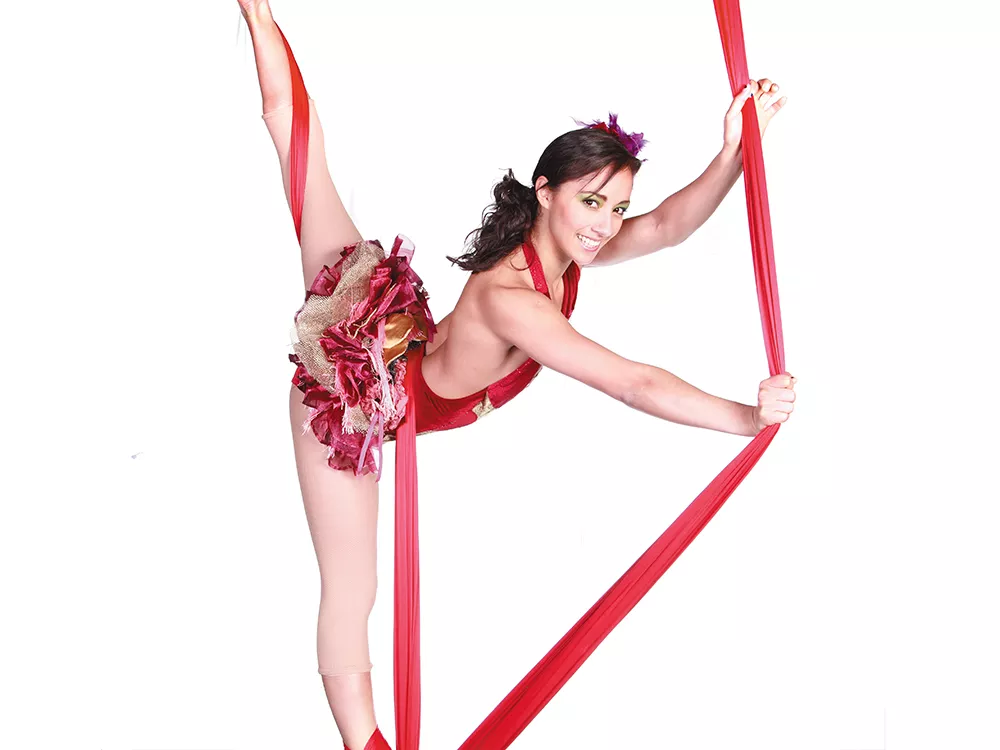 Noah Mickens believes he was born for a life in the circus.
As a teenager, he was homeless and living with his mother and brother on the piers and streets of Venice Beach, Calif., where Mickens used his natural contortionist abilities to create a street-show act. From that first taste of performance, one thing led to another, and about two decades later in 2006, Mickens co-founded the Portland-based Wanderlust Circus with co-producer and -performer Nick "The Creature" Harbar.
An eclectic mix of 1920s and '30s vaudeville, gypsy-influenced allure and vintage cabaret, the underground Rose City-based troupe of full-time stage performers epitomizes the definition of the nouveau cirque, or new circus, renaissance. These alternative circuses have popped up in major cities around the country, keeping alive an art form that seems as if it would have faded into oblivion by now.
Picture a combination of Cirque du Soleil acrobatics, Jazz Age cabaret, a Bohemian/Romani gypsy traveling circus and Marx Brothers-style comedy. In contrast to a traditional traveling circus — think Ringling Bros. — that includes tents, sideshows and live animals, the new circus movement combines acrobatic circus skills with stage theatrics to convey a story through its performers.
Mickens, naturally, takes on the role of Wanderlust's ringmaster, teasing and exciting the audience to the edge of their seats during the entire spectacle. His effervescent stage persona is William Batty, a character inspired by the real-life leader of a Victorian London-era circus act called Batty's Hippodrome. While his character is based on a historical figure, Mickens as Batty is also simply an exaggeration of his own self, he explains from backstage at the Marjorie Luke Theatre in Santa Barbara, Calif., the first stop of Wanderlust's three week-long tour.
For its current touring production, Wanderlust's menagerie of traveling performers (it doesn't enlist live animals) — comprised of aerialists, acrobatic stunt teams, jugglers, belly dancers, musicians, and of course a ringmaster — present a show within a show, "The Endless Road." The show features the troupe as exaggerated versions of themselves in a world where they're eternally doomed to living as traveling circus performers. Each member of the troupe joined the circus during different historical eras, represented through the costuming and style of their performance, explains Mickens.
"The story is just a fairytale magnification of our actual lives and who we are," he says. "To say we're an immortal family of circus performers from all eras of time, I think it hits close to home. It feels real and true and yet works as a magical backstory for the show."
On stage as William Batty, Mickens paints his face white with garishly colored, sometimes glittery eye shadow extending up to his brows, his lips thickly lined in black. His ringmaster wardrobe ranges from a coat with tails to an oversized '40s-era zoot suit. Characteristic of his role as a kooky and flamboyant ringmaster, Mickens' exaggerated facial expressions are at times clownish, in part thanks to the face paint, and at others sinister.
To an unfamiliar audience, the outward impression of Wanderlust may seem avant-garde and artistically edgy, but Mickens believe its appeal spans all ages, backgrounds and interests.
"People always ask, 'Is it family friendly? Something my kids can enjoy? Something I can take my grandma to?' " he says.
"I really do feel circus performance is universally entertaining. It's witnessing amazing feats of skill that in the moment are so impactful, surprising and joyous that they work for anyone, independently of the context in which one might place themselves."
No matter where they may be, when William Batty takes the stage with his wandering, familial troupe, Mickens hopes that every audience member is inspired, either momentarily or so much so that they decide to pursue their dormant creative potential — maybe even by joining the circus.
Wanderlust Circus: "The Endless Road" • Thu, July 4, at 7 pm • $13-$18 • All-ages • Bing Crosby Theater • 901 W. Sprague Ave. • ticketswest.com • 325-7328