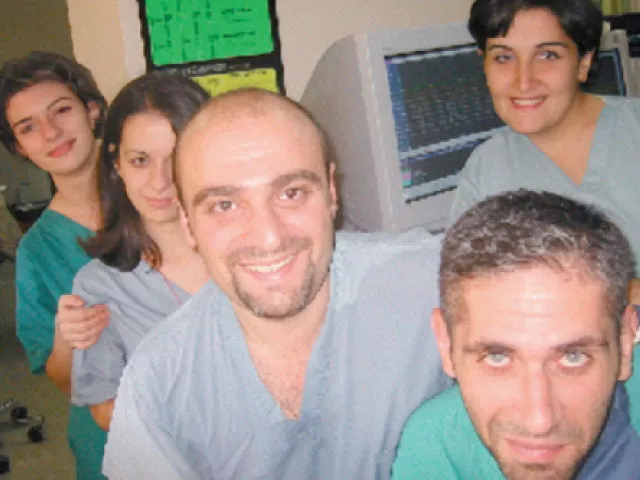 Tim Lessmeier had never been overseas. No spring break vacations to England, or post-college excursions to Europe. So you wouldn't think Armenia — an Eastern European country ground down by genocide, Communism and Communism's collapse — would be the choice for his first overseas voyage.
"It was a big step," Lessmeier says. "Going to a Third-World country was a little unsettling."
But friendship changes things. When Spokane physician father and son Hrair and Carl Garabedian — Armenians themselves — introduced Lessmeier to Dr. Smbat Jamalyn, it was a catalyst for Lessmeier to travel to Armenia again, again and again.
"The first time I went, I thought it would be fun just to help people," Lessmeier says. "Now I go because I have a very good friend I work with over there."
Lessmeier is an electrophysiologist. He's a wizard with the gadgetry of the heart, such as installing pacemakers or wielding the ablation catheter to burn key points in the heart, fixing irregular rhythms. Dr. Jamalyn, meanwhile, is a pediatric cardiologist in Armenia.
Lessmeier, who treats rhythm problems, was a perfect match for Jamalyn, who wanted to learn how to treat rhythm problems even better.
Jamalyn has been to Spokane. He's trained with some of Spokane's best heart doctors, observing their surgeries. In both Armenia and America, Lessmeier has helped to train Jamalyn in his craft. Jamalyn returns to his home country to train the other doctors in Armenia.
"He's very good," Lessmeier says. "He does probably 80 to 90 percent of what we do in Spokane."
Lessmeier has been to Armenia a half-dozen times now, and each time his trips are two-week, unfunded medical blitzkriegs. Get in, get as many surgeries and lectures done as soon as possible, and get out.
The hours are long. Lessmeier and the Garabedians start at 7 in the morning and work until 11 at night, six days a week. A massive backlog of cases is saved up for when the team — led by the Garabedians — arrives.
Armenian health care differs markedly from that in the United States. The hospital's a dilapidated "rat trap," Lessmeier says, and he constantly has to find ways to cut costs.
"The biggest problem is getting drugs," Lessmeier says. "We use a lot of Russian drugs that I'm not always familiar with. They have to teach me about those drugs."
Even the "rich" in Armenia aren't very. "For the first five times I went to Armenia, Smbat never had a car," Lessmeier says. "[And] he's probably in the richer 5 or 10 percent of the population."
Many medical supplies Americans would throw away — used pacemakers, defibrillators and ablation catheters — are given new life in Armenia.
But best of all, there's a passion for knowledge and discovery within the Armenian culture that makes it easy to teach them new procedures, says Lessmeier. The average Armenian speaks Armenian, English and Russian. "They actually hunger for education," Lessmeier says. And they're profoundly appreciative for Lessmeier's assistance. "I've had people take off their wedding rings and offer their wedding ring," Lessmeier says. "I've had people kiss my feet. People over there are so grateful for anything you can do to help them."
Some missionary medical professionals have to speculate about their impact. Not Lessmeier. Every time he returns, he says, Jamalyn presents results to him, quantitatively.
"He sat me down and did a Power Point show and broke down every type of procedure I taught him, what his success rate was, and how many he'd done. To prove that it was worth our coming there," Lessmeier says. "He'll give me follow-up on everybody I've interacted with."
Jamalyn and Lessmeier are literally at opposite ends of the earth. "[Jamalyn will] call me at 10 in the morning, which is 10 at night there," Lessmeier says.
But with technology, half-a-world is hardly enough to separate two people, professionally or personally. "They'll describe a case, send us the EKGs, we'll tell them what we think," Lessmeier says. "I've met people that I will be friends with for the rest of my life."