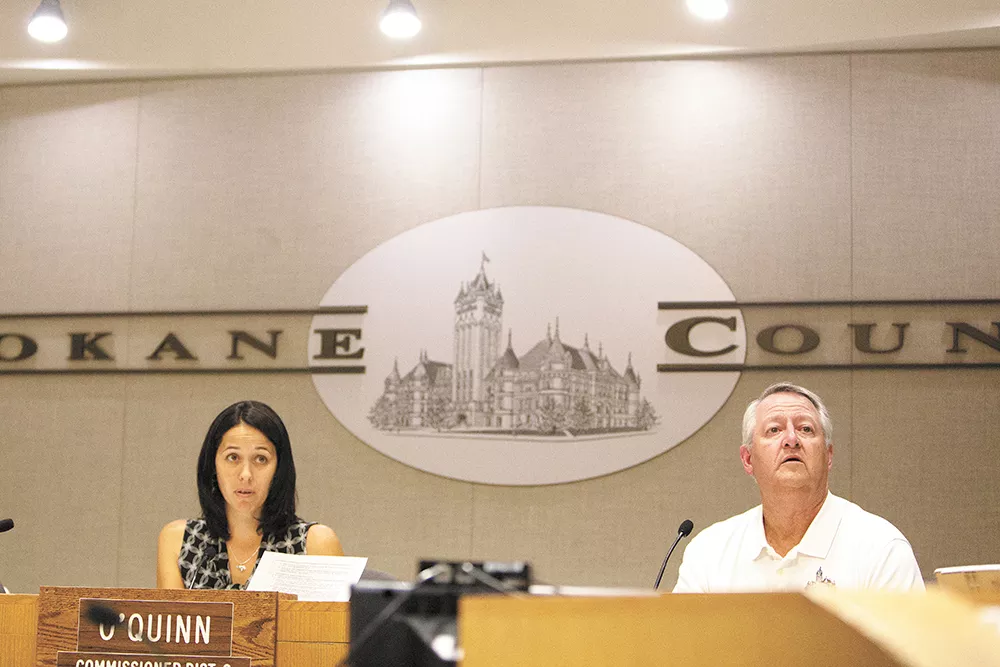 It's a rare thing for politicians, at any level, to stand up and advocate for their power to be diluted. But that, in a sense, is what Spokane County Commissioner Shelly O'Quinn is doing.
Right now, O'Quinn is one of three county commissioners, arguably the most powerful role in Spokane County. She'd prefer to be one in five. Yes, she says, moving from three to five commissioners would mean more people she'd have to convince on an issue — but also more perspectives and more dialogue.
"I'm not doing this job for power," O'Quinn says. "I'm doing this job because I'm invested in the people in Spokane County."
Last summer, the Inlander asked O'Quinn if Spokane County should have more commissioners. "Yes, but it won't happen," O'Quinn replied.
O'Quinn suggested that the change would have required Spokane County to rewrite its charter, a cumbersome process that opens the county up to a slew of other changes. That's the route taken by the five Washington state counties with more than three commissioners — King, Pierce, Snohomish, Whatcom and, just this year, Clark.
Today, however, O'Quinn points to a simpler path. In fact, it was a state senator from O'Quinn's own district — the late Bob McCaslin — who introduced a 1990 bill allowing large Washington counties to increase the number of commissioners through a public vote. Through citizen signatures or commissioner decision, the proposal could put it on the ballot.
None of the attempts over the past 25 years to pass such a measure have succeeded, but local activists like Karen Kearney have continued to push for it. After all, she says, Spokane County has eight times as many people as it did back when it incorporated, while the number of commissioners hasn't budged.
In recent months, Kearney says she personally pitched the idea to Commissioners O'Quinn and Todd Mielke (she'd heard that Commissioner Al French wouldn't be receptive). "Shelly, go forward with this," Kearney recalls saying. "Stand out."
Indeed, over the past few months of researching and gauging community input, O'Quinn has shifted from merely curious about the idea to becoming a fervent supporter. With her approval, the board will take testimony on July 7 over whether they should place a measure on the ballot to increase the number of commissioners.
Needing more time
Over her years on the commission, O'Quinn says, she's increasingly felt the desire of "wanting to do so much more, and feeling constrained" by her schedule.
Spokane County commissioners have to juggle dozens of different boards and committees, county meetings, electoral campaigns, constituent relations and wonky public policy issues.
"As a commissioner you're spread incredibly thin, especially if you have a family and any sort of personal life," says Mark Richard, a former commissioner who opted to not to run for another term. "At any given time I was on 13 to 14 different boards and committees, on top of running the county."
Kearney suggests that dividing the work among more commissioners would lead to fewer flawed financial decisions — like purchasing the expensive Spokane County Raceway. O'Quinn, however, stresses that her issue isn't the workload, per se. It's the opportunities it costs her.
"I will work a 40-to-60-plus-hour week every single week, because that's who I am," she says. "I don't like feeling like I can't give an effort my full time and attention that it needs."
With so many tasks, some inevitably get less attention than others. Having five commissioners would help fix that problem, she says. "It helps us dive deeper."
O'Quinn wants more time, say, to concentrate on criminal justice reform and finding additional ways to streamline county processes. "This whole issue would go away if you could figure out a way to double my hours in a week," she says, chuckling.
Failure to communicate
There's another, more immediate problem: With five members, one commissioner could talk to another other one-on-one, no problem. But with only three commissioners, it only takes two to trigger Open Public Meetings Act rules, requiring that almost all commissioner discussion take place at public meetings.
Currently, the three commissioners have a few options to communicate. They can send messages through staff members. They can send purely informational emails. They can call an emergency meeting, with 24 hours notice. Otherwise, they have to wait as long as a week to discuss even a minor idea with another commissioner.
"That I can't have less than a 10-second, in-passing, for-information-only conversation [with a fellow commissioner], I think it's gone too far," Mielke says.
Lately, the board's climate has shifted. The normally ideologically unified commissioners have clashed bitterly and publicly. Earlier this year, O'Quinn disagreed with French over the transit tax measure he supported. French lobbed accusations of malfeasance at Mielke and O'Quinn, and they returned fire.
Most dramatically, O'Quinn recently made a motion to hire Mielke — the sole finalist — for county CEO. But with only three commissioners, the only one left to second her motion was French. He refused to.
Mielke and O'Quinn suggest the interpersonal conflicts between the commissioners have been exacerbated by public-meeting restrictions. "If I wanted to go to talk to Al, saying, 'Let's get this out on the table. You and I need to battle it out,' we can't do that without being in an open public meeting," O'Quinn says.
Others, however, see value in the restrictions. "I think we lose a certain level of accountability, not knowing what sort of dealings are occurring," says the Center for Justice's Rick Eichstaedt, who sued the county in 2013, alleging Open Public Meetings Act violations.
It's not just citizen watchdogs leveling open-meeting accusations: In January, French met with a state auditor, laying out his case that the other two commissioners were violating public meeting statutes in communicating about county business by texts and emails.
The other commissioners represent French as more skeptical of the five-commissioner model; he did not return calls for comment. (In fact, despite repeated phone calls and email requests, French has not given a comment to the Inlander and its readers since October 14, 2014.)
Trimming costs
Back in 1991, two-thirds of Spokane County voters rejected the idea of adding two more commissioners. But today more than 100,000 additional residents live in the county. O'Quinn says that even many of the staunchest local Republicans see adding more commissioners as more representation, not more bureaucracy.
"The only real argument I've heard [against the change] is the fear that it's going to cost a ton of money," O'Quinn says. She doesn't think it would.
The salaries of two new commissioners would be about $250,000, O'Quinn estimates. That doesn't include the cost of finding office space or paying for the commissioners' assistants. But today, with the relocation of Family Law in the County Courthouse, O'Quinn says space has already opened up. And O'Quinn and Mielke suggest that the three current staff assistants could be combined into a pool for all five commissioners. With a county budget of about a half-billion dollars, she sees the cost as a small drop in a very large bucket.
"[Compared with] the amount of additional capacity that you bring, I mean, that's pennies," O'Quinn says. ♦
CLARIFICATION: While Al French has not returned any request for comments from Inlander staff writers since last October, he did speak with freelancer Paul Dillon about transit for a column that was published in the Inlander in April.