The band Joseph is a literal sister act, the kind that often gets its start at a church, or sitting around the kitchen, or in the back of the station wagon on the road to some vacation destination. The kind rooted in DNA and honed over decades of singing together.
But Joseph's pitch-perfect sibling harmonies didn't come together quite that naturally. According to Meegan Closner, her older sister Natalie was always the big personality in the household.
"Al and I were pretty quiet," she says in a telephone interview. "Nat was the singer in the family. She'd come home from college and our dad would always be like, 'Nat, sing us the new songs you're writing.' And she'd sing them."
The "Al" Meegan's talking about is her twin sister Allison, who jumps in to acknowledge the twins' secret ambition back then.
"Meegan and I would always be in the background," she says. "We'd harmonize to Nat's songs, and I think both of us secretly were like, 'Oh my gosh, maybe someday she'll ask us to sing with her.'"
That day came a few years ago, after Natalie spent some time on the road trying to make a life as a solo singer-songwriter. But something didn't feel quite right, and though they hadn't spent a lifetime learning how to blend their voices, Natalie reached out to her sisters.
"I had to convince them," she says. "I had to show them the vision very subtly because I knew that if I said, 'Hey, you're gonna spend your life on the road and never being home,' they wouldn't have necessarily been up for that."
She was right. The new trio — named Joseph after their grandfather Jo, who lived in Joseph, Oregon — was a bit wobbly at first. Meegan says now that she had no real aspirations to be a singer, and Allison admits to flaking on some early gigs.
But the sisters just "kept saying yes" to opportunities, Allison says, and Joseph quickly steadied itself. The band started writing songs together and building a fanbase by touring regionally, playing house shows and pizza parlors in addition to traditional concert venues. In 2014, they self-released their debut album Native Dreamer Kin, a stark collection of songs that proved the Closners not only could sing, but that they also had a sharp ear for compelling folk-pop melodies.
Which is, no doubt, at least one of the reasons that ATO Records came calling. The powerful indie label co-founded by Dave Matthews put out Joseph's sophomore effort, I'm Alone, No You're Not, late last summer. Produced by Mike Mogis (Bright Eyes, First Aid Kit), the album is a gigantic leap forward from Native Dreamer Kin. It's poppier and more percussive, packed with sumptuous arrangements and hi-fi production choices.
And the Closners' songs hold up under the microscope. "Canyon" is a fearless opener, its dramatic chorus set against big, booming drums. The soaring "Planets" highlights the band's connection to European folk traditions. And "I Don't Mind" is an elegant song of devotion that finds the sisters squeezing every drop of emotion from their honeyed harmonies.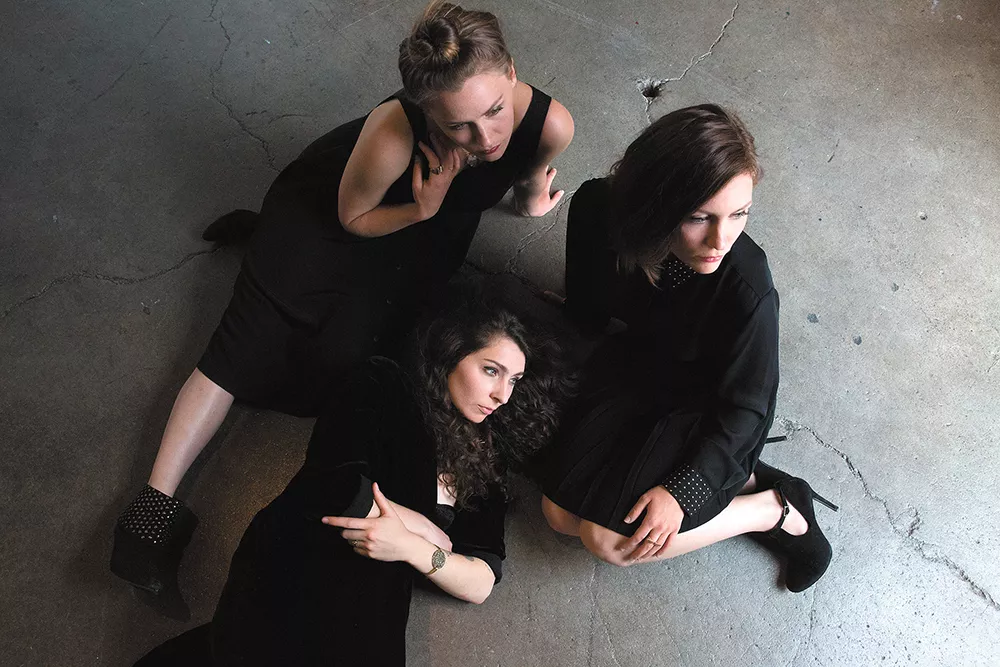 Elsewhere, "Blood & Tears" is slyly funky, a sort of acoustic disco that positions Joseph as the Haim of the verdant Pacific Northwest. "SOS (Overboard)" is slick and soulful roots-dance-pop. And "White Flag" is a simmering shout-along anthem with an epic chorus that's just aching to echo down a street full of resistance marchers.
I'm Alone, No You're Not earned positive reviews and Joseph graduated from playing pizza parlors to theaters and large concert halls in a matter of months. Rather than try to balance real jobs with a burgeoning music career, the sisters decided to commit to Joseph full time.
"We have amazing parents who said, 'Hey, so often people don't really get to shoot for their dreams because they work a job to pay the rent,'" Allison says. "They offered to let us put all our stuff at their house so we could just go for it."
Just going for it leads this week to Spokane, where Joseph is more than comfortable. Natalie's husband is from here, and she made strong connections in the local music scene while living in town a year or so ago.
"Spokane has given us so much already," she says. "People have come to the shows with their whole selves. They've believed in us from the start, and because of that we consider it one of our hometowns." ♦
Joseph with Windoe • Wed, March 15 at 8 pm • $18.50 • All-ages • Knitting Factory • 919 W. Sprague • sp.knittingfactory.com • 244-3279