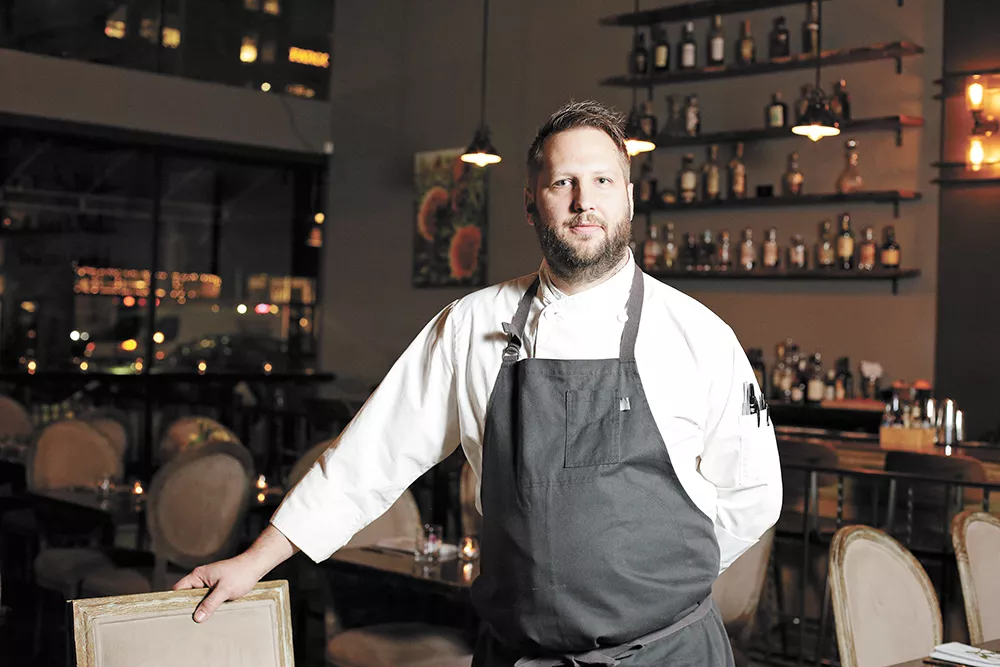 Peter Froese is a chef who almost wasn't. In 2006, he was in need of a job, applied at nearly every downtown restaurant he came across and got hired at Mizuna to host, then serve. He went to college and earned a sociology degree, including a pivotal year in Florence, Italy, where he fell in love with cooking, especially pasta. Cooking jobs at Ruins, Central Food, Latah Bistro and Santé Restaurant & Charcuterie followed, then time in Seattle where he worked for restaurateur Ethan Stowell, and at Altura. Upon returning to Spokane, Froese stayed home to raise his young family, but knew he wanted to have his own place. He recently opened Gander and Ryegrass in the former Santé location with both an Italian-inspired, three-course meal and 10-12 course chef's tasting menu.
RESTAURANT WEEK: Who is your culinary hero (or heroes) and why?
FROESE: My mom was one of those people who always had a bag of cookies, or a casserole in the freezer. When people showed up, we'd feed them. That more than anything feeds my sense of hospitality. I think what we're actually doing, in a zoomed-out way, is hospitality. When someone shows up [at Gander and Ryegrass], we're going to take care of them.
How has your background influenced your approach to what you do, especially as both a chef and an owner?
This isn't my fingerprint. Everyone here has done something to make this place happen, to make every dish possible. I can build an excellent dish but there's three to four other people who had a hand in it, too. Even our dishwasher is doing small bites. It's important for owners to run other positions, not specialize. The thing that you miss is that we're all doing the same job. We're all in hospitality.
What is your culinary philosophy?
Try everything once.
What is special or unique about the regional culinary scene right now?
It's a small culinary scene. There's a connection amongst chefs and restaurants. A lot of camaraderie.
What's an "aha" moment you've had so far in your career as a chef?
While in Florence, I interned at an Italian restaurant, peeling potatoes and mostly staying out of the way. One of the things I remember is everyone was required to stop and have lunch together, family-style. They just stop and eat together. We do that here for anyone who wants to; 3 pm, every day.
What are your thoughts on Restaurant Week?
Some of it is that Restaurant Week is exactly what we do [at Gander and Ryegrass] minus a couple of bites. We do three courses. Restaurant Week will be a lower price point than what we typically do, but it's an opportunity to clarify our process to diners.