The Eastern Washington University Eagles have had a rough go the past couple of weeks, with a loss at home to Northern Arizona and then a blowout defeat at Montana. But don't count on the Eagles faithful to desert their team for the season's final game, Saturday at home against Portland State. You can also count on a festive scene in the parking lot, where tailgaters like the folks we talked to at a recent Eastern game gather hours before kickoff.
THE OG's
Organizers: Scoter Pischel and Larry Montague
Drinks: Beer and wine
Food: Tri-tip, salmon, sausages, "Bacon Explosion"
When Scoter Pischel moved to Cheney in 1985, he had no idea that he would become a staple in the tailgating culture before games at Roos Field. Now for every Eagles home game, Scoter and his friend Larry Montague get the gang together, as 30 season ticket holders take to the parking lot for pregame, mid-game and postgame festivities. According to Scoter, the group has been tailgating for at least 12 years, and the celebrations got even better a few years ago when Brett Hoblin and Dan Haslebacher hand-built the smoker that is now used by "The OGs." Twice a season, these faithful Eagles fans throw 30 racks of ribs into the smoker for a couple of delicious Saturdays.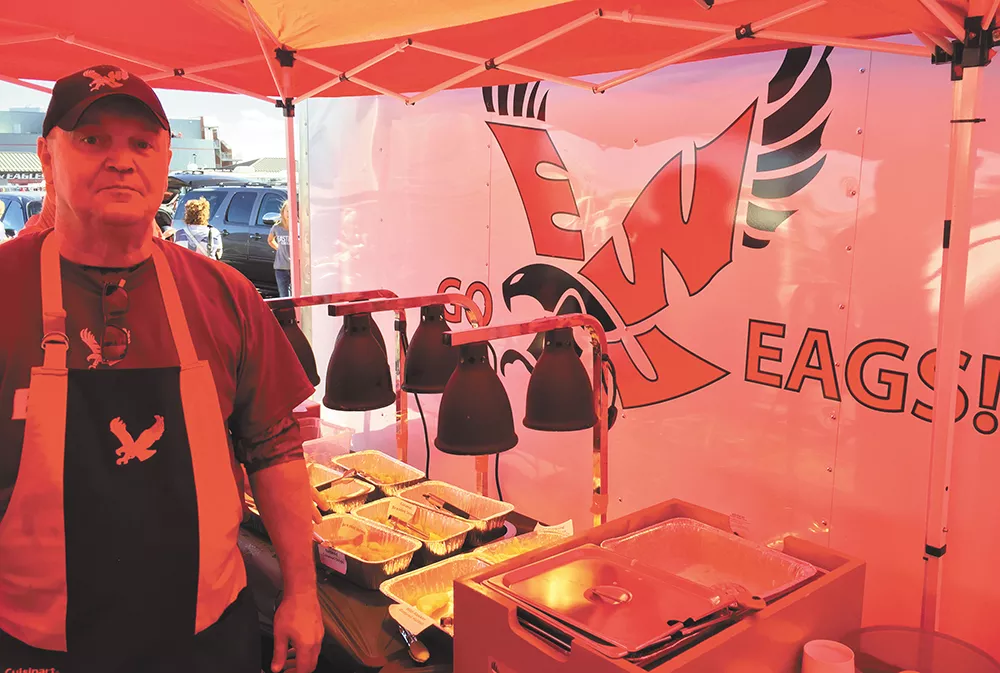 THE FOODIES
Organizer: Tim Daniels
Drinks: Miller Lite and wine
Food: Seafood buffet: chowder, smoked salmon, calamari, scallops, clam strips, fried halibut, french fries, etc.
If you like good food and you're at an Eagles game in Cheney, you definitely should be on the lookout for Tim Daniels and company. Featuring portable heaters, heat lamps for food and 250 TV channels, Daniels and his tailgate know how to do it right. What makes Daniels' tailgate unique is the fact that he is a food distributor, which allows him to provide a fantastic array of delicious food week in and week out. At a game against Cal Poly earlier this fall, it was a seafood buffet. "The Foodies" have been going at it for more than 20 years, although according to Daniels, the tailgate blossomed into what it is within the past 10.
THE CO-WORKERS
Organizers: Scott and Andrea LaPlant
Drinks: Beer; microbrews, IPAs, Grapefruit Sculpin
Food: Chips, cookies, crackers
Season ticket holders for the past five years, the LaPlants are in their first year with their current tailgating spot, but are no strangers to a good ol' time before kickoff. Touting classic snacks such as chips, cookies and crackers, the LaPlants and their guests like to keep it classy as well, drinking primarily microbrews before game time. Traditionally, they prefer to go with a couple of different IPAs, but at the most recent home game they spiced it up a bit with a Grapefruit Sculpin to entertain co-workers who joined in on the fun.
THE PARTY
Organizer: Joe Tjards
Drinks: BYOB
Food: Brats cooked in beer, onions and peppers; jalapeño poppers
Joe Tjards and his tailgate exude a youthful energy usually found only in the student section at Roos Field. Tjards, who has been tailgating at Eagles games for 13 years, has a vision for the football program at EWU, and he thinks that tailgaters can be a part of that vision. The enthusiastic Eagles fan explained to me that he has a deep desire to build both a great football culture and a great fan culture at Eastern, and he thinks it's up to the fans and tailgaters to create that experience. "Once people come out and experience tailgating for an Eags game, they are going to want to come back," said Tjards. ♦