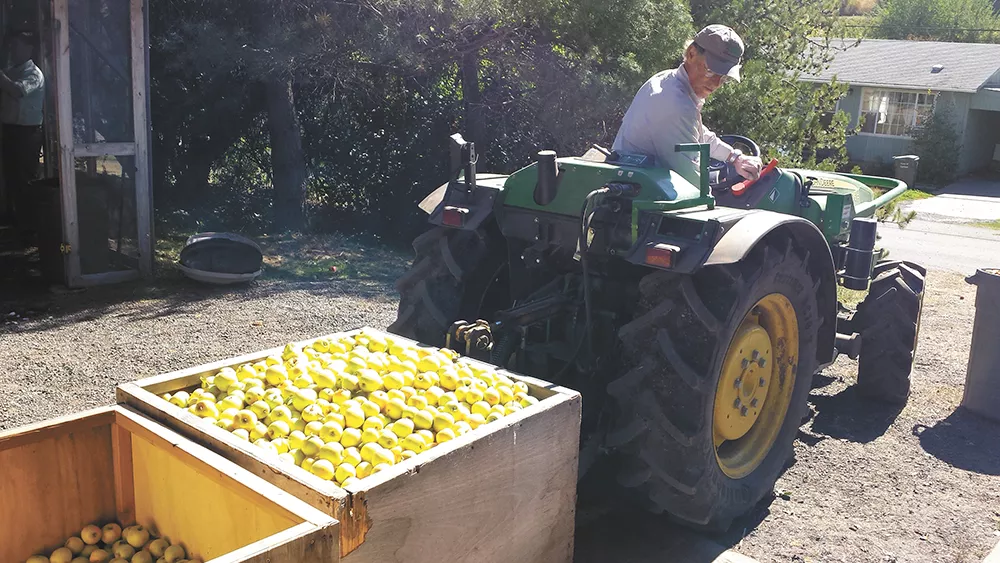 When it comes to fall traditions, I favor the kinds that result in something delicious ending up in my belly.
Tailgate parties are fine precursors for a football game, and even better excuses for indulging in brats, barbecue and beer. Pumpkin carving is great for creating Halloween decorations, and for the resulting toasted pumpkin seeds. And picking apples and pressing your own cider not only makes for a fun day for the whole family in the beautiful fall air, it gives you as much delicious, fresh, unprocessed apple juice as you can carry home.
Of course, this year being an insanely hot and dry one across Washington means that a recent day spent at Bishops' Orchard in Garfield, a little more than an hour's drive south of Spokane, felt more like a last gasp of summer than a fall excursion. The stocking caps, sweatshirts and boots from last fall's trip were replaced with sunglasses, T-shirts and sandals.
"Our [harvest] was extremely early, our bloom was early, the earliest we've ever had," says Stephen Bishop, who owns the orchard with his wife, Sally. On this balmy Sunday afternoon, he's using a tractor to replenish huge bins of primarily Golden Delicious and McIntosh apples for the dozens of people lining up to press cider at one of the four stations located in two sheds on the property.
As groups wait for their turn to shred and crush apples to extract the juice, they wander off into the orchard with a map showing what varieties of apples are growing on different rows of trees. This year when they arrive, they see that the apples are a lot more scarce than they typically are this time of year.
"We started selling apples in the third week of August, and we've just been selling like crazy ever since," Bishop says.
That's about two weeks earlier than normal, he says. Labor Day is typically the start of apple-picking season at Bishops' Orchard, and cider pressing doesn't usually start until a couple of weeks after that. Usually the orchard sees booming business through at least Halloween, sometimes even through November, "but this year, sales have been too strong," Bishop says.
In that sense, the drought this summer has been a bit of a blessing at the orchard, except for the fact that most apple lovers don't start thinking about pressing cider until there's a bit of a nip in the air and the leaves start changing color. If people wait more than a couple of weeks into October to make their way to Garfield this year, they might find an empty orchard and locked cider sheds.
There's still time, though, to enjoy the bounty of what Bishop calls a "quite good" crop this year.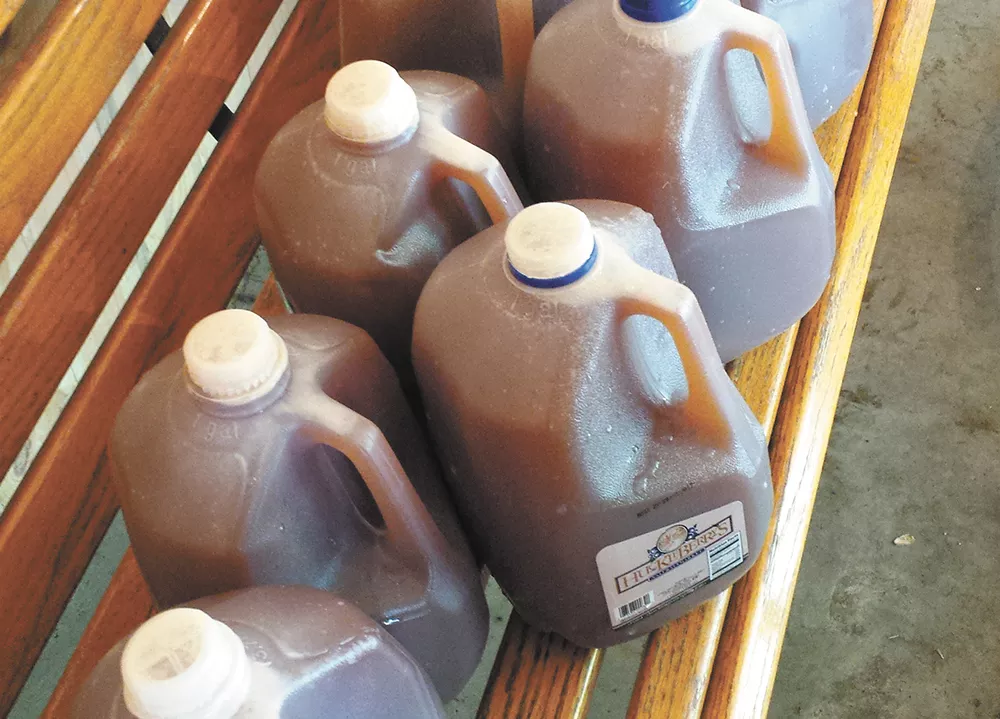 "Last year we had some irrigation issues, and it turned out they were long-term irrigation issues we didn't realize we had," Bishop says. "We solved it by upping the pressure, and suddenly we have apples like we used to have, big and red. The apples drank a lot of water through the summer, and we did have some sunburn issues, especially on the more tender varieties. But overall it's been a good crop. I hate to see it coming to an end.
"I like to think the Earth has raised itself up a couple inches around Garfield because of all the apples leaving." ♦
Bishops' Orchard • 904 W. Adams St., Garfield, Wash. • Sat-Sun, 9 am-5 pm • $6/gallon for cider • bishop-orchard.com • 635-1276
---
Tips for pressing your own cider:
- On the weekends, go in the morning, as most groups tend to wait for the day to warm up before heading to Garfield. If you have to wait, stroll the orchard and pick some apples to take home.
- Go in the next two weeks or risk missing out on this year's crop.
- Go with a group. You'll want the manpower to fill buckets with apples, grind the apples with the hand-cranked "hopper," press the apple mash into juice and fill up your jugs to take the cider home
- Bring your own jugs; it's an orchard, not a grocery store.
- One batch of apple mash equates roughly to 1 gallon of cider, so it takes a little time. Plan accordingly.
- Listen to the trainers. Every group gets an introduction to the cider presses and surrounding area, and paying attention could keep your cider from getting spoiled and your fingers from being ground into bloody pulps.
- Boil your cider when you get home. Just to be safe.
- Pack a picnic. There's a nice city park in Garfield just a block or so from Bishops' Orchard, complete with picnic tables and a playground. Why rush back to the city when you can enjoy a beautiful fall day in a small Palouse town?