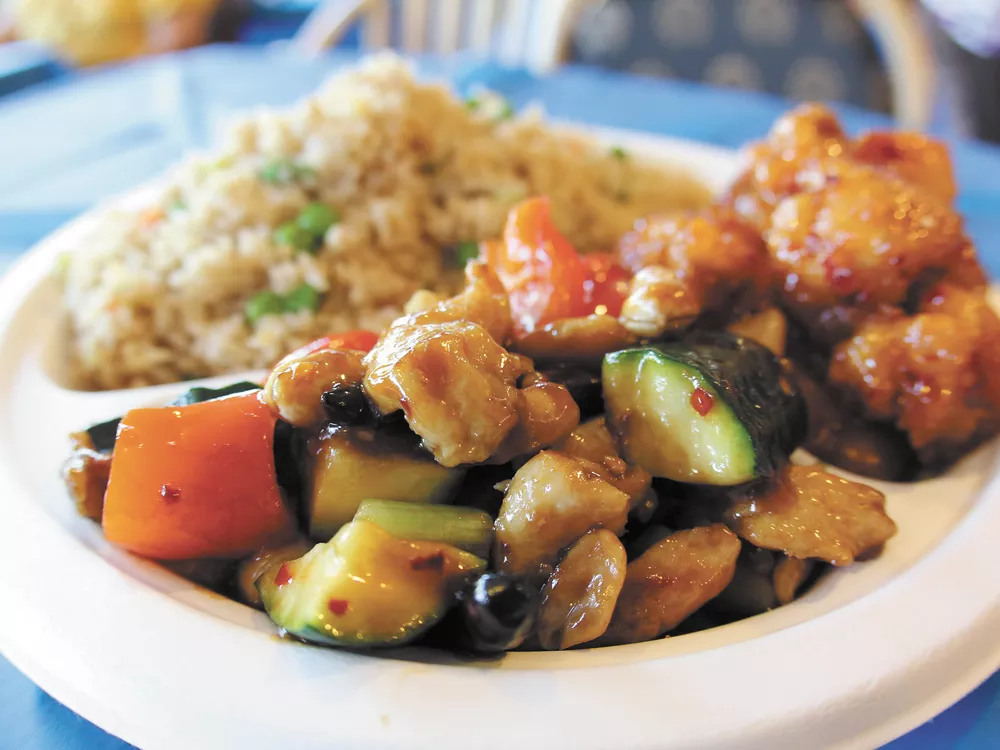 D
avid Flores knows exactly what he wants
his new restaurant to become. He's direct and honest when he talks about Happy Dragon Express, a Chinese grab-and-go eatery nestled next to the courthouse on Monroe Street.
"It's kind of like Panda Express," says Flores, who opened the business with chef Ramiro Urbina, a former cook at Flaming Wok, just three weeks ago in the spot previously occupied by La Esquina, a cozy Mexican joint known for its taco buffet.
He's right. The format isn't too far off from that of the popular fast-food chain. The difference, however, is a cozier atmosphere, fresher ingredients and preparation, and local ownership.
"One of the only places to get something quick around here is Taco Bell," says Flores of the busy stretch of Monroe Avenue north of the Spokane River where law firms, bail bondsman and other businesses flank the county courthouse and other governmental buildings.
Happy Dragon is efficient in its simplicity, offering simple combinations served up precooked to the customer before their eyes. It's standard Chinese fare: orange chicken, Mongolian beef, sweet and sour chicken, among other options. But there is also teriyaki offerings and rice bowls, all of which are made up quick for those trying to get back to work or head out on the road.
A two-entrée plate is just $6.50 and includes choices from the list above, in addition to either fried rice or chow mein. Flores says that the two-entrée plate is far and away the most popular choice on the menu, which you'll find glowing from a large, flat-screen TV screen on one side of the eatery. Entrees can also be ordered with one of the meat entrees ($6) or you can opt for a teriyaki bowl ($6). Sides of egg rolls, mixed veggies and fried rice are available for $4.50, pot stickers and fried shrimp for $3.75, while eggrolls are just $1.50.
Perhaps most appealing to the working crowd is Happy Dragon's free delivery service, which Flores says is quickly catching on in the area. Call and in minutes you'll know exactly what you'll be getting — simple, hardly fancy but reliably tasty Chinese food.

Happy Dragon Express • 825 N. Monroe St. • Open Mon-Sat from 11 am-9 pm; Sun from Noon-6 pm • 315-8033