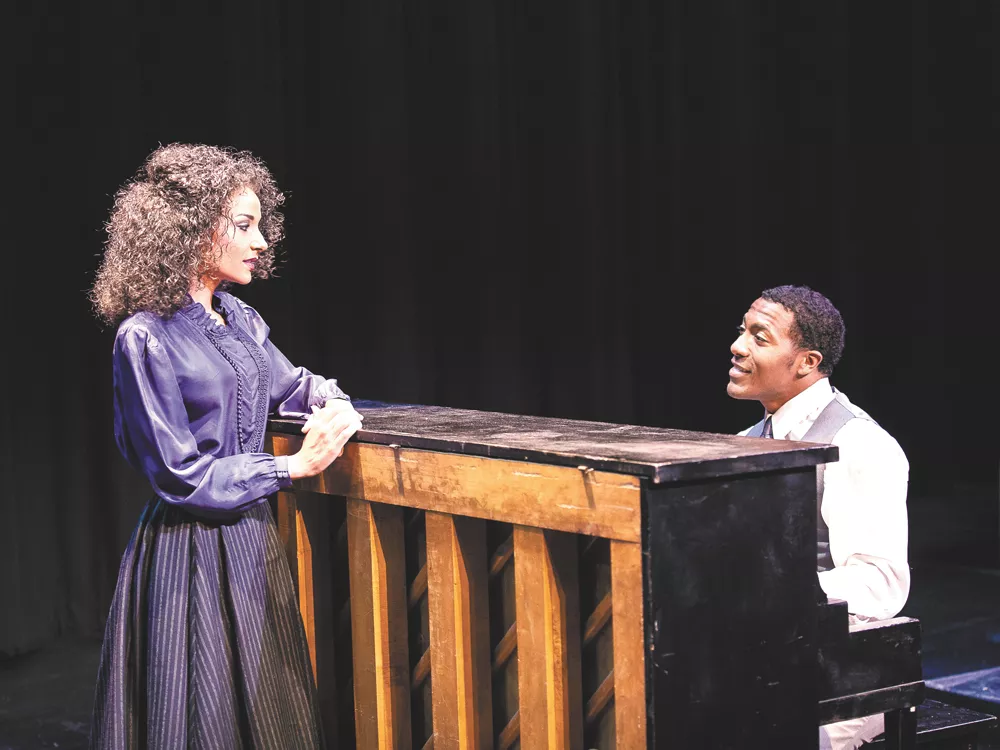 T
here aren't many lines
of spoken dialogue in
Ragtime
, and those that are generally serve one of two purposes. The first is to give hasty context to a particular event or character. The second is to mark the point where one song has ended and another is about to begin.
This musical — itself an adaptation of a fine work of historical fiction by E.L. Doctorow — is therefore more like an opera, and one that's largely episodic in nature, like a chain of impressionist tableaux narrated through song. Scenes assemble and dissolve with headlong speed and fluidity. Characters step forward, breathlessly introduce themselves in the third person and then vanish into the teeming cast.
For all the drawbacks of this approach, it's hard to see how else such a wide-ranging novel could have survived the shift to the stage. To its credit, the adaptation retains the lion's share of Doctorow's intricately intersecting stories of immigrant struggle, African-American oppression, WASP gentility, social upheaval, political unrest and period celebrity, all set amid the transformations and tumult of the pre-WWI era.
If that lack of depth is an easy thing to forgive, there ought to be little else to deter you from Coeur d'Alene Summer Theatre's production of this musical by Terrence McNally (book), Lynn Ahrens (lyrics) and Stephen Flaherty (music). Ragtime does still suffer from some of the second-act drag that plagues all but the best musicals, and there were a few scenes in this opening-night production in which the orchestra swamped the actors through sheer volume. The spotlight also failed to keep pace with the cast's movements. More importantly, however, the performances are uniformly top-notch, the set design is impressive and the orchestration is excellent.
With a talented ensemble cast like this one, singling out stars becomes more like a dramatis personae. John Deveraux's satiny baritone and good looks make him an outstanding Coalhouse Walker, Jr. As a volatile cocktail of warranted rage and wounded pride forces Coalhouse into an extremist pursuit of justice, his plight becomes symbolic of that faced by his entire race.
His romantic counterpart is Joann Coleman. She cuts a sympathetic figure as Sarah, abandoned and then re-pursued by a humbled Coalhouse; but on the cusp of high notes her powerful, emotive vocals border on shrieks. Those sharp edges might adequately convey her torment, but buffing them would be decidedly easier on the ears.
Representative of both the immigrants' striving and the marvels of capitalism is Tateh, a Latvian Jew. He's played splendidly by Dane Stokinger. Rarely without his daughter (a taciturn Maddie Cabe), Tateh enjoys a fall-and-rise story arc that runs counter to that of Coalhouse's. He also snags one of the highlight tunes, "Buffalo Nickel Photoplay, Inc."
Called simply "Mother" in both the novel and the musical, Jessica Skerritt (niece of actor Tom Skerritt, trivia buffs) plays the other role in the central triad that also includes Tateh and Coalhouse. Skerritt's singing voice is rounded and lovely, and she strikes a sweet balance between being assertive enough to challenge her distant husband (Kurt Raimer) and tender enough to justify some of her more impetuous romantic gestures.
Ragtime: The Musical rarely skims below the symbolism of Doctorow's characters. Fittingly, though, it channels its expression through an almost uninterrupted cascade of music, which CDA Summer Theatre's massive cast and orchestra imbue with as much warmth and personality as one could ask for. 
Ragtime: The Musical • Through August 26 • Thu to Sat at 7:30 pm, Sun at 2 pm • Coeur d'Alene Summer Theatre • $39.95, $35.95 (seniors), $25.95 (children 6–12) • cdasummertheatre.com • (208) 769-7780