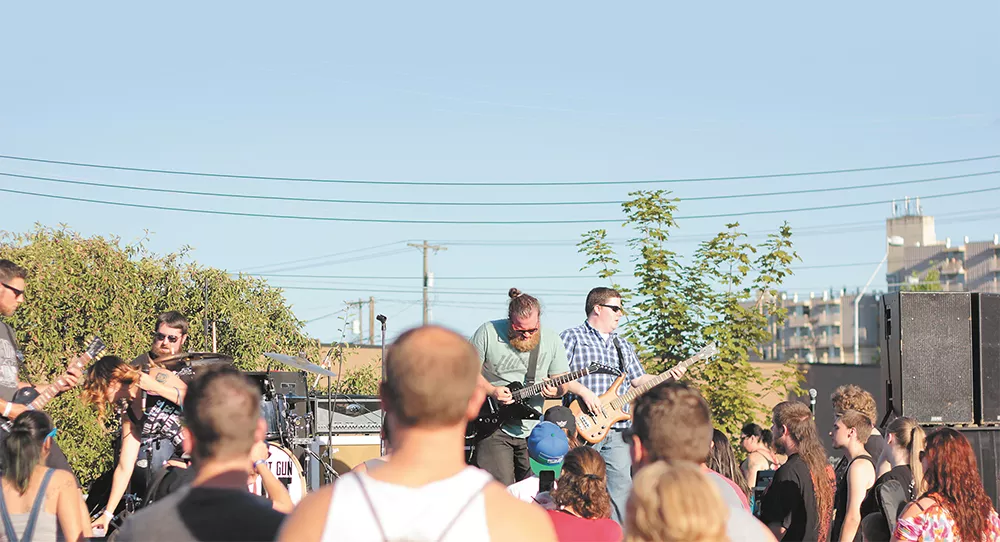 It was hatched at the octagon house. Throw a party in the backyard, make music and invite friends. For multiple summers, Levi Steverding's eight-sided Hillyard home hosted touring and local bands, culminating in 2014 when metalcore act Norma Jean headlined and all-ages scene kids peeked in from the fences, as the show wasn't all-ages. Last August, the festival expanded to Airway Heights, where it was nearly smoked out as a result of all the wildfires. Meanwhile, the Viking Bar and Grill's All Age Rage, another summer festival, also put local metal and alt-rock bands on display.
"It only made sense to bring them together," says co-event coordinator Ryan Levey, who helped with Octapalooza. "We're catering to the same sort of music fan."
This weekend sees the first-ever Rage-Apalooza, a four-day, all-ages extravaganza that features national touring acts like the Fall of Troy and Red Fang, as well as up-and-coming local acts. What began as two underdog festivals marketed to the metal and alt-rock crowd is now one big event held in the Viking's parking lot — which means capacity is a mere 400.
As music promoters Steverding, Levey and the Viking's Steven Barclay are well aware, the Inland Northwest festival scene grows each year, leaving many fans with almost too many options.
"Three years ago there were hardly any music festivals, and now they're very popular," Levey says. "But we fall into a niche that's not being capitalized on at other festivals."
The event includes two side-by-side outdoor stages, so while one band is performing, another can set up, leaving only a few minutes between sets.
Barclay says the all-ages aspect (although no one under 21 is allowed inside the Viking) is important to help continue to cultivate a new generation of music lovers. He says he likes seeing whole families come out, and kids getting psyched.
"We're putting in our own money to do this," Barclay says. "We don't have a crazy budget and we rely on ticket sales. All of our past events have been word of mouth. This isn't happening downtown and it's not a cool fundraiser; we're doing this to bring in something different to the scene, and to get people into new music they haven't necessarily heard before."
RAGE-APALOOZA 2016 LINEUP
Thursday, Aug. 18, 4:30 pm
The Fall of Troy, '68, Illustrations, Ghost Heart, the Hallows, A Cryptic Ending, Prevailing Existence, Danny the Skeleton Horse, Fed to the Flames
While the Fall of Troy headlines this day (see story on this page), their current tourmates '68 should also be on your radar. The Georgia duo scream and rage hard on stage and also have a penchant for burritos. Metalcore act Illustrations, from San Antonio, Texas, also plays.
Friday, Aug. 19, 4:30 pm
Invasive, Soblivios, Seven Cycles, Concrete Grip, Cold Blooded, Hexxus, Children Of the Sun, Thunder Knife, Project-X, Catalyst
Friday is the one night headlined by local acts; heavy metal groups Invasive and Soblivios are more than up for the challenge.
Saturday, Aug, 20, noon
Gemini Syndrome, 9ELECTRIC, Helldorado, Project Kings, Elephant Gun Riot, Alive In Barcelona, Drone Epidemic, Death By Pirates, Banish the Echo, Veio, Volcanoes on the Sun, Aardvark Rock Band, Thunder And Lightning, Heart Avail, the Pink Socks, Wasted Breath
Los Angeles' 9ELECTRIC, or 9E for short, pulls out all of the electronic alt-rock (read: somewhat emo) stops before Gemini Syndrome closes out the night on Saturday, just one day after the release of their new album Memento Mori.
Sunday, Aug. 21, noon
Red Fang, Thunderhound, Over Sea, Under Stone, Deadlegs, Children Of Atom, Foxtrot Epidemic, Captain Wales & the Harpoons, Boat Race Weekend, Cattywomp, Ragtag Romantics, Wayward West
Somewhere between sludge and thrash, Portland's own Red Fang carves out their own metal sound that's easy to drink to. This music will pair well with the adventurous party rock of Ellensburg-based Thunderhound. ♦
Rage-Apalooza • Aug. 18-21 • $10-$15/$15-$18 day of; all-inclusive VIP passes $60 for two • Viking Bar and Grill • 1221 N. Stevens • monumentalshows.com • lawn chairs and blankets encouraged
---
The Fall of Troy's Big Comeback
In 2010, the Fall of Troy announced that they were calling it quits. The Mukilteo, Washington-based trio that combined post-hardcore rage with an extremely technically proficient dose of prog rock, thanks largely to the guitar virtuosity of frontman Thomas Erak, were burned out.
The band, which was already signed to a label when all three members were still in high school, had already parted ways with founding bassist Tim Ward, but was in the middle of a successful run. Their 2005 record Dopplegänger brought them as close to the mainstream as their aggressive genre gets, with MTV airplay and the inclusion of their cut "F.C.P.R.E.M.I.X" in video games, including Guitar Hero. And 2007's Manipulator (produced by Matt Bayles) showcased the band making creative leaps. They then toured with the Deftones, leading to even more exposure.
But by 2010, it was all over. The remaining original members — Erak and drummer Andrew Forsman — went their separate ways and reportedly were barely in contact during that time. So it was a shock to their nearly 200,000 Facebook followers when in the fall of September 2013, the band posted a message:
"We agree it's about time we get together and play some of these songs that mean the world to us, and invite anyone who wants to come," it said.
The band — featuring the original lineup — played three reunion shows featuring albums played in their entirety. In 2015, the Fall of Troy toured to celebrate the 10th anniversary of Doppelganger. Then this spring, the band released a full-length album, OK, and has been touring extensively since.
— MIKE BOOKEY