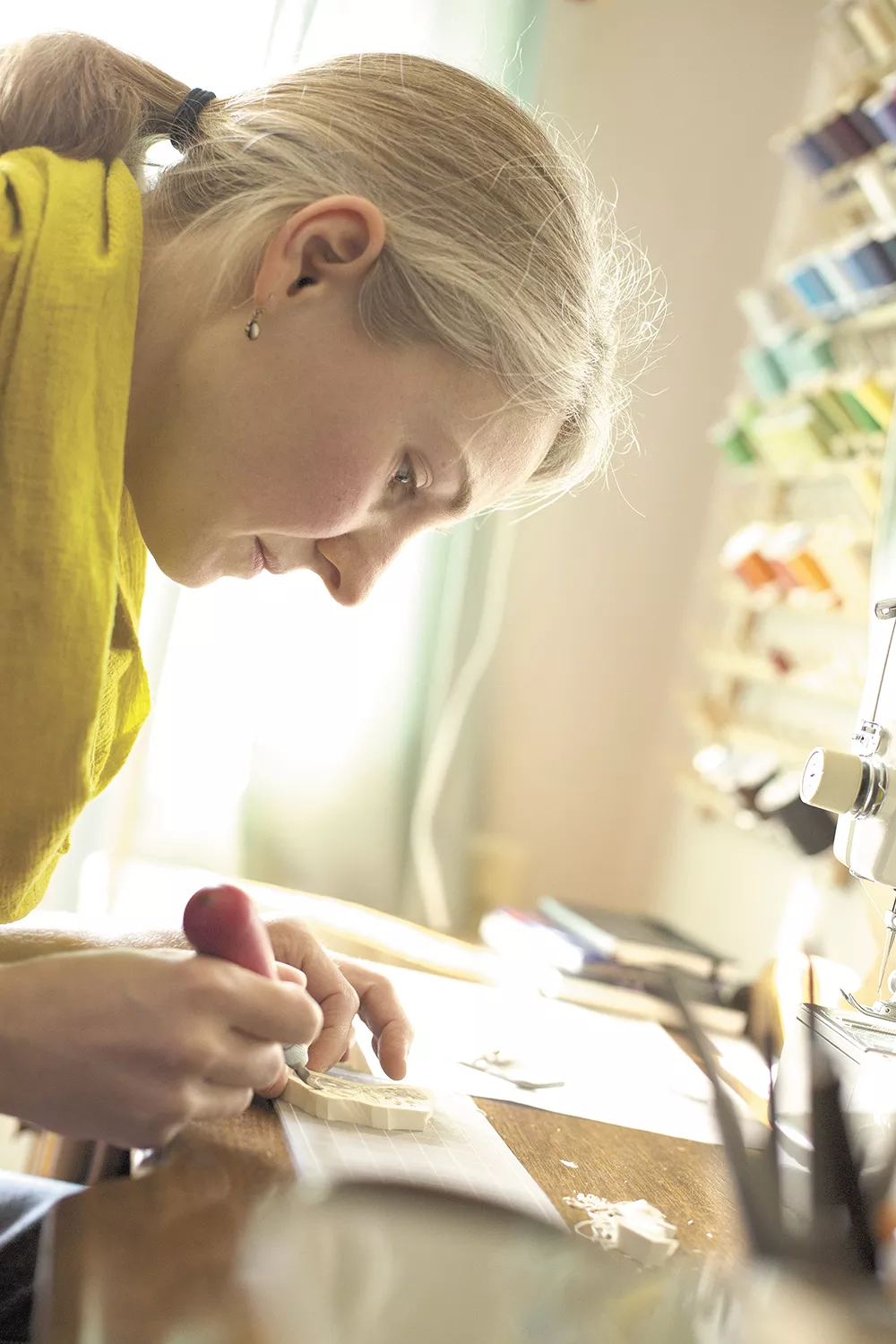 The towering stack of plastic totes in Katie Patterson Larson's sunlit craft room are filled with treasures: baggies of wooden knobs, beads, glitter, paintbrushes, string, felt-tipped markers, jars of colorful buttons and scraps of fabric.
This growing odds-and-ends collection is the fruit of Larson's ongoing efforts to spread the nationally trending concept of "creative reuse" — aka upcycling or repurposing — throughout the community. The principle is to collect discarded or surplus materials to make something new and artistically expressive, or with a designated function.
Having most recently lived in Portland, where creative upcycling is more prevalent, Larson often thought about the lack of a designated outlet for reusable or discarded art materials in the Inland Northwest. So last fall, she launched Art Salvage Spokane, setting up a table each week during the South Perry Farmers Market's brief, indoor wintertime run. There, she sold and displayed some of the materials Art Salvage has so far accepted as donations, and offered quick workshops for shoppers passing through the market.
"It took people a few weeks to understand that this stuff was for sale, and what Art Salvage was about, but when they did understand, their faces lit up and they wanted to talk about stuff they'd found and made," Larson recalls.
Upcycling is an age-old philosophy, but the specific intent of creative reuse goes beyond the trendiness of repurposing industrial materials into furniture or decorating a space with thrifted, antique pieces. Say you buy a pack of paint pens from a craft store, but only need one color, Larson explains. When surplus materials like this are donated to Art Salvage, Larson repackages and resells the individual pens for a fraction of what that original 10-piece set cost.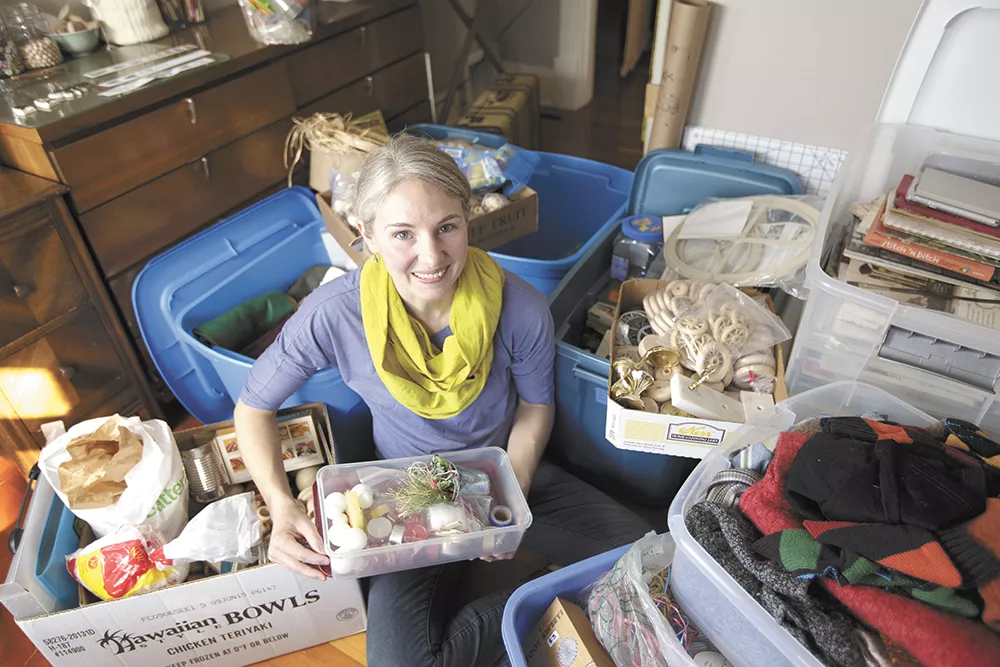 "It's great because you're not going to spend $10, instead you'll spend $1 or a quarter for one item," she explains. "You don't have to buy the entire bag of pony beads, just what you're going to use. That is part of the problem with waste — we buy something when we really only need one piece out of it."
Larson's goal for Art Salvage is to eventually open a permanent odds-and-ends storefront, where both budding and experienced makers and creatives can shop for miscellaneous doodads, like half-used paint tubes and scraps of paper. It'll be a place for artists of all types to find materials they might not otherwise be able to afford or have access to, as well as a sustainable outlet for other makers to simply lighten their load.
The focus for now, though, is to simply spread the word that Spokane Art Salvage exists, at the farmers market, through a website and social media, and by hosting open-format arts workshops around town.
On a foggy Saturday in late January, Larson lugs a vintage suitcases full of shrunken wool sweaters into the South Hill Library meeting room. She sets scissors, needles and thread onto a folding table and tapes fabric-flower-making tutorials from Pinterest to the wall. Gradually, the room fills with moms and kids, from toddlers to pre-teens. For the session, Larson is encouraging participants to repurpose old wool sweaters into anything, from coffee-cup cozies to headbands.
Erin Hueter cuts the sleeves off a beige sweater her husband accidentally shrunk in the dryer and hand-sews it into a rectangular throw pillow. Meanwhile, her daughter Zoe, 14, transforms a creamy white cable knit pullover into a bookbag. Some of the children make fingerless arm-warmers.
Although Art Salvage can't accept things like old clothing, the intent of this workshop is to show what can be made from something we'd otherwise toss out. Larson, who worked as a registered art therapist back in Portland, provides some direction and ideas to the crafters, but intentionally leaves the creative decision-making up to each participant. Mostly she watches the table of makers at work, occasionally stepping in to offer suggestions and quick fixes.
"I don't want people to think it's just for kids, or for crafty, Pinterest people," she explains. "It's for any level of art people are inclined to do. People make fine art and beautiful things with all sorts of reused things all the time." ♦
Art Salvage Spokane's next workshop: Cardboard Tube Construction Workshop • Sat, March 21, from 1-3 pm • Free • INK Artspace • 228 W. Sprague • artsalvagespokane.com