For the past few months, Gonzaga students and visitors to the campus museum have been able to get the sort of intimate look at life in Ancient Rome that typically requires a flight around the world. And a curious Spokane community has turned out in droves to take advantage of this incredibly unique opportunity.
The Roman Myth and Mythmaking exhibit at Gonzaga's Jundt Museum debuted in mid-September, along with an accompanying lecture series, featuring small items like coins and jewelry and things that — in contrast to the iconic statues or architecture often associated with Ancient Rome — were handled by Romans in their daily life. While most ancient history is taught from texts and lectures — and those are, of course, useful — the show allows for us to observe items that have been in the pockets of people who lived in antiquity, providing a look at the impact that the iconography of the Roman gods had on one of history's most successful civilizations.
"It carries the concept of how Roman myth and religion — to borrow the economic phrase — trickles down all the way to the simplest level, with gems and coins, to the point that it permeated every day life," says Dr. Paul Manoguerra, director of the Jundt Museum.
Roman Myth and Mythmaking was a long while in the making, but has turned out to be one of the most popular exhibits to appear at the museum in recent memory. It began when Manoguerra arrived at Gonzaga more than three years ago and told professors that if they ever wanted to include visual arts in their teaching, he would be willing to team up. Dr. Andrew Goldman, a professor of history at GU and an expert in ancient Greek and Roman history, took Manoguerra up on the offer. Soon, they began team-teaching a course and began working on an Ancient Roman exhibit.
The problem, however, was that a small museum like the Jundt doesn't have a permanent collection of ancient Roman artifacts. This meant that Goldman and Manoguerra had to reach out to colleagues at other universities and museums to bring the antiquities to Spokane. In all, Manoguerra and Goldman, with help from Janet Grossman of the Getty Villa museum in Southern California, were able to bring in 115 different artifacts from museums at the University of Pennsylvania, Emory University in Atlanta and the American Numismatic Society.
"The idea that these institutions would be open to sharing these objects literally cross the country for Spokane to enjoy — that's a big deal," says Manoguerra.
When the exhibit opened, Goldman emphasized how important these physical items were to teaching the complexities of Roman history.
"These are the objects that the Romans saw and handled on a daily basis, kept in their homes, were the focus of religious practice, and were used to pass on myths and lessons of their past," Goldman remarked in September. "These physical remains, with their vivid images of gods and heroes, help to reveal the complex story of how the Romans understood their world and identity, their past and their gods, as they expanded and conquered the Mediterranean world."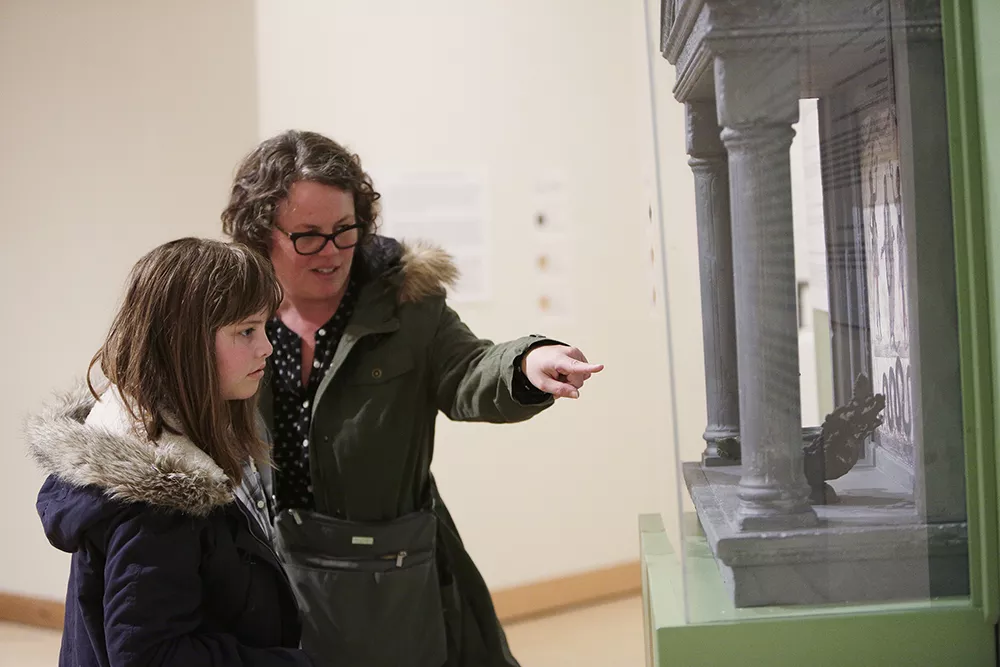 The lecture series that accompanied the exhibit, a collaboration between the museum and Humanities Washington, added another way to connect with the community, says Manoguerra. Discussions by professors from around the Northwest and beyond included topics like the power structure of Ancient Rome, Roman coins, mythology and the period's influence on modern design. This Thursday's final lecture is about Ancient Rome as depicted in cinema.
The success of Roman Myth and Mythmaking has also showed how the Jundt, a small operation as far as museums go, can stretch its resources and connections to expand the horizons of its museum. Manoguerra says that although the Jundt is a comparatively small museum, this collaboration has shown the possibilities of what the university is capable of.
"We also need to also focus on our permanent collection, but down the road, we may use this as a model for another project. It's the sort of thing a university museum should be doing," says Manoguerra.
There are still a few weeks left in the exhibit, making for a remarkably easy — and free — way to peek into history. Take advantage while you can.
"It is tough to see it go," says Manoguerra. "That's true of any exhibition. They're very ephemeral — they're here and then they're gone." ♦
Roman Myth and Mythmaking • Open Mon-Sat, 10 am to 4 pm through Dec. 17 • Jundt Museum at Gonzaga University • 200 E. Desmet • Rome as Cinematic Myth, lecture by Monica Cyrino of the University of New Mexico • Thu, Dec. 1, at 7 pm • Jundt Auditorium (Room 110) • Both are free and open to the public • gonzaga.edu/Campus-Resources/Museums-and-Libraries/Jundt-Art-Museum/