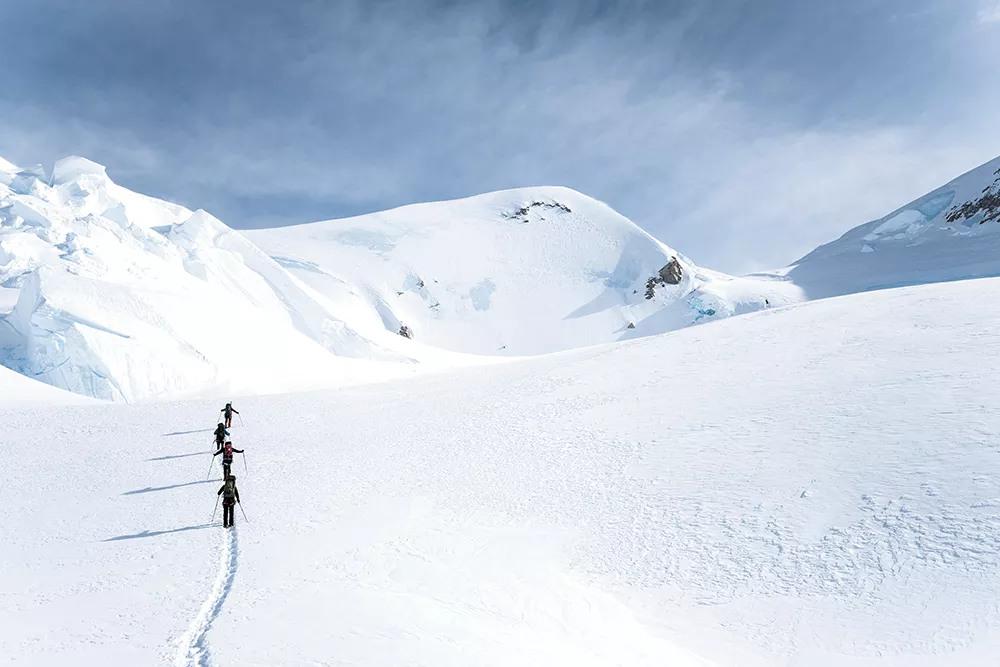 "Mountain rockumentaries about fathers and sons" could be one of those oddly specific subcategories you might come across while browsing Netflix. It's also how director Eric Becker describes his latest film, Return to Mount Kennedy.
But it's about much, much more. On its face, Return to Mount Kennedy is a film about the son of a famous mountaineer who wants to commemorate a historic summit. It's also about Seattle's early grunge scene, the Kennedy family legacy, environmental stewardship, civic activism and father-son bonding.
Combining stunning shots of snowy peaks, never-before-seen archival footage of Robert Kennedy and five new tracks from Pearl Jam's Eddie Vedder, Becker combines these seemingly disparate topical threads into one coherent and compelling documentary. I'll admit, I was skeptical. It's not an easy sell to audience members or distributors, Becker says.
"The challenge is trying to convince the powers that be in the entertainment world that this is something worth investing in," Becker says. "People are pleasantly surprised [at the screenings]."
The story goes like this: In 1965, Sen. Robert Kennedy and Jim Whittaker, the first American to summit Mount Everest, dedicated a 14,000-foot mountain in the Yukon to President John F. Kennedy after his assassination. Fifty years later, the sons of the two men decided to summit the mountain once again to commemorate their fathers and the bond that connects them.
The unlikely hero of this tale is Bob Whittaker, named after his father Jim's friend and climbing partner Robert Kennedy. Bob is now middle-aged, out of shape and in no way prepared to summit a 14,000-foot mountain. He was one of the hidden figures of Seattle's music scene in the '80s and '90s, working deep in the "trenches" as tour manager for Mudhoney. And in 2015, the rock 'n' roll lifestyle appears to have caught up to him. As a tour manager, Bob was known for generally slacking off, trashing hotel rooms and committing other acts of debauchery with band members, as witnessed via grainy video footage shot during tours and at shows.
Bob is at times sentimental and reflective, but also aloof and nonserious. But that's part of his charm. He's just a normal dude who lives in West Seattle, someone you might even know. He's passionate about the outdoors and environmental conservation, and at 48 years old he wants to commemorate the summit while also reconnecting with his dad.
The story tries to answer the question: Why?
"Originally we just thought it was going be a short film. ... It became apparent right after the [summit] that it needed to be a much bigger film," Becker says. "We came across all this archival footage that no one had ever seen. And then we just started connecting the dots."
This is much easier said than done. Becker spent the next four years with his editor, Andrew Franks, trying to hammer out the various footage from the '60s, '90s and present day in a way that made sense.
"The idea was to jump back and forth between past and present to create the sense of timelessness," Becker says. "It was just a lot of trial and error of just cutting stuff together, just trying stuff out and seeing what sticks and also searching for other pieces of footage.
"It's also really important to follow the emotion. If I feel emotion, there's a good chance that the audience is going to feel emotion."
Becker follows Bob from his home in West Seattle, across beautiful scenes around the Puget Sound, to his cabin in Ferry County, and ultimately up the side of Mount Kennedy. Also joining the summit is Bob's brother Leif Whittaker — who took after his father as a mountaineer — as well as Chris Kennedy, Robert Kennedy's son. Vedder and Mudhoney's Matt Lukin make appearances as well, providing insightful interviews. Intercut with all of this is archival footage of Robert Kennedy and Jim Whittaker.
The film moves fast, making it hard to take your eyes off the screen either because you'll have missed an interesting anecdote, a familiar location, a gorgeous view or all of the above. And surprisingly, it clocks in at just 81 minutes, though the film's breadth of topics and timelines makes it seem longer (and not in a bad way).
It's hard not to gush over this film if you know the locales and have some understanding of Seattle's music history. It all feels relatable and personal, and yet it connects to much bigger questions about nature, the environment, climate change and our obligation to act on these things. ♦
Return to Mount Kennedy • Sat, Feb. 16 at 7 pm • $13 • All ages • Bing Crosby Theater • 901 W. Sprague • bingcrosbytheater.com • 227-7638