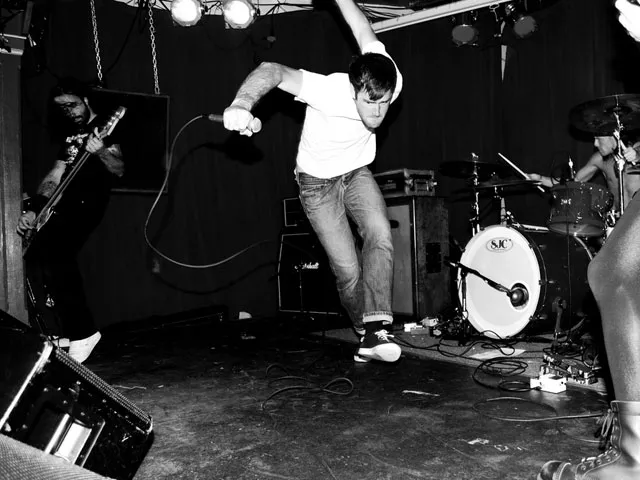 This is how AFI used to be. And it's not likely that Ceremony, a Bay Area band that started playing just five years ago, will follow AFI on their catchy-single route. They don't care enough. On their bio page on Bridge Nine Records' Website, the band says they aren't concerned with "bios, profiles, statuses or anything else" and plan to "take over the world on their own terms."
It's working. Their 2006 release, Violence Violence, was called "a modern hardcore masterpiece" by popular punk Website punknews.com. And Alternative Press named Ceremony as one of their top "22 Bands Who Won't Stay Underground for Long."
With lyrics like "I hate everyone and every f---ing thing" interspersed through their songs, the band isn't likely to appear on mainstream radio or MTV any time soon. Ceremony's sound is raw and gritty — yet somehow refined. And on this tour, as the opener for AFI, the band likely will start balancing the scales between underground cult and Hot Topic hardcore.
It's their second trip to the Evergreen State this year. The band shocked old-school punks and disenchanted elitists alike when they shattered the 60-band bill with their performance at last spring's Rain Fest in Tacoma. Spokane kids came back converted — Ceremony T-shirts in hand.
"We've been friends for a while," Ryan Mattos, guitarist for the band, says of the now poppier AFI. "Both of our bands would rather tour with friends than not, so it kinda worked. It's definitely a bigger and different crowd, but we're going to play the same — just longer."
While the band has all the makings of a Bay Area thrash/ hardcore/punk project, they stand out in the crowded hardcore punk scene. They still play textbook minute-and-half-long songs of rage and passion, but since releasing their first full-length on Bridge Nine in 2008, Still Nothing Moves You — a record that they honed with Dan Rathbun at Polymorph Studios (Tragedy, From Ashes Rise and Sleepytime Gorilla Museum) — the band continues to move forward.
With that record, Mattos says, the band has clearly evolved from their original sound.
"It's definitely changed," he says. "Nothing from our demo would fit on this new record, and vice versa."
While some hardcore bands get older, put on makeup, wear trendy clothing and start crooning to the mainstream masses, Ceremony isn't terribly concerned about the money, the image or the fame. Mattos says they really just want food after the show.

Ceremony plays with AFI at the Knitting Factory on Monday, Jan. 18, at 7 pm. Tickets $24; $26 day of show. Visit www.ticketswest.com or call 325-SEAT.