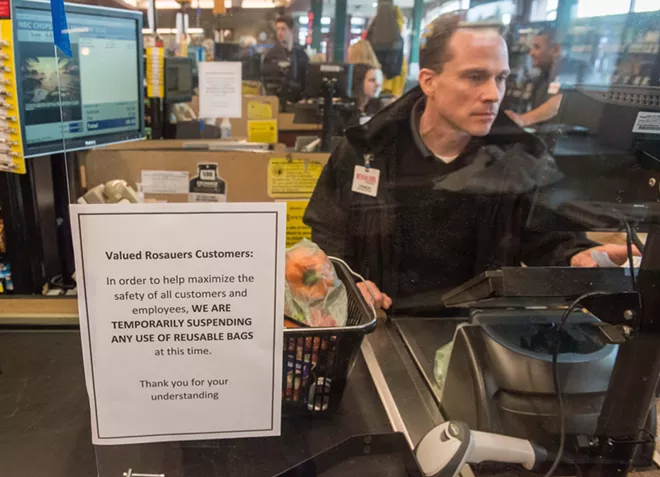 These days we're all living in the Upside-Down: What was once responsible has now been labeled deadly. Density is problematic. Closeness is dangerous. Driving in your car alone is better than carpooling. Visiting your relatives could kill them.

Add now the latest reversal: reusable bags are now banned from some grocery stores.
The move from
Rosauers
comes the same week as Washington Gov. Jay Inslee
signed
a bill banning traditional plastic bags starting next year, requiring grocery shoppers to either bring a reusable bag or shell out 8-cents for either a paper bag or a stronger recyclable bag.
But as grocery stores become one of the sole remaining gathering places still open, the possibility that the coronavirus could
spread on reusable grocery bags
have some grocery stores banning them.
"As of today at our stores, we're going to suspend the use of reusable bags," Rosauers CEO Jeff Philipps said at a Spokane Regional Health District press conference this morning. "I think there's some concern by some that those bags may have viruses that are being brought from home. So we're going to suspend that practice."
It remains unclear exactly how likely reusable shopping bags are to spread infections at the grocery store. A
2011 study (funded by plastic manufacturers) warned that bacteria tended to linger for long periods at a time at the bottom of rarely-washed reusable bags.
Vineet Menachery,
assistant professor of microbiology at the University of Texas Medical Branch, however, told the Grist that fabric generally doesn't transmit germs as easily as other materials, though he urged shoppers to regularly wash their reusable bags.
"I'd be less worried about my shopping and more worried about maybe the touch screen when you're punching in your codes for the ATM or whatever,"
Menachery said.

But Rosauers isn't taking any chances. Notices are posted on the clear Plexiglas shields at every register: "In order to help maximize the safety of all customers and employees, WE ARE TEMPORARILY SUSPENDING ANY USE OF REUSABLE BAGS at this time."

Wait, Plexiglas shields?


Those are new, too.

"The Plexiglas shields we are installing really help with that social distancing because there's now a barrier between employee and customer in close contract areas," Philipps said.
It's not just Rosauers either.

Eric Renner, president of the United Food and Commercial Workers Local 1439, says that Safeway and Albertsons are also putting up similar Plexiglas barriers, and are trying to come up with ways to push customers to stand six-feet apart.

Rosauers is doing that by placing X-marks-the-spot social distance markers at points of the store people where people would line up.
"We are making marks on our floors in our grocery stores, mostly at the checkout stands and service counters, so that you can practice social distancing,"
Philipps said.
Credit cards use to frustrate businesses, but now, Philipps says, it's a safer way to handle transactions rather than cash.
In an interview with the
Inlander
last week, Phillips stressed that the store was going to great lengths to clean and disinfect constantly, everything from the PIN-pads to the production areas.
<!———StartFragment———>"When you come into the store, we've got somebody there to wipe down your cart, so you know that the cart has been sanitized," he said. "We are cleaning on steroids."<!———EndFragment———>
While the coronavirus has been devastating to restaurants, newspapers, and most other businesses, it's brought a surge of shoppers to grocery stores, putting stress on already harried employees.
"The employers I know are trying to hire as many people as they can to fill the need," Renner says. "A lot of stores are up 50 percent, maybe more."
<!———EndFragment———>
<!———StartFragment———>Two weeks ago, Philipps says,
Rosauers
' "business just went through the roof."
"A lot of that was fueled by panic buying," he says. "We had a lot of people who are just, you know, sort of stockpiling good, and really for no reason because the food supply chain has always been stable when people do their normal shopping. It gets out of whack when people get scared."
People have both underreacted
and
overreacted to the coronavirus threat: On one hand, they've continued to gather in groups long after health officials pleaded with them not to, warning them that it could spread the disease.
And yet, they've surged to the grocery store to buy up all the toilet paper and cartons of eggs, despite the fact that the grocery store's supply lines aren't in jeopardy.
It's become a self-fulfilling prophecy: Because hoarders are scrambling to buy up every scrap of Charmin, it's now become difficult to find toilet paper at grocery stores, punishing those who
didn't
panic buy.
"This is not new to us," he says "If you remember 9/11 there was a lot of panic around 'what's going to happen with the safety of our nation?' that created a lot of fear and anxiety in the general public."

And when people are scared, people stock up. In response, Philipps has been pleading with customers to only take what they need — and
Rosauers
has begun strictly enforcing limits on items like paper towels and cartons of eggs.
But because the panic-buying trend was nationwide, it's going to take a while before the shelves are fully stocked up again.
"It's gonna take a few weeks to get the stores back into shape where they're replenished like they were before this activity all started," Philipps says.
In the meantime, partly because of the need to constantly restock, grocery stores across the country have begun to close earlier. The Browne's Addition Rosauers, for example, now closes at 8 pm instead of midnight.
Philipps says
Rosauers isn't allowing their ground-level employees to speak with the Inlander.
"
They're under a lot of stress right now, and sometimes those questions bring out some raw emotion," Philipps says. "We just don't want to put our employees in a position where they have to go through that and deal with that."
Renner, the food and commercial workers president, says that the union has been pushing to label grocery store workers as "first responders," giving them priority access to testing and protective equipment.
At some grocery stores, Renner says, the union has successfully negotiated extra paid leave for workers who are
quarantined or who test positive for the coronavirus, and has successfully ensured their employees get paid at a higher rate while they're working on the front lines of a pandemic.
"We're calling it 'hazard pay,'" Renner says. "the employers are calling it 'appreciation pay.'"

<!———EndFragment———>