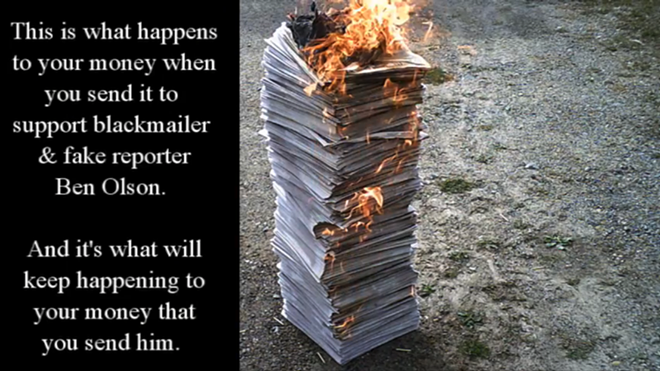 Last Thursday, Ben Olson noticed that every copy of his weekly newspaper, the Sandpoint Reader, was gone from the grocery stores in town. That same day, an anonymous robocall went out to Sandpoint residents calling Olson a "cancer" and accusing him of blackmail and of using the paper to "push his destructive leftist agenda on our people."
By Saturday, a video posted to YouTube, and sent to the Reader's advertisers, showed what Olson assumes are the missing papers set on fire with a similar anonymous message playing.
"This is yet another attack on the free press, and it's an attempt to intimidate and silence our voice," Olson says. "It's not working. We're not afraid of these people who operate in the shadows."
Olson says he cannot definitively say who is behind these messages, but for the past year, the Reader has been following the story of a man named Scott Rhodes, who police have linked to racist propaganda peppered around Sandpoint, including on cars in a high school parking lot. Rhodes has also been linked to about 10,000 robocalls throughout five states, the Spokesman-Review reports, including those targeting U.S. Sen. Dianne Feinstein, who is referred to as a "traitorous Jew."
Rhodes hosts a video podcast where he advocates for white supremacist takeover of the U.S. An emailed response from an address associated with Rhodes' podcast does not deny involvement in the robocalls and video targeting Olson and the Reader.
"I believe these stories are related," Olson says.
Most recently, the robocalls accuse Olson of blackmailing a local business owner with threats of an unflattering story if the person did not evict Rhodes.
Olson assumes that accusation stems from his off-the-record conversation with the person who rents space to Rhodes.
"For some reason that somehow equates in this robocaller's mind to me blackmailing somebody. To say a reporter asking questions is blackmail is ridiculous," he says.
Bonner County Sheriff's Capt. Tim Hemphill says his office is investigating, although they have no suspect.
Since the video was released, Olson says the paper has received about $15,000 in donations and half a dozen new advertising contracts worth about $6,000, Olson says.