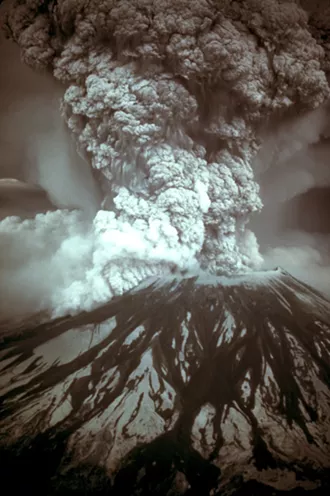 F
orty years ago, Mount St. Helens
in southwestern Washington was just days away from a devastating eruption.
When the mountain finally did blow, after weeks of frequent quakes and ash belching, on the morning of May 18, 1980, it caused the deadliest and most economically destructive volcanic event in U.S. history. More than 230 square miles of forest was destroyed. Fifty-seven people lost their lives, along with 7,000 big game animals and 12 million fish. Two-hundred homes were damaged or destroyed in resulting floods. The mountain itself lost 1,300 feet in elevation, with a gaping horseshoe crater stretching more than a mile wide across its new top.
Here in the Inland Northwest, many remember the gloomy aftermath of the natural disaster when literal tons of fine, powdery ash coated the region in gray, up to a half-foot deep in some areas. Schools and businesses were closed. The public was advised to stay indoors and to wear protective face coverings when they did need to venture outside. Some of these impacts eerily echo what we're experiencing now, as a different natural disaster reaches across the globe.
To commemorate the 40th anniversary of this historic and life-changing moment of Northwest history, the
Inlander
wants to hear locals' stories and memories.
What were you doing the day the ash cloud rolled over the western horizon? How did your family react to the news, and the new chore of cleaning up pounds of ash fall off of cars, roofs, yards and sidewalks?
Please share with us by
filling out this form
, or by emailing staff writer Chey Scott at
cheys@inlander.com
. We'd love to hear from you sooner than later as we work on coverage of the eruption's 40th anniversary.