There was a time not long ago when the word "selfie" didn't even exist, when very few people had powerful cameras in their pockets. That makes photographic evidence of that time all the more cool when you see it.
Erik Anderson was one of the people who actually did pack a camera when he was haunting the clubs and bars that helped make up Spokane's downtown rock scene in the early 1990s — places like the Big Dipper, Mayfair Cafe and Cocktail Lounge (now a parking lot) and Mother's Pub (now Garageland). It was an old Minolta that his grandfather passed down after buying it in Kowloon, Hong Kong, in 1974.
"Usually I would find myself a spot, and then just sit and watch people for a while," Anderson says. "Take about 20 or 30 minutes to see who was coming in and who was going out, who was planted where. And then I'd just pick somebody and watch them for a while. It might take me six to 10 pictures before I'd get something decent. I'm pretty good at being inconspicuous."
A selection of Anderson's photos are on display for the first time at Garageland through the end of the month, and the black-and-white images reveal a lifestyle familiar to anyone who spent any time going to indie shows — cigarette smoke, dive bars and guitars are prominent.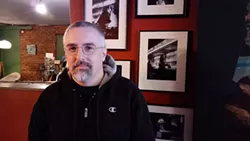 For Anderson, taking pictures offered a much-needed artistic outlet. The Lewis and Clark High School graduate had drummed in local bands like Psychic Coffee when he was an undergrad at Eastern Washington University, then left for a few years before returning to Spokane for grad school at EWU; he eventually got his master's in archaeology at the University of London and now lives in Seattle.
"I was thinking of getting seriously into photography," Anderson says. "It was just the art I wanted to be doing. I had to be doing some kind of art when I was in grad school; otherwise I'd be losing my mind. And I was over playing music — I had just been doing it way too long."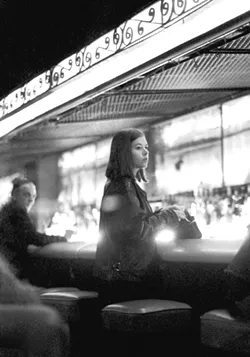 Anderson's photographs might have remained crated up if he hadn't seen old friend JJ Wandler, owner of Garageland, posting on Facebook about recovering some of the Mayfair's old interior decorations before the place was torn down last year. One of three famed Mayfair murals now adorns a wall at Garageland, but it didn't come easy; Wandler ripped open his wrist, requiring 19 stitches, as he removed the wall the mural was painted on.
Wandler's posts inspired Anderson to dig into his old photos, scan them into his computer and start sharing his glimpses of the past.
The Mayfair spent a good five or six years as "the epicenter of the scene," Wandler says. If anyone at a Big Dipper show in those days wanted something harder to drink than beer or wine, they went across the street to see Rick the bartender (the subject of one of Anderson's photos) and get a cocktail.
"There were bands who formed there and bands who broke up there," Wandler says. "I met girls I dated there and probably had breakups there. There were punk-rock songs written about Rick the bartender."
Wandler got the Mayfair mural on the Garageland wall in January, and a show of Anderson's old scene photos is a perfect complement; together they provide a way for Spokane natives to revisit their youth, and for newer transplants to glimpse a Spokane they never experienced. ♦
Garageland • 230 W. Riverside • Mon-Thu, 4 pm-midnight; Fri-Sat, 11 am-2 am; Sun, 11 am-11 pm • facebook.com/garagelandspokane • 315-8324