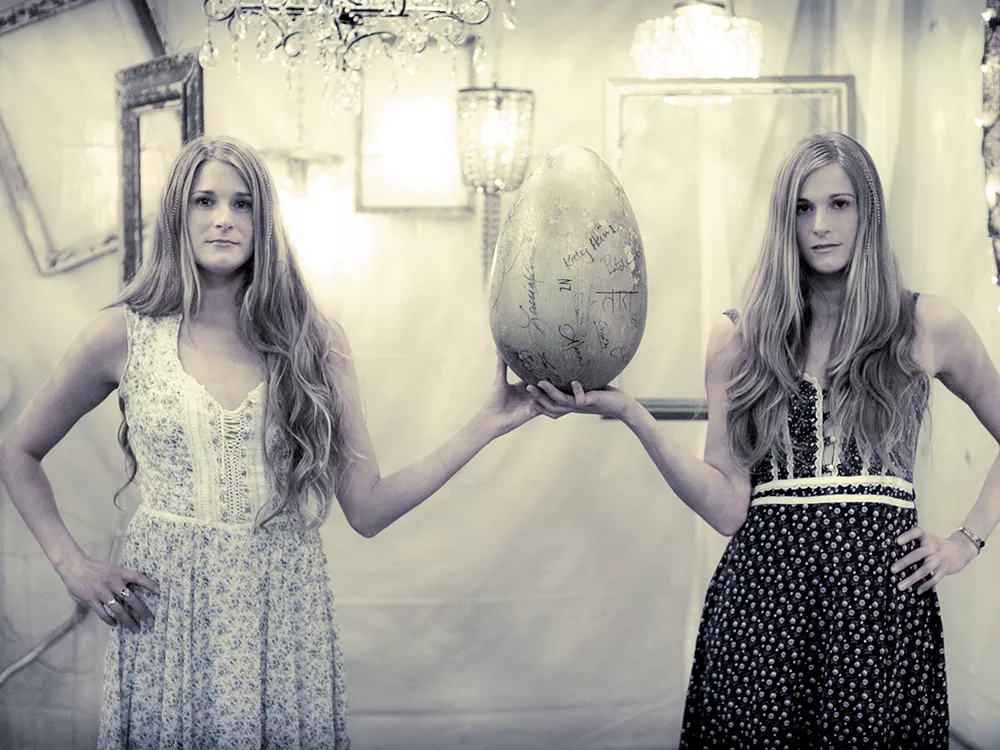 Last weekend, identical twins Katelyn and Laurie Shook, leaders of folk group the Shook Twins, went off the grid. Playing the Northwest String Summit in North Plains, Ore., just outside Portland — now the girls' home — connection to the outside world was scarce.
"We sometimes prefer to be without cell or Internet service — it helps us be here now," the sisters jointly explain in a just-under-the-deadline email interview.
 Dashing off to Canada this week (for more off-the-beaten-path dealings), the sisters are set to hit their hometown Aug. 1 for the Festival at Sandpoint, opening for the Indigo Girls.
The Shooks, who have played together since high school, fully own up to their eclectic sound.
"We want to try new things within the folk realm," they say. "We love folk music and we love weird things. Our favorite compliment is 'Your music is so different, so unique.' We are inspired to embrace the weird."
Here are a few other things we wanted to know:
INLANDER: Are you ladies excited to be coming home for this show?
SHOOK TWINS: We are very excited to be playing at the Festival at Sandpoint. This time we get to play with our whole band, where other times we were only a duo. The Festival always has such a great crowd, one of our biggest. We definitely feel the love and support when we play home-court shows.
What have you learned from having a golden egg in your arsenal of musical instruments?
We've learned that it intrigues others as much as it does us. We've learned that it grants wishes and heals people. It's a beautiful egg and we love it so.
Why the move to Portland (in 2009) and not L.A. or Seattle?
We need green mountainous forest, conscious people and a small-town big city. We found all that in Portland. Also the music scene is collaborative and supportive versus competitive and separated. L.A. and Seattle are a little scary to us small-town gals.
What can we expect from this upcoming show? Will there be interpretive dancers (see YouTube)?
Ah. We wish there were going to be interpretive dancers. Of course we love to watch people dance to our music; it's very fulfilling. We will have a full six-piece band, with Russ Kleiner on drums, Chris Lynch on violin, Niko Slice on mandolin [and] electric guitar and Kyle Volkman on bass. We are so excited. 
Festival at Sandpoint featuring the Indigo Girls, the Shook Twins • Thu, Aug. 1 at 7:30 pm • War Memorial Field • 855 Ontario St., Sandpoint, Idaho • $36.95 • All-ages • festivalatsandpoint.com