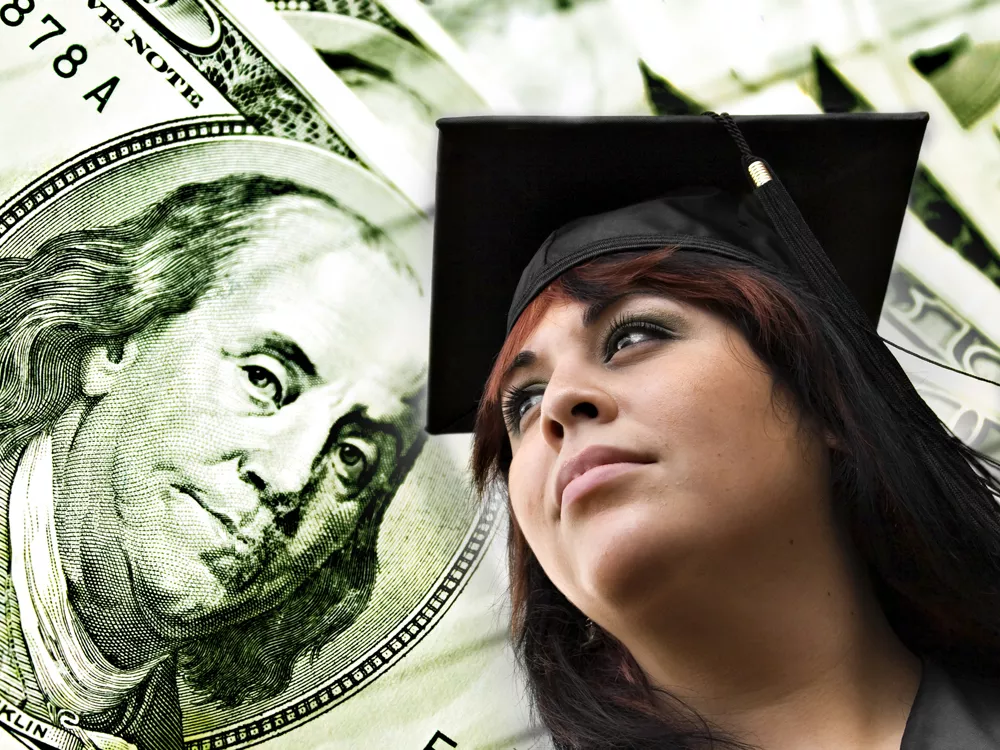 In his living room in West Central, Spokane Falls Community College student Jonathan Arens stands in the toy-strewn chaos that comes with having a 2-year-old daughter. He and his wife make a little bit of money taking tickets part-time for the Spokane Arena, but it isn't nearly enough to pay for rent and food and the costs of a young child.
But they do have another funding stream, one that will help them pay their bills for the next few years: student loans.
"We're living on ours right now," Arens says. The couple have racked up about $20,000. By the time they finish school, between loans at SFCC and Eastern Washington University, they'll have at least $45,000 in debts. He's confident he'll find a job to repay them — but knows that many of his fellow classmates at the Falls may not.
"I can see people right now in my classes," he says.
"They're going to be the ones who don't have the money who pay it back."
He's right. It's an ongoing challenge for schools like SFCC: Community colleges, despite their low tuition, produce a higher percentage of borrowers who don't pay back their loans than four-year colleges.


All it takes is 270 days. Unless students ask for an exception, if 270 days pass without making a student-loan payment, down comes the hammer: Their credit scores are gouged, they're barred from ever receiving financial aid again, the entire amount of their student loans — whether $5,000, $15,000 or $30,000 — is due immediately, plus an 18 percent collection fee. Wages can be garnished and tax refunds siphoned off. And they can't escape it even by filing bankruptcy.
A recent New York Times article began discussing skyrocketing student debt by profiling a student swimming in $120,000 of it, from attending an elite private university with a $50,000-a-year tuition. But those examples are the outliers.
In fact, the expensive private schools in the Inland Northwest barely have any examples of alumni defaulting, according to a database maintained by the federal Department of Education. Of the students leaving Whitman College in 2007, not a single one had defaulted after two years. In part, observers credit the ability of students who attended Whitman to easily find a job.
While fewer students borrow at community colleges, borrowing there seems to be more risky. During the last few years, about 10 percent of borrowers at Spokane Community College or Spokane Falls Community College have ended up defaulting on their loans. That's more than double the rate at Eastern Washington and 10 times the rate of Whitworth University.
And that rate jumped even higher for SCC's 2010 class.
"With the weak economy and the sluggish job market, ours increased to about 14 percent," says Tammy Zibell, the school's director of financial aid. If a default rate gets high enough — about 25 percent over three years — it can mean the loss of all financial aid funding to students attending the school.
In part, the higher dropout rate at community colleges drives the problem. One 2011 study, Delinquency: The Untold Story of Student Loan Borrowing, shows that only 39 percent of students at two-year colleges graduate. Of those who don't, half end up defaulting.
"The consequences of default are just as dramatic for them as if they were in $100,000 in debt," says Michelle Cooper, president for the Institute for Higher Education Policy. She says there's been a "concerted push" to increase community college graduation rates, hopefully chipping away at the number of students defaulting.
But in the meantime, financial aid is strained — more students are requesting aid, while school endowments get lower and lower. Congress, meanwhile, is still debating allowing interest rates on student loans to rise.
Four-year college students may be in a better position to survive economic struggles, says Bruce DeFrates, financial aid director at Eastern Washington University.
"A place like UW or WSU draws a wealthier crowd in general," DeFrates says. "Those students have family support they can draw on if they're in trouble."
But when the economy tanked, community colleges received a flood of the recently unemployed.
DeFrates suspects that some community college students, having grown up in poverty, may lack the safety net and the financial management skills of those with middle-class parents.
"What we're seeing at the community colleges, people aren't able to find jobs," Zibell says. "People who have middle-management and BA degrees, they're coming back to the community colleges."
For adult returning students, student loans can be necessary in a different way than they are for an 18-year-old with supportive parents, as they can be used to pay rent and day-care expenses and grocery bills. In other words, for those who are unemployed, going to community college can be a way to pay bills until they find a new job.
"They're going back to school to try to build a skill set, but they're absolutely trying to find other ways to find money," says Lyssa Thaden, financial education consultant at American Student Assistance.
At the East Central Community Center, SNAP credit counselor Stacey Denny says she knows people are using financial aid as a form a welfare. She's had dozens of clients tell her they're taking out student loans, intending mainly to live on them.
And while taking out loans risks putting them even deeper into debt, Denny's not sure exactly what to tell them to do instead. The alternative could be a homeless shelter.


Spokane Community College knows this is a problem. Their financial staff is worried about the spike in the number of students who weren't paying back their loans, and they're taking action. For the past few years, Zibell says, they haven't allowed students to request additional funds near Christmas. The college was concerned they were just using the loans for Christmas shopping.
Meanwhile, instead of just sending letters to students warning them of a nearing default, Zibell's office has increased the number of personal phone calls, letting struggling borrowers know about options, about repayment plans and deference.
"It runs a gamut of emotions from embarrassed to 'Oh, I'm so relieved someone called me, I knew I had to deal with this,'" says Janet Rice, SCC loan specialist. She notes that, in one case, a student had become disabled and didn't know about the options he had to help with his student loans.
"We try to almost come at it like we're the friend. You need to have compassion. It's a very difficult phone call to make."