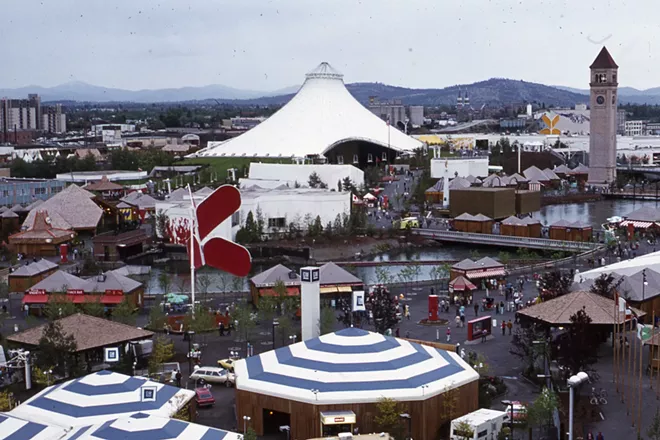 As preparations begin for the 50th anniversary of EXPO '74 next year, we want to reflect on one of the greatest periods in our history, when the Spokane community somehow pulled together to put on a World's Fair and, at the same time, tackled some of the biggest challenges our community had ever faced.
The World's Fair, or EXPO '74, was intentionally located downtown along the heavily industrialized Spokane River. The result not only cleaned up an environmental disaster, but spectacularly transformed it into our present day Riverfront Park. In one big bang, the community and its leaders restored the very heart of our region, including revitalizing our then-failing downtown. But even considering those huge accomplishments, we believe the biggest and most important impact of EXPO '74 is something you can't even see or touch — it's our community's legacy and very DNA of what Spokane can do when we all work together and think big.
The two of us have spent most of our adult lives in Spokane and have seen the good and the bad of our community over the past 50 years. And while we have experienced many times of harmony and progress post-Expo, we have also experienced periods of discord and retrenchment. Looking back over these times, we are able to see a common theme: In times of success and vitality, there has always been community leadership (public and private) and the ability to focus on rallying around common community goals.
In the years following Expo, we seemed to lose much of that community leadership and focus; many would argue our community squandered the momentum, goodwill and prosperity of the '70s and that it took another 30 years to regain our footing. Nevertheless, we still managed to move haltingly forward during those times; while projects like the establishment of the University District, the Waste to Energy Plant and River Park Square created excessive political and community discord with unnecessary legal and financial wrangling, they nevertheless were monumental achievements that have left us with valuable community assets today.
So how did those 30 years differ from the 1970s? We believe the problem was not about the "what" but about the "how." The public discord at the time allowed these important projects to get mired in many years of dysfunction before they eventually succeeded. That ate up much of the political capital and capacity to do much of anything else during that 25-year window. Couple that with the downturn of manufacturing, timber and mining that was wreaking havoc with regional jobs, and we saw far too many years of stagnation in Spokane.
What seemed to get lost during that stretch of time was the recipe that Spokane leadership in the late '60s and 1970s utilized to rally our community around our river, our downtown and our economy. This was all accomplished by focusing on bringing the community together around our mutual interests, rather than fighting about our differences.
Moving ahead, our community was able to find much more common ground in the 2000s and 2010s, and it shows in many of our community's successes. Downtown in particular has benefited from major investments in convention, entertainment and sports facilities, which are a major draw for Spokane. The renovation of Riverfront Park has been lauded by most all and has rekindled the spirit of Expo for many. Kendall Yards has demonstrated how you can successfully build out an urban residential development while still embracing public access to our natural assets — and in the process encourage environmental responsibility.
Major investments in cleaning up our river, expanding our regional trail systems, repairing our streets and other infrastructure, including improving our schools and libraries, have also been achieved through the spirit of collaboration and partnerships that seemed to be missing in the '80s and '90s. And it's probably no coincidence that the success and prominence of our Gonzaga basketball teams have also helped put us on the map over the past 20-plus years.
Now, coming out of several difficult years of a pandemic that tossed everything about how we interact, work and communicate up in the air, it seems more important than ever that we quickly move back to finding common ground in Spokane.
This year is an election year in Spokane, and it will be intriguing to see the mood, tenor and messaging around political races for mayor and several city council positions. As we grapple with challenges around housing availability, crime and homelessness, it would be easy to let this election cycle become more about our differences than our shared values.
We believe that would be a big mistake — in fact, we need only look back to some of our years wasted with political animosity and dysfunction in the '80s and '90s to see what that can cost a community.
While Spokane does face new challenges in the coming years, we also have a number of major opportunities to keep our community moving in a positive direction if we can stay aligned and focused. Let's use this year leading up to the 50th anniversary of the World's Fair to recapture the spirit of Expo once again and continue to pursue those big accomplishments that make our region proud. ♦
Gavin Cooley was the city of Spokane's chief financial officer for 17 years, serving five different mayors, starting with John Powers. He currently is working with the city on projects including investments and the Spokane River Trail System. Rick Romero is the former utilities director and director of strategic planning for the city of Spokane. He worked on a variety of projects, including the renovation of Riverfront Park, the Podium and the downtown Spokane football stadium.