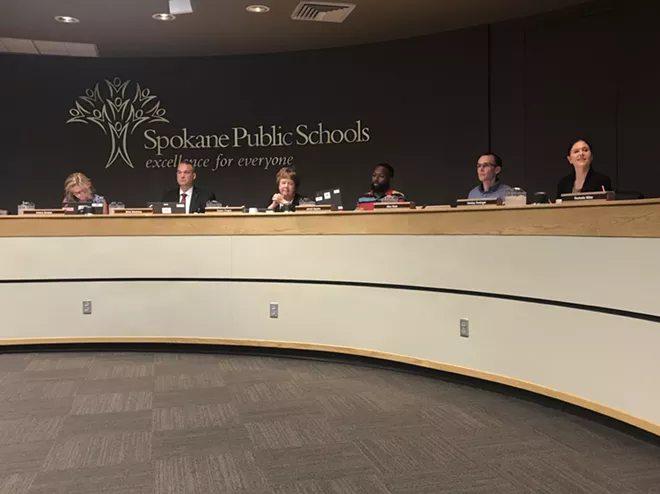 Up until last night, only two options existed for Joe Albi Stadium as part of a possible joint bond request between Spokane Public Schools and the city of Spokane. Either downsize and renovate Albi at its current
site,
or demolish Albi and build a new stadium downtown (the city's preferred option).
But the Spokane Public Schools Board of Directors saw a major problem with the second option: It meant asking voters for an extra $10 million that had little to do with education.
"That's my deal breaker," says school board President Sue Chapin.
So last night, the school board was presented with a third option. Rick Romero, former city
utilities
director, who has helped facilitate the partnership between the city and school district, proposed moving that extra $10 million to the city's side of a possible joint bond request.
The move seemed to satisfy the school board. Now, Romero has to seek approval with the City Council on such a shift.
"By casting this as two alternatives, it was really kind of an all or nothing proposition with respect to the stadium decision," Romero said.
Chapin says moving those costs to the city makes the proposal "palatable," since the district wouldn't be asking voters for money that could be used for school safety or other school improvements.
The stadium portion of the possible bond is just a small part of the request that may go to voters this November. The proposed bond plan would ask for money for three new middle schools, which would make it easier for the district to transition the sixth grade up to middle school and ease overcrowding. It also includes replacements to Glover, Sacajawea and Shaw middle schools, construction of a commons/cafeteria area for Lewis and Clark High School and safety improvements.
On the district side, the bond request would total $495 million, if it doesn't include the extra $10 million to build the downtown stadium. With that cost shifted to the city, the city would request $113 million on its side.
The district and the city
decided to partner
for a possible bond request to take advantage of a tax rate reduction of $2.20 per $1,000 of a home's assessed value. The bond request would be at a rate of $1.10 per $1,000, meaning that voters would see taxes drop if the joint bond is approved.
"This is a once in a lifetime opportunity, as far as tax rates dropping," says Spokane Public Schools Associate Superintendent Mark Anderson.
The city and district decided to partner this year after realizing they had common needs. The city has
underused
and surplus property that it's willing to share with the school district for new schools. In turn, the city would build three new libraries on school district property, renovate other libraries and expand Merkel Field, which is located next to Albi.
With the shift in $10 million proposed yesterday, the school district would be able to ask voters for a bond that — no matter what — would lead to changes at Albi. If voters approve the district's request, the district would still downsize the stadium and build a new middle school at the site, even if voters reject the city's request for a downtown stadium.
Superintendent Shelley Redinger met with Mayor David Condon this week to discuss the new plan, and she says Condon supports it.
But Romero acknowledged he was going out on a limb by bringing the idea to the school board before getting approval from City Council. He said he'd like to keep the focus on the partnership, but feels the back and forth over the stadium is making it feel "more like a negotiation than a partnership over a pretty small piece of this package."
On Aug. 1, the school board, City Council and Spokane Libary Board of Trustees will hold a joint session to have a final discussion of the bond before potentially putting it on the ballot.
In previous discussions, the school board expressed concern over traffic and parking impacts. Last night, they were presented with traffic and parking studies that seemed to quash those concerns. Bill White,
senior
transportation planner for Morrison-Maierle, conducted a traffic study that concluded the area could accommodate the increased traffic.
And a separate parking study determined that without Mead and Mt. Spokane football games, there will be enough free parking for school sporting events. (Mead and Mt. Spokane are building their own stadium.)
Free parking for school events, along with uses for the stadium outside of football, were priorities for parents in an online survey conducted this month and presented to the school board last night. School board member Mike Wiser said he was pleased that the current proposal would meet those priorities.
"If you talked to the average person and said, 'yes, there will be free parking, yes, we've done a traffic study' ... and it's not gonna cost extra money, I think the average person would be wholeheartedly in support of a downtown stadium,'" Wiser said.