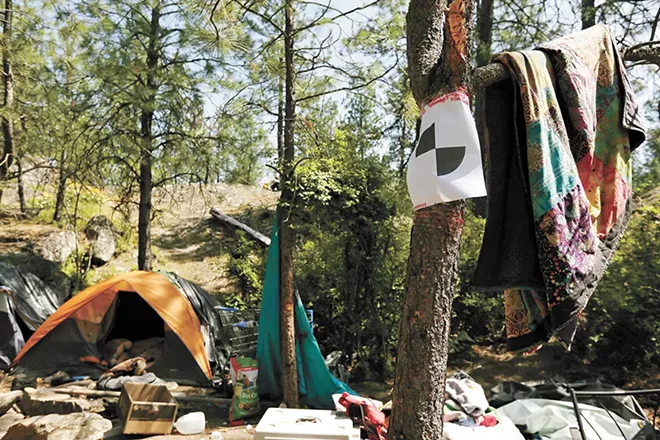 S
pokane County Prosecutor Larry Haskell has declined to file criminal charges
against a sheriff's deputy for fatally shooting Ethan Murray, a 25-year-old who struggled with
meth addiction and schizophrenia
, last May in Spokane Valley. He was unarmed when he was killed.
On May 4, Spokane County Sheriff's Office deputies responded to a 911 call reporting a disorderly male wearing no shirt who was running between kids who were playing outside at a Spokane Valley apartment complex. No assault was reported, though the caller noted that the man, Murray, appeared very high, according to a Friday news release regarding Haskell's decision in the case.
When Joseph Wallace, the deputy who later pulled the trigger, arrived on scene, a woman told him that Murray was "threatening the children out here," prompting Wallace and another deputy to chase Murray through a wooded area behind the apartment complex to a rocky outcrop near a homeless camp. Wallace identified himself as law enforcement and told Murray to stop, but Murray didn't comply and shouted expletives, according to the release. Murray and Wallace eventually came face-to-face, where Wallace told him to stop; Murray became confrontational and shouted, "F—- you! Make me!"

Wallace, allegedly
"
fearing that an attack was imminent," drew his firearm and pointed it toward the ground, per the release. He then shouted, "Show me your hands," at Murray several times — Murray refused — and proceeded to plead with him to comply. Murray then pulled what Wallace thought was a knife from his pocket, prompting Wallace to tell him to "put it down." Murray did not comply and moved towards Wallace with the object in his fist. "Believing that he was about to be stabbed," the release reads, "Wallace pointed his pistol at Murray and fired several times." Murray died on the scene.
In a statement provided to investigators that was included in Haskell's analysis of the case, Wallace said: "Having nowhere to go, fearing for my life, and having no other option considering the proximity of the deadly attack, I pointed my pistol using a stance directed firing position at the suspect and began firing."
The object in Murray's hand that Wallace allegedly thought was a knife was actually a pair of black sunglasses, according to the release. The glasses were recovered from the scene.
One witness who was in one of the tents at the camp near where Murray died told investigators that she heard Wallace shout something to the effect of "drop it" or "show [your] hands" numerous times before he fired. Other witnesses reported hearing six gun shots.
Wallace, like all other deputies, wasn't equipped with a body camera.
Haskell's decision not to file charges stems from Wallace's belief that Murray was armed with a deadly weapon and posed a serious threat to him. Recent
changes to state law governing criminal liability in police shootings
created a legal standard that asks whether the involved officer believed deadly force was necessary and if a "reasonable" officer would have done the same.
"
Under the facts and circumstances known at the time of the confrontation, Deputy Wallace was justified in his use of deadly force," the news release states. "
At the time of the application of deadly
force, Deputy Wallace had a reasonable belief that Murray was armed with a deadly weapon and, therefore, posed a threat of serious bodily injury to him. Deputy Wallace had a good faith belief in the correctness of his actions."


Spokane County Sheriff Ozzie Knezovich tells the
Inlander
that his office is conducting an internal review of the incident for potential policy violations.
"We will move forward with the rest of our review and go from there," he says. "It will be a while. These things don't go very quickly."
Murray had long suffered from both schizophrenia and meth addiction — conditions that for years routinely pushed him into homelessness, hospitals and jail cells around the country. Prior to getting shot by Wallace, Murray, who grew up in Sandpoint, Idaho, had been living with his mother after a long stint in a state hospital in Florida. He was seeing a doctor and a life coach, and was working a job at a local mill. The goal was to stay sober and maintain his mental health.
Inlander
in May. "That was the most stable he's been."
However, Ethan relapsed and his mental condition deteriorated. He was eventually booked into the Bonner County Jail for meth possession. After he was released, he ended up in Spokane. In the months leading up to his death he had several encounters with law enforcement, such as getting cited for trespassing on a railroad track.
"It's the system that let him down," Murray said. Ethan was "squeezed through the system over and over again."